Exhibition view Lombardo / Gonzalez-Torres. Tullio Lombardo, Young couple (formerly: Bacchus and Ariadne), around 1505/10, stone, marble, traces of painting (Kunsthistorisches Museum Wien, Kunstkammer © KHM Museum Association) & Felix Gonzalez-Torres, Untitled (Perfect Lovers), 1987- 1990, Wall Clocks, Edition of 3, 1 AP (© The Felix Gonzalez-Torres Foundation, Courtesy of Andrea Rosen Gallery, New York)
VIENNA.- The Kunsthistorisches Museum is presenting the exhibition The Shape of Time. Following monographic exhibitions of Lucian Freud and Joseph Cornell, and collection presentations curated by Ed Ruscha and Edmund de Waal, this is the first group exhibition conceived as part of the museum's Modern and Contemporary programme.

The collections of the Kunsthistorisches Museum represent some 5,000 years of human creativity from Ancient Egypt through to European painting around 1800. The Shape of Time presents a group of remarkable art works dating from 1800 to the present day, as stepping stones to lead visitors from the point at which the museum's own collections end to the point at which we find ourselves today. Among them are major works by artists such as J.M.W. Turner, Claude Cahun, Mark Rothko, Maria Lassnig, Eleanor Antin, Steve McQueen, Catherine Opie and Peter Doig. Borrowed from some of the most important museums and private collections across the world, they have been carefully placed within the rooms of our Picture Gallery in active dialogue with our own historical objects and artists. Visitors are invited to look simultaneously backwards and forwards between objects made hundreds of years apart, either of which has the potential to alter our experience of the other.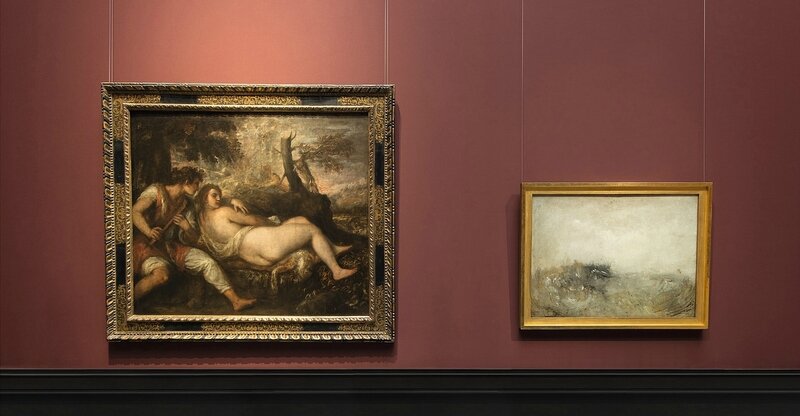 Exhibition view Titian / Turner. Tiziano Vecellio, Nymph and shepherd, c. 1570/75, Kunsthistorisches Museum Vienna, picture gallery © KHM Museum Association & , Stormy Sea, c. 1840/45, Tate: Accepted by the nation as part of the Turner Bequest 1856 © Tate, London 2017
The modern works do not attempt to tell the history of art of the last two hundred years, but rather to tune in to the conversations that have taken place across the centuries, and to become part of those conversations themselves. Taking the museum's own collections as the point of departure, the curators have forged a series of encounters between old and new to suggest continuities throughout the history of art. In the spirit of George Kubler's groundbreaking 1962 book The Shape of Time, they seek to reveal the flow of time and space and the evolution of ideas and images across centuries and cultures, to suggest a view of art history as a reservoir of ideas drawn from repeatedly over time.

The exhibition begins, chronologically speaking, with Turner's painting from 1842, and ends with an important new work made specially for the exhibition by the acclaimed American artist Kerry James Marshall in response to Tintoretto. Conceptually speaking, however, its starting point lies elsewhere, in the landmark 1989 exhibition of furniture objects by Franz West in our Picture Gallery. The first ever exhibition of a living artist in the museum, it set in motion a programme that is continuing today. In recreating one specific situation from this exhibition for The Shape of Time, the museum retraces its own institutional history, an investigation developed further with the inclusion of major works by Lucian Freud and Ron Mueck. At the same time, the exhibition provides us with a roadmap for the future: to the work of Mark Rothko, that the museum will present in the form of a major survey exhihition in 2019, and to other artists whose work might one day be shown in greater depth within the museum. The exhibition also seeks to acknowledge important developments in art since the time that the museum's collection was formed, through the presentation of modern media such as photography, film and installation, the participation of radical female artists, and the presence of artists from beyond the European continent.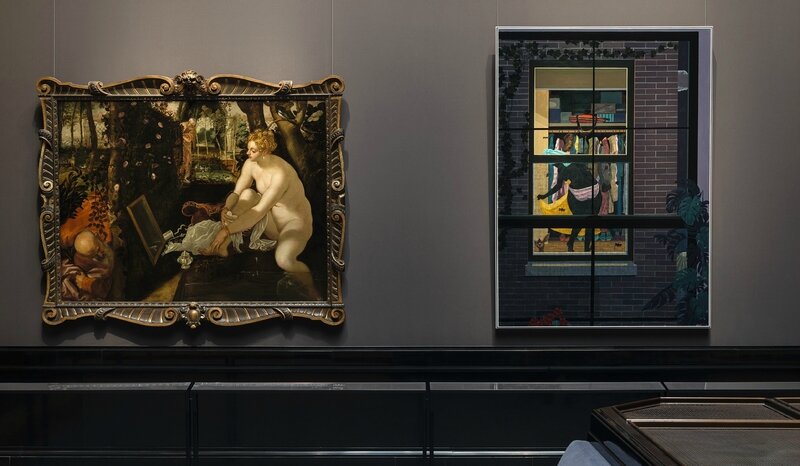 Exhibition View Tintoretto / Marshall. Jacopo Robusti, gen. Tintoretto, Susanna in the Bath, c. 1555/56, Kunsthistorisches Museum Vienna, Picture Gallery © KHM-Museumsverband & Kerry James Marshall, Untiteld, 2018 © Courtesy of Artists and David Zwirner, London.
The architecture of the exhibition – for which low stages have been placed beneath the works as an invitation to the visitor to participate, and to activate the dialogues through their own observation of the art works and comparison of them – owes something to the approach of West's 1989 exhibition in the same galleries. That exhibition's explanatory text is as relevant today as it was then: "That contemporary art has for the first time made an inroad into this richly traditional institution is due, among other reasons, to the fact that Franz West's objects on exhibit here counteract the rash and smooth enjoyment of art with bitter irony... The user must leave behind the convention of dwelling passively while regarding art, leave behind a strict separation of the viewing subject and the object to be admired and enter as an actor into the work of art which has thus become a tableau vivant."

The works have been lent by museums across the world – including Tate, London, The Metropolitan Museum of Art, New York, the Musée Picasso, Paris, the Art Institute of Chicago, The British Museum, London, the Musée d'Orsay, Paris, and the Wadsworth Atheneum, Connecticut – in addition to important private collections.

The exhibition has been curated by Jasper Sharp, and will be accompanied by a series of artist talks featuring Catherine Opie, Fiona Tan, Kerry James Marshall and Steve McQueen. Catalogue texts have been written by Jennifer Higgie, Ben Street, Jasper Sharp and Anja Heitzer.
Exhibition view Manet / Velázquez. Édouard Manet, Boy with sword, 1861, The Metropolitan Museum of Art, New York © The Metropolitan Museum of Art, New York & Diego Rodríguez de Silva y Velázquez, Infant Philipp Prosper, 1659, Kunsthistorisches Museum Vienna, Picture Gallery © KHM Museum Association.
Exhibition view Rembrandt / Rothko. Rembrandt Harmensz. van Rijn, Great Self-Portrait, 1652, Kunsthistorisches Museum Vienna, Picture Gallery © KHM-Museum Association & Mark Rothko, Untiteld, 1959/60, The Collections of Christopher Rothko @ 2016 by Kate Rothko Prizel and Christopher Rothko
Rubens / Lassnig Exhibition View. Peter Paul Rubens, Helena Fourment ("The Pelzchen"), c. 1636/38, Kunsthistorisches Museum Vienna, Picture Gallery, © KHM Museum Association & Maria Lassnig, Iris Standing, 1972/73 © Maria Lassnig Stiftung, Vienna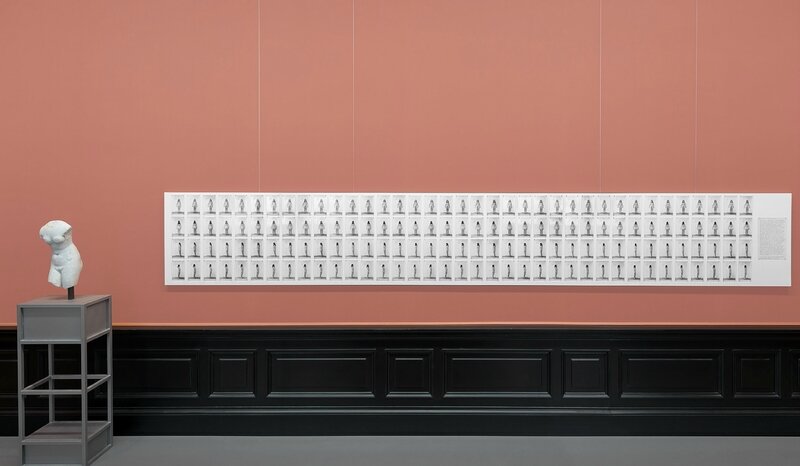 Exhibition view of Antiquity / Antin. Torso: Nude Aphrodite (Type Medici), 1st or 2nd century AD, Roman copy of the Greek original, around 300 BC. Vienna, Kunsthistorisches Museum Vienna, Collection of Antiquities © KHM-Museumsverband & Eleanor Antin, Carving: A Traditional Sculpture, 1972, 148. Courtesy of the Art Institute of Chicago, Twentieth Century Discretionary.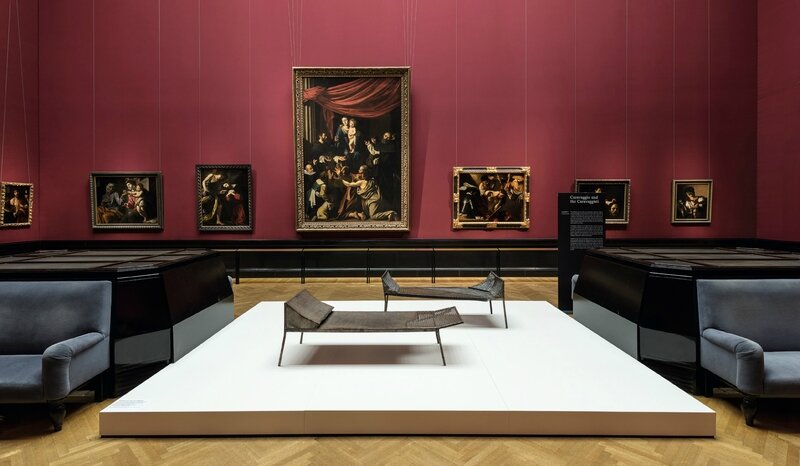 Exhibition View West / Caravaggio. Michelangelo Merisi da Caravaggio, Rosary Madonna, around 1601, Kunsthistorisches Museum Vienna, Picture Gallery © KHM-Museumsverband & Franz West, Chaise Longue (Caravaggio), 1989, Private Collection, Vienna & Franz West, Chaise Longue (Caravaggio), 1989, Musée d ' Art, Toulon (France) © Archive Franz West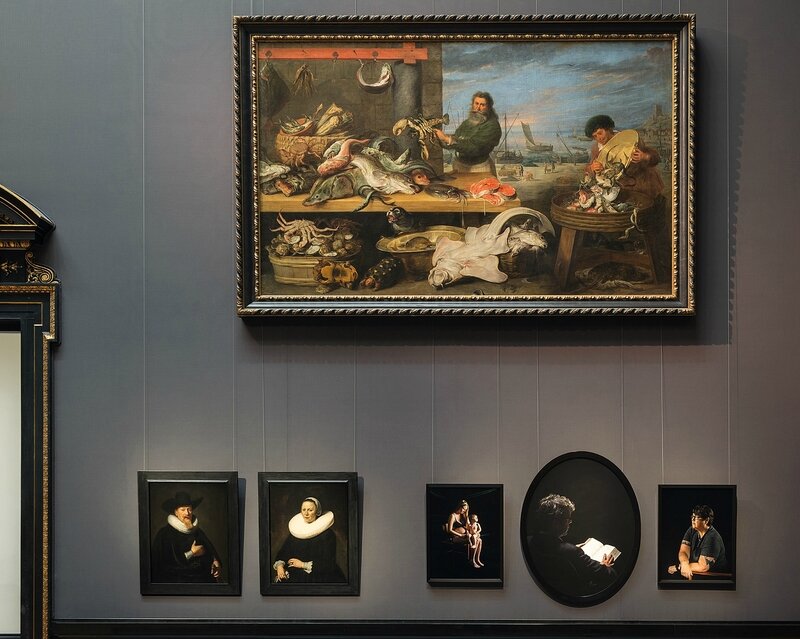 Exhibition view Santvoort / Opie. Dirck Dircksz. Santvoort, Casanova del Monte Turris, Mayor of Prague, 1639 & Dirck Dircksz. Santvoort, Anna Heinz von Jaden, wife of Casanova del Monte Turris, 1639, Kunsthistorisches Museum Vienna, picture gallery © KHM-Museumsverband & Catherine Opie, Kayla with her young son Owen, 2017 & Catherine Opie, Joanathan Franzen, 2012 & Catherine Opie, self portrait, 2017 © Courtesy the artist and Thomas Dane Gallery, London.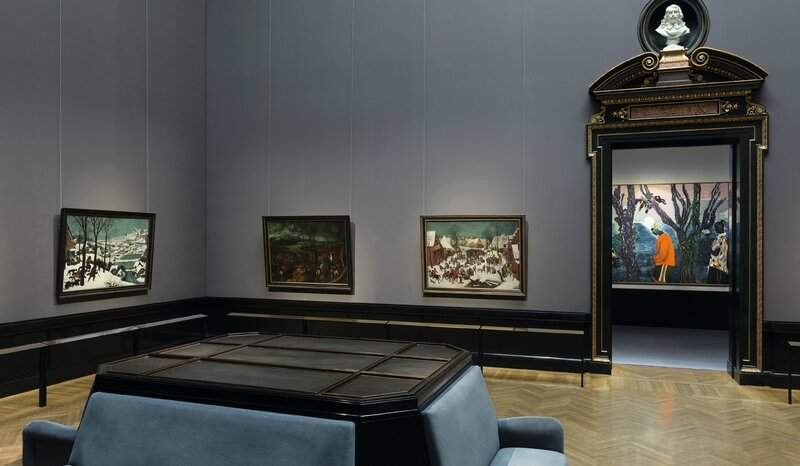 Exhibition view Bruegel / Doig. Peter Doig, Two Trees, 2017 © The Artist. Courtesy Michael Werner Gallery, New York and London & Pieter Bruegel the Elder, Hunters in the Snow (Winter), dated 1565, Kunsthistorisches Museum Wien, Gemäldegalerie © KHM-Museumsverband
Exhibition view. Peter Doig, Two Trees, 2017 © The Artist. Courtesy Michael Werner Gallery, New York and London