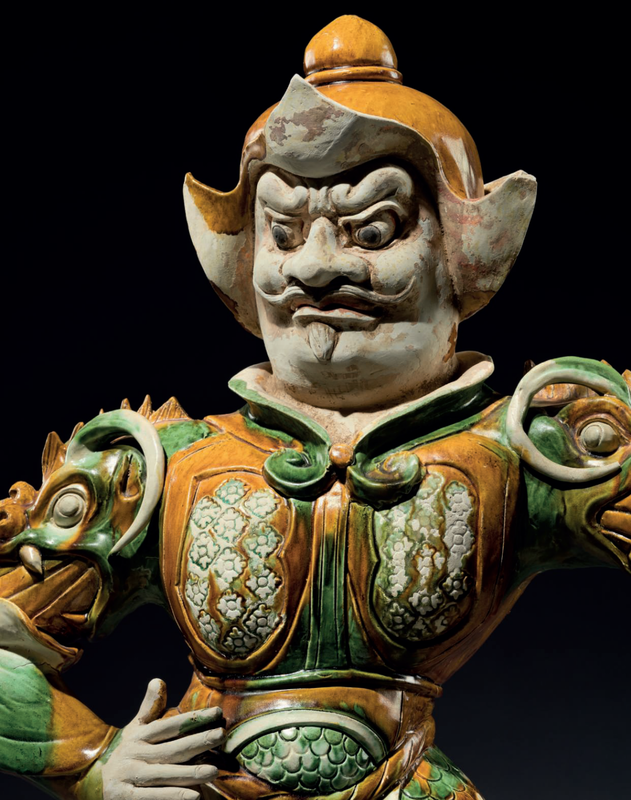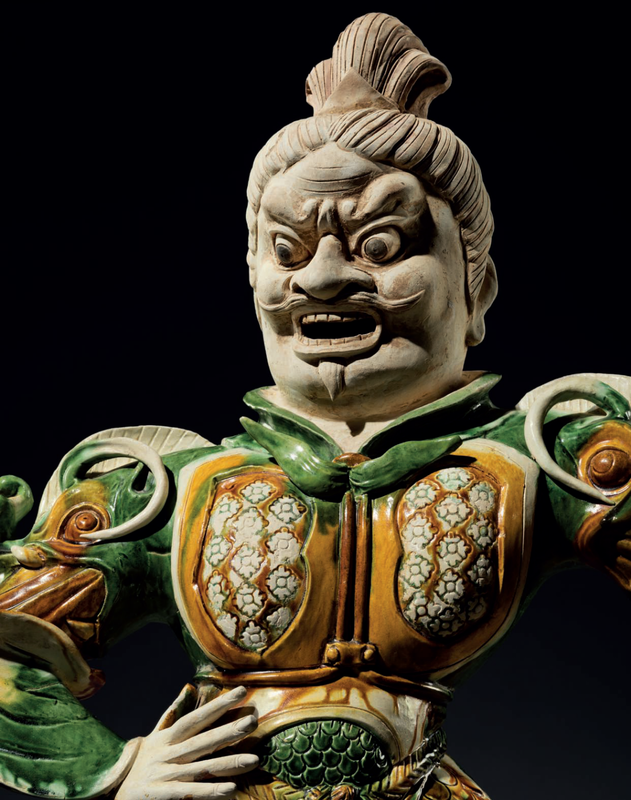 Lot 705. An exceptional pair of massive sancai-glazed pottery guardian figures, Tang dynasty (AD 618-907); 40 ½ and 38 in. (103 and 96.5 cm.) high. Estimate USD 150,000 - USD 250,000. © Christie's Images Ltd 2018
Each guardian figure is modeled standing on a recumbent ox, with the right arm raised as if to hold a spear and the left hand resting on the hip. His face is modeled with a fierce expression, and each is dressed in full armor, finely detailed with stamped decoration including florets on the breast plate, and with horned mask epaulettes at each shoulder, and is attractively glazed in tones of amber, green and cream.
Provenance: Acquired in Hong Kong, 1999.
Property from the Hall in Memory of Cypress (Jibo Tang)
Note: These imposing figures are remarkable for their fine modeling, detailing and masterful application of the glazes. As with other figures of this type, they are modeled with fierce scowling expressions and a threatening stance meant to deter those who might disturb the deceased, and they carry on the tradition of the massive stone guardian figures (lishi) that were positioned at the entrances to cave-shrines during the Tang dynasty. The glazed pottery figures of the mid-8th century had now evolved into military guardians and were dressed in elaborate armor. Also typical of some of these large guardian figures that have survived in pairs, one of the present figures has his hair dressed in a topknot while the other wears a leather helmet. For another imposing figure of this type, also shown standing on a recumbent bull, see the example illustrated in The Tsui Museum of Art - Chinese Ceramics I: Neolithic to Liao, Hong Kong, 1993, pl. 119.
The result of Oxford thermoluminescence test no. PH 993/404 is consistent with the dating of this lot.
Christie's. Fine Chinese Ceramics and Works of Art, 22 - 23 March 2018, New York