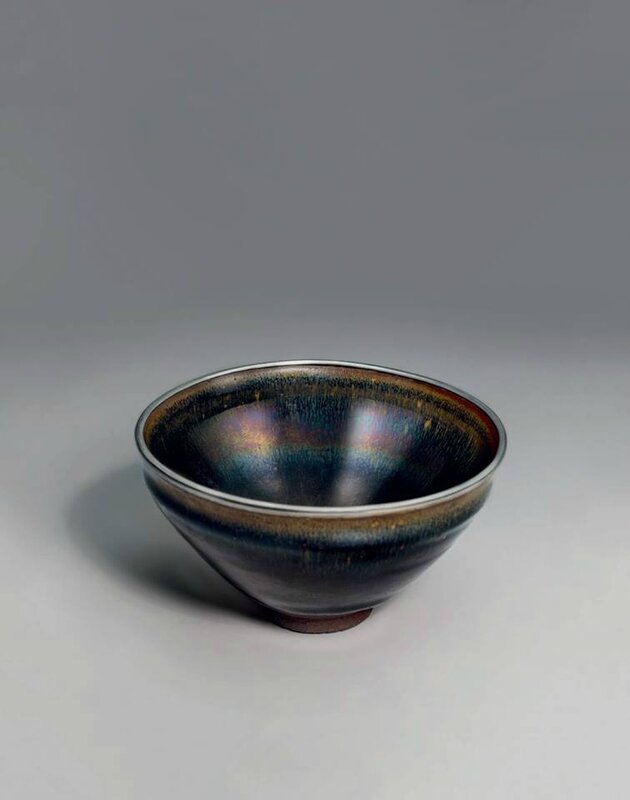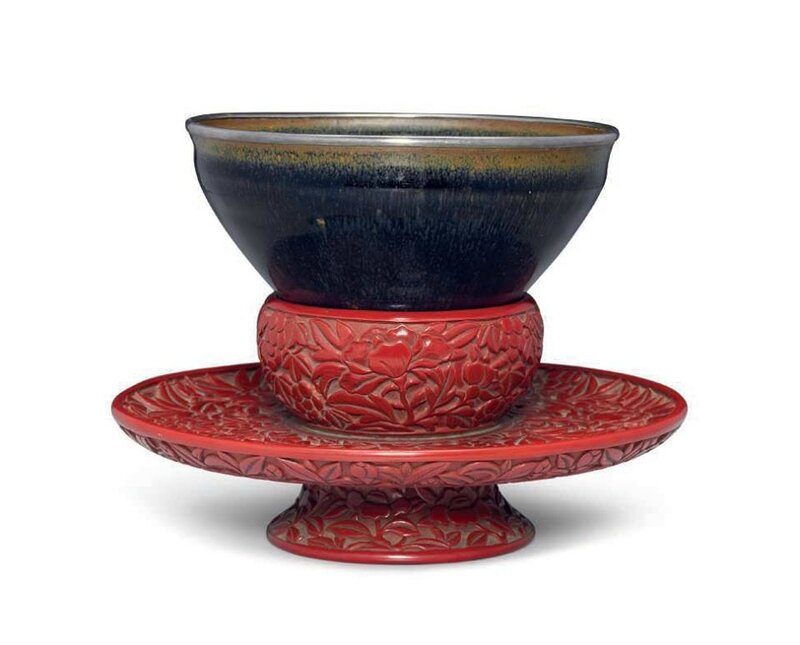 Lot 708. A Jian 'hare's fur' tea bowl, Southern Song dynasty (AD 1127-1279). The bowl 4 7/8 in. (12.4 cm.) diam., the cup stand 6 ½ in. (16.6 cm). Estimate USD 30,000 - USD 40,000. Price realised USD 75,000. © Christie's Images Ltd 2018
The sides of the deep conical bowl round up slightly towards the silver-mounted rim, and are covered with a lustrous black glaze streaked with fine bluish-silver 'hare's fur' markings on the interior and exterior where the glaze ends in a thick line above the foot to expose the brown ware, cloth pouch, two Japanese wood boxes. Together with a red lacquer cup stand, 16th century, carved with foliate scroll.
Note: Jian tea bowls were held in high esteem by the Song scholar-official class and even the emperors. Cai Xiang (1012-1067), the famous calligrapher and high official in the Northern Song court designated the 'hare's fur' tea bowls from Jian'an the most appropriate utensil in serving tea in his two-chapter treatise on tea entitled Cha lu (A Record of Tea). He believed the white tea looked best in black-glazed bowls and the slightly thicker wall of Jian wares help to retain the heat of tea. By the early twelfth century, the connoisseurship of Jian tea bowls was further developed by the Emperor Huizong (1082-1135). In his twenty-chapter treatise on tea, Daguan chalun (A Discourse on Tea in the Daguan Era) of 1107, the Huizong Emperor commented that "the desirable colour of a tea bowl is bluish black and the best examples display clearly streaked hairs." The current bowl is representative of the best tea bowls of Song dynasty, judging by the Huizong Emperor's criteria.
A similar Jian 'hare's fur' bowl from the Linyushanren Collection, was sold at Christie's Hong Kong, 2 December 2015, lot 2820.
From the Linyushanren Collection. A superb Jian 'hare's fur' tea bowl, Southern Song dynasty (1127-1279); 4 7/8 in. (12.5 cm.) diam. Sold for HK$2,440,000 ($316,312) at Christie's Hong Kong, 2 December 2015, lot 2820. © Christie's Images Ltd 2015
Cf. my post: A superb Jian 'hare's fur' tea bowl, Southern Song dynasty (1127-1279)