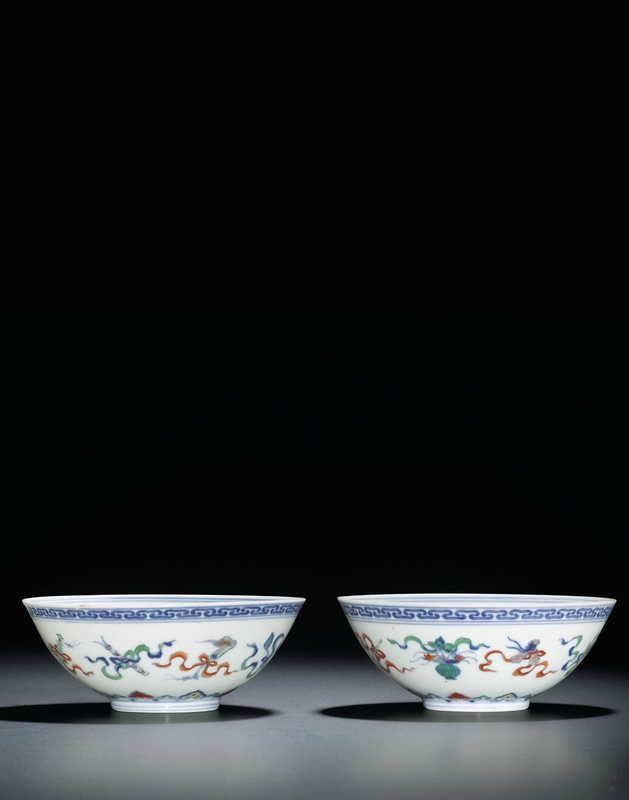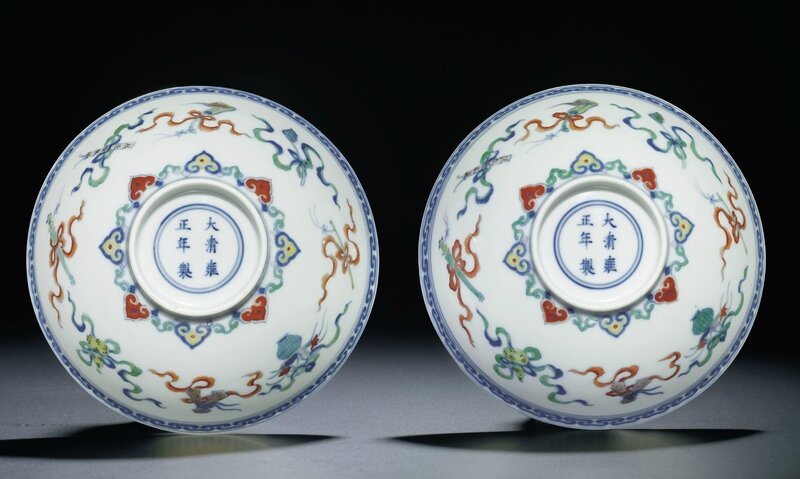 Lot 2272. A fine pair of doucai 'Daoist emblems' bowls, Yongzheng six-character marks within double circles and of the period (1723-1735); 5 1/4 in. (13.3 cm.) diam. (2). Estimate HKD 2,000,000 - HKD 3,000,000. Price realised HKD 4,230,000. © Christie's Images Ltd 2013
The rounded sides of the bowl rise to a strongly flared rim. The exterior is incised with a pair of dragons, each in pursuit of a 'flaming pearl' over which a cream glaze has been applied. The exterior is further decorated over the incised decoration with a camellia and a rose spray, each with numerous blooms and leafy branches painted in brown outlines over the glaze, separated by butterflies and highlighted in tones of yellow, green aubergine and pale blue. The interior is covered with a cream glaze and left undecorated, box.
Property of the Yiqingge Collection.
Provenance: An American private collection
Sold at Christie's Hong Kong, 25 October 1993, lot 842
Exhibited: On loan to the Denver Museum of Art, 1995-2005
Note: The Anbaxian or 'The Concealed Eight Immortals' are iconic symbols that identifies each of the eight Daoist immortals. These include: the double-gourd, a token of Li Tieguai; the fan (Han Zhongli); the fish-drum (Zhang Guolao); a flute (Han Xiangzi); a pair of castanets of positive and negative forces (Cao Guojiu); a basket of flowers (Lan Caihe); a ladle and a long-stalked lotus blossom (He Xiangu) and a double-edged sword (Lü Dongbin).
A pair of Yongzheng bowls of this design from the T.Y. Chao Collection was included in the exhibition, Ch'ing Porcelain from the Wah Kwong Collection, Art Gallery of the Chinese University of Hong Kong, 1973, no. 89. Other single examples include the bowl illustrated in The Tsui Museum of Art - Chinese Ceramics IV, Qing Ceramics, Hong Kong, 1995, pl. 139; and a bowl sold at Sotheby's Hong Kong, 31 October 2004, lot 108.