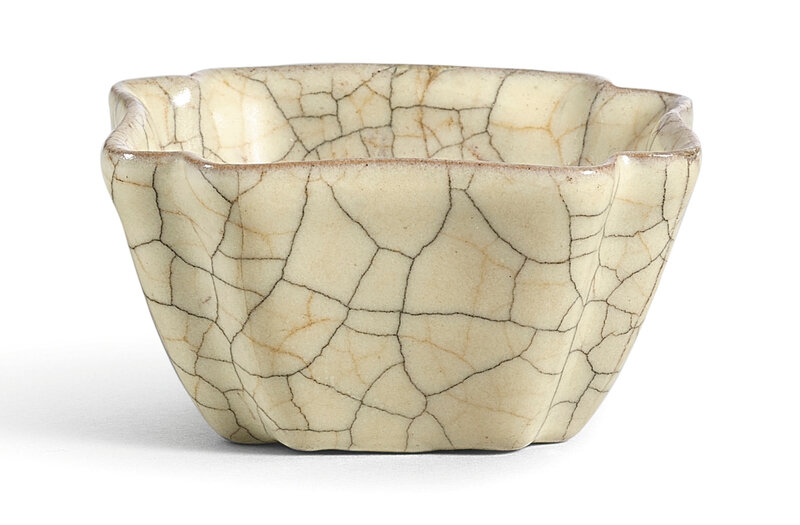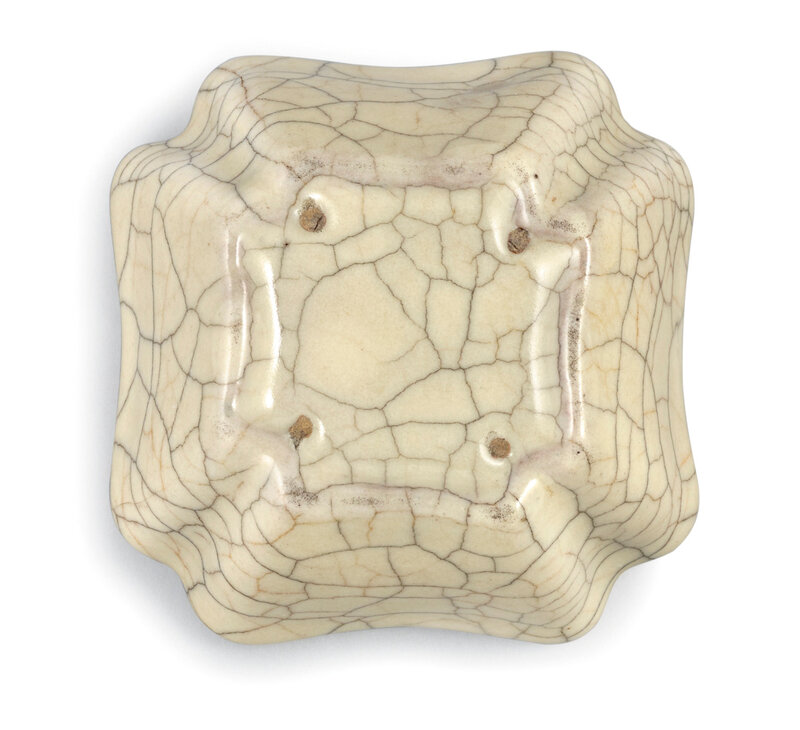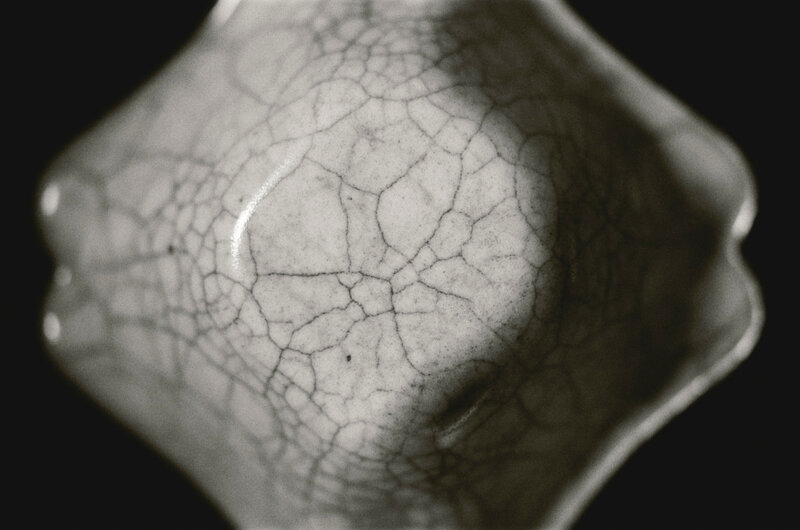 Lot 3046. An extremely rare Geyao square brush washer, Southern Song dynasty (1127-1279); 6.7 cm, 2 5/8 in. Estimate 5,000,000 — 7,000,000 HKD. Lot Sold 6,720,000 HKD. © Sotheby's 2018
charmingly potted in quatrelobed shape, the gently flaring sides elegantly rising from a countersunken base with four small sesame spur marks, covered overall including the base with an opaque glaze of soft greyish tone suffused with an intricate matrix of iron-wire crackle and golden threads, save for the four spur marks unglazed revealing the dark body.
Provenance: Collection of Dr P.H.D.S. Wikramaratna (1916-2010), acquired in 1975.
Eskenazi, London, acquired 21st June 1990.
Exhibited: Victoria and Albert Museum, London, 1975-1990 (on loan).
Iron in the Fire, Oriental Ceramic Society, Ashmolean Museum, Oxford, 1988, cat. no. 42.
Literature: Giuseppe Eskenazi in collaboration with Hajni Elias, A Dealer's Hand: The Chinese Art World Through the Eyes of Giuseppe Eskenazi, London, 2012; Chinese version, Shanghai, 2015, reprint, 2017, pl. 267.
Note: Ge Ware (geyao) is universally acknowledged to be one of the pre-eminent ceramic wares of the Song dynasty (960-1279), and the present cup can be called a most characteristic example; and yet there is no shortage of debates, particularly in China, what Ge ware in reality is. Not being the name of a region, the term ge ('elder brother') does not help us much in defining it, as it seems to derive from an anecdotal pair of potter brothers working in the Longquan region of Zhejiang province, the precise nature of whose ceramics, however, we do not know either.
Stonewares with a crackled celadon-type glaze, very close to Song guan ('official') ware, but with a more opaque, milky appearance, of greyish, greenish or brownish tint, are generally called Ge ware. In China, two more
poetic terms are associated with this ware: 'purple mouth and iron foot', which signifies a dark brown body colour, and 'golden threads and iron wires', which refers to two overlapping types of crackle, a delicate reddish and a prominent blackish one, as seen on this example.
While the close connection to the production of the guan kilns of Hangzhou during the Southern Song period (1127-1279) is apparent in many Ge ware examples – like in the present piece – similar glaze effects were also achieved by the Longquan kilns and by the erstwhile guan kilns of Laohudong in Hangzhou, but in the Yuan dynasty (1279-1368). According to Nigel Wood (Chinese Glazes: Their Origins, Chemistry and Recreation, London, 1999, p. 87) "It seems likely that both 'Ge-like' and 'Guan-like' wares could have issued simultaneously from the same kilns – simply showing the natural variations of atmosphere, temperature and cooling that dragon kilns often provide."
Vessels of such delightful shape, with elegantly curved, mallow-shaped sides, are characteristic of the Southern Song period. A similar brush washer in the Palace Museum, Beijing, attributed to the guan kilns, also of square shape with indented corners, but with a more greenish glaze and a single crackle, slightly incurved towards the rim and apparently resting on four feet, is illustrated in The Complete Collection of Treasures of the Palace Museum: Porcelain of the Song Dynasty, Beijing, 1996, vol. 2, pl. 21; and a similar five-lobed Ge ware washer is published in Gugong Song ci tulu. Longquan yao, Ge yao ji qita ming yao/Illustrated Catalogue of Sung Dynasty Porcelain in the National Palace Museum, Lung-ch'üan Ware, Ko Ware and Other Wares, Taipei, 1974, pl. 58.
Brush washers, or cups, of this delightful square shape with indented corners, are not known from any other kilns and are extremely rare altogether. Only four geyao companion pieces appear to be recorded: one in the Sir Percival David Collection in the British Museum is illustrated in the Illustrated Catalogue of Ru, Guan, Jun, Guangdong and Yixing Wares in the Percival David Foundation of Chinese Art, London, 1999, no. 68 (fig. 1); one from the Edward T. Chow collection was sold in our London rooms, 16th December 1980, lot 293; one from the Muwen Tang collection, included in the Min Chiu Society Thirtieth Anniversary Exhibition Selected Treasures of Chinese Art, Hong Kong, 1990, cat. no. 111, was sold in these rooms, 20th May 1986, lot 9, and in our London rooms, 12th November 2003, lot 3; and the fourth was sold at Christie's Hong Kong, 25th October 1993, lot 703 and again in our New York rooms, 21st September 2005, lot 49 (fig. 2). Like the present piece, all these vessels, including the Palace Museum example, but with the exception of the E.T. Chow piece, were fired on four spurs, while the latter shows three irregularly placed spur marks on the base.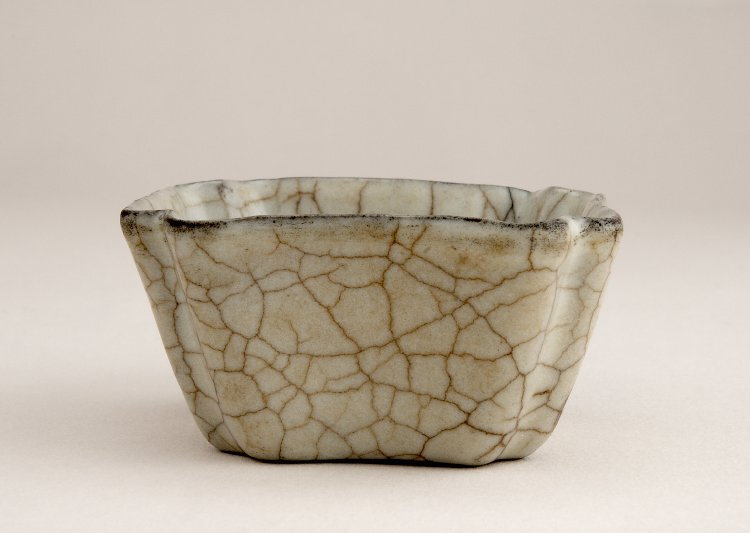 Square brush washer, Southern Song-Yuan dynasty, about AD 1127–1300. Ge ware, Hangzhou, Zhejiang province. Stoneware with celadon glaze, 6,8 cm. Percival David Foundation of Chinese Art, PDF 29 © The Trustees of the British Museum.
Geyao square brush washer, Southern Song–Yuan dynasty, Sotheby's New York, 21st September 2005, lot 49.
Dr P.H.D.S. Wikramaratna (1916-2010) was a lecturer in civil engineering who taught at Westminster College, London and at the University of Ceylon in Colombo. He was a prominent member of the Oriental Ceramics Society in London, and donated ceramics to the Victoria and Albert Museum, British Museum and the Ashmolean Museum.