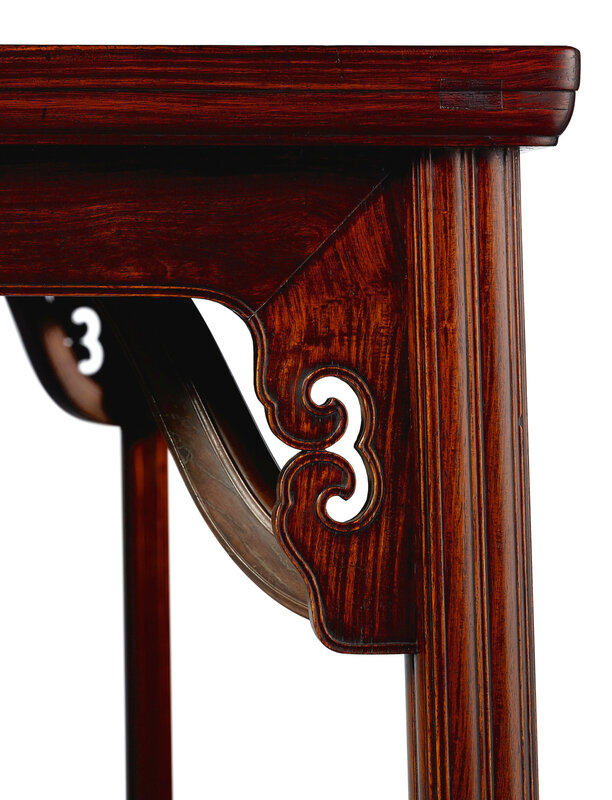 Lot 3058. An outstanding huanghuali painting table, 17th century; 81.5 by 182.3 by 73.7 cm, 32 1/8 by 71 3/4 by 29 in. Estimate 3,500,000 — 4,500,000 HKD.4,320,000 HKD. © Sotheby's 2018
the top of standard mitre, mortise and tenon construction with a flush, two-board flating panel tongue-and-grooved into the mitred frame, the short sides of the top with exposed tenons, the frame moulding downward from about halfway down and ending in a beaded edge, the beaded-edged apron with ruyi-shaped spandrels and butt-joined to the underside of the table and tongue-and-grooved to the legs, the square-sectioned legs highlighted by a gently grooved wide band in the centre and edged with similarly grooved corners, beautifully echoing the four facetted square-section S-shaped braces detailed with grooved edges, mortise-and-tennoned into the legs and half-lapped and wood-pinned onto the transverse brace on either end of the table for further support
Note: Painting tables are distinguished by their large size, as well as their simple decorations beneath the table tops and the absence of drawers, creating a generous space for free, unimpeded movement by the artist. The painting table was the most important piece of furniture in the scholar's studio and placed in a central position in the room. Wang Shixiang, discussing the form notes that "the popular arrangement for all tables was with one end against a window where abundant natural light made writing, painting or reading a more pleasant exercise. In this position, the opposite side could also be used by an assistant to hold the sheet of a paper or for some other purpose. It was also common to place these tables in a room, away from walls, with or without chairs," Connoisseurship of Chinese Furniture, vol. 1, Hong Kong, 1990, p. 68. Evolving from a low and small portable form seen in Five Dynasties' paintings, this grand, impressive table was designed to be functional for painting but also aesthetically admirable with a bare surface or used for display.
The present huanghuali table is particularly elegant for its ruyi-shaped spandrels between the beaded-edged aprons and legs. The S-shaped braces join to the upper part of the inner corner of a leg, providing extra stability to the form. While an S-shaped brace is a characteristic of Ming dynasty furniture, the beautifully facetted square-section braces of the present table illustrate the extraordinary skills and attention to details of the artisan.
See a huanghuali lute table of slightly different proportion, also decorated with ruyi-shaped spandrels and square-section S-braces, dated to the late Ming dynasty and from the Dr S.Y. Ip collection, extensively exhibited, including Grace Wu Bruce, Dreams of Chu Tan Chamber and the Romance with Huanghuali Wood: The Dr. S. Y. Yip Collection of Classic Chinese Furniture, Art Museum, Chinese University of Hong Kong, Hong Kong, 1991, cat. no. 20, and recently sold in these rooms, 7th October 2015, lot 133. Similar spandrels can also be seen on another huanghuali square table in the Palace Museum, Beijing; the spandrel detail is published in Hu Desheng, Ming Qing gongting jiaju ershisi jiang [Twenty-four chapters on imperial furniture from the Ming and Qing dynasties], Beijing, 2010, vol. 1, p. 116, fig. 132.