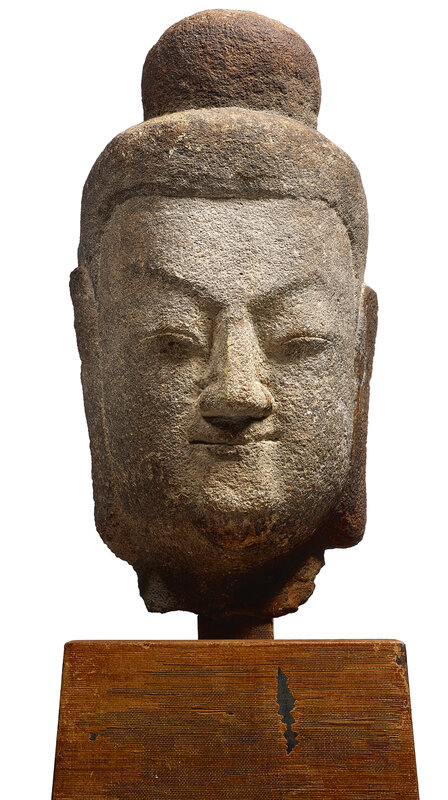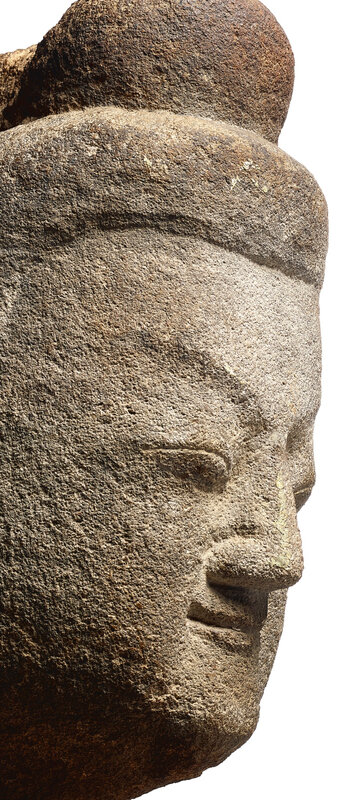 Lot 3029. A rare and large sandstone head of Buddha, Northern Wei dynasty (386-534); 40 cm, 15 3/4 in. Estimate 2,500,000 — 3,500,000 HKD. © Sotheby's 2018
sensitively carved with an elongated face accentuated with downcast eyes below gracefully arched eyebrows, the serene countenance centred with a pronounced long nose, above lips tenderly lifted at the corners in a beatific smile, framed by a pair of pendulous earlobes and hair neatly swept up into a domed ushnisha, the grainy stone of a mottled grey colour, stand.
Provenance: A private estate, New York.
Sotheby's New York, 31st March 2005, lot 87.
A Japanese private collection.
Note: The carving style of this head is characteristic of the style of the Yungang caves near Datong in Shanxi province, which were largely constructed between AD 398 and 494, when Pingcheng, modern Datong, was capital of the Northern Wei period. Several Buddha figures with similar features can be seen in niches of Cave 5 and in a frieze above the main figures of Cave 7 at Yungang, see Zhongguo shiku: Yungang shiku [Chinese grottoes: Yungang caves], Beijing, 1998, pls 41 and 45, 144 and 145, where the delicate incised lines defining the eyes can be seen, for example, on figures of Caves 6 and 8, ibid., pls 125, 177 and 178. Compare a sandstone head of a Buddha from the Nelson-Atkins Museum of Art with similar features but a slightly different treatment of the eyes in The Nelson-Atkins Museum of Art: Handbook of the Collection, Kansas City, 1993, p. 303 and another sandstone head with a broader face and rounded ushnisha sold in our London rooms, 11th July 1978, lot 35. A complete standing figure with a similar head, in the Musée Guimet, Paris, is published in Chinese Art in Overseas Collections: Buddhist Sculpture, vol. II, Taipei, 1990, pl. 9.