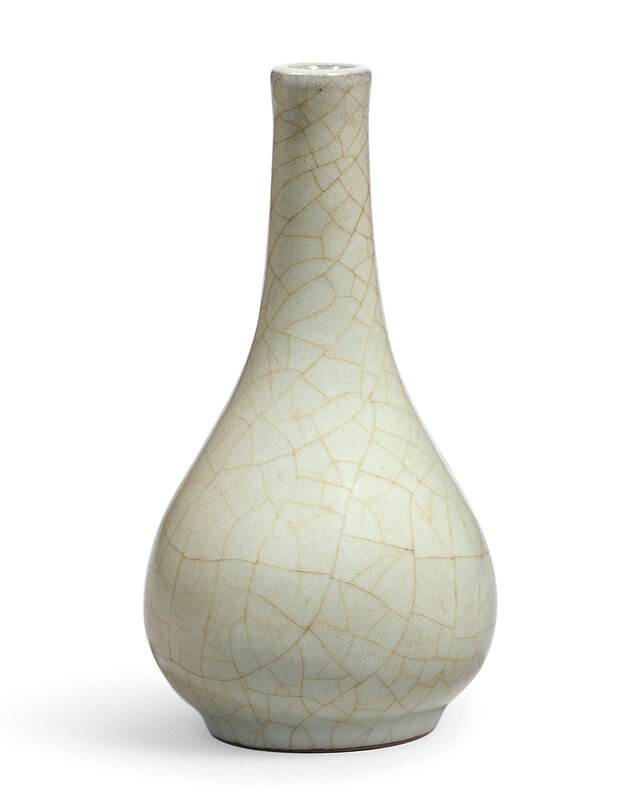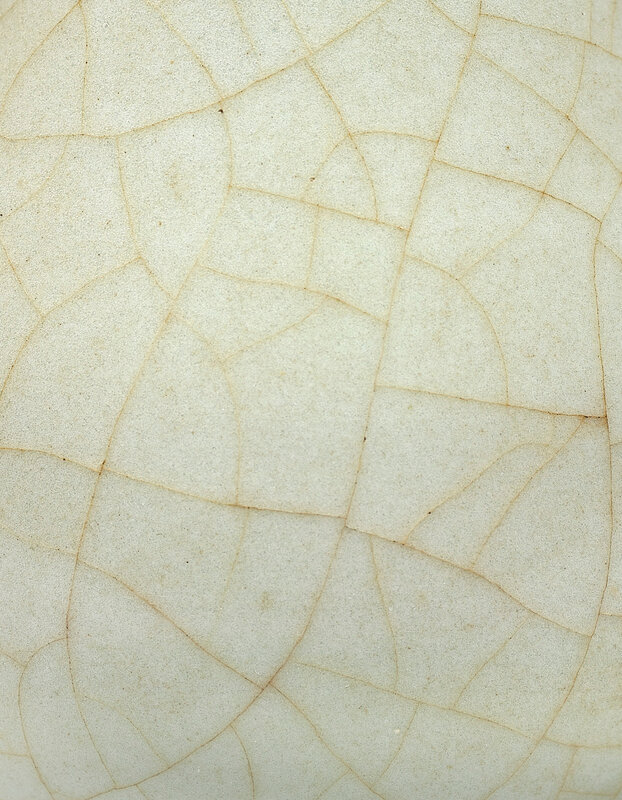 Lot 3062. A rare Guan vase, Southern Song dynasty (1127-1279); 15.1 cm, 5 7/8 in. Estimate 2,500,000 — 3,000,000 HKD. Lot Sold 12,720,000 HKD. © Sotheby's 2018
superbly potted with a pear-shaped body surmounted by a tall tubular neck, all supported on a gently tapered foot, the dark brown body unctuously applied overall save for the unglazed footring with a lustrous glaze of pale greyish-blue tone, the glaze suffused with a network of luminous golden-beige crackles.
Provenance: An English private collection, by repute.
Note: This exquisite vase belongs to one of the most celebrated ceramic wares of China's history. Crackled guan, the fabled 'official ware' specially created for the imperial court of the Southern Song (1127-1279) in Hangzhou, Zhejiang of south China, is perhaps the most desirable and certainly one of the rarest types of Chinese ceramics. Guan wares were made in very small numbers, and the present vase is an extremely rare example. The serenity of its attractive tactile glaze and sophistication of its minimalist form and intimate size are particularly appealing to the eyes and invites being held.
Guan ware was already mentioned and lauded in contemporary texts of the Southern Song period. Yet despite the immense importance of these official ceramics for the history of Chinese ceramics, guan ware is still less well understood than most other ceramics of that period. Among the many reasons for its enigma are their rarity and the fact that every piece is unique, with contemporaneous wares varying immensely.
The unctuous glaze of the present vase with its smooth texture, delicate green tint and subtle sheen, was achieved by gradually applying multiple layers of glaze, which were likely successively fired. The thick coating formed gently embraces the elementary form to create an object that is pleasing and 'soft' to the touch. The distinct web of veins of the large-scale crackle was caused by different degrees of shrinkage between the glaze and body material, the product of a well-controlled cooling process after the last firing and subsequent staining. Its earthy quality endows the piece with the impression of being carved from a natural material such as jade. The dark blackish body visible at the foot adds depth to the glaze and gravitas to the whole object while subtly accentuating the shape.
Guan vases of this restrained form are rare and only one closely related example appears to have been published, excavated in 1952 from the tomb of Ren in the town of Zhonggu, Qingpu District, Shanghai, now in the Shanghai Museum, Shanghai, published in the catalogue to the exhibition Precious as the Morning Star. 12th-14th Century Celadons in the Qing Court Collection, Palace Museum, Taipei, 2016, p. 165, together with a Longquan celadon version, cat. no. II-47. Compare vases of this form covered in related glazes, such as two Ge examples, from the Qing Court collection and still in Beijing, illustrated in The Complete Collection of Treasures of the Palace Museum. Porcelain of the Song Dynasty (II), pls 35 and 36; and another, catalogued as guan-type and attributed to the Northern Song period, from the Carl Kempe Collection and now in the Museum of Far Eastern Antiquities, Stockholm, included in Oriental Ceramics. The World's Great Collections, vol. 8, Tokyo, 1982, pl. 138