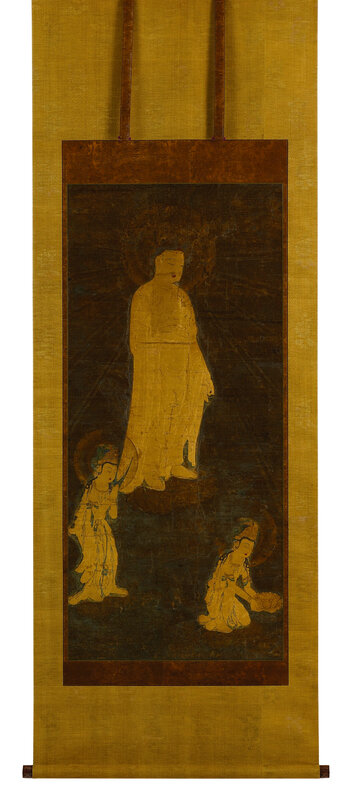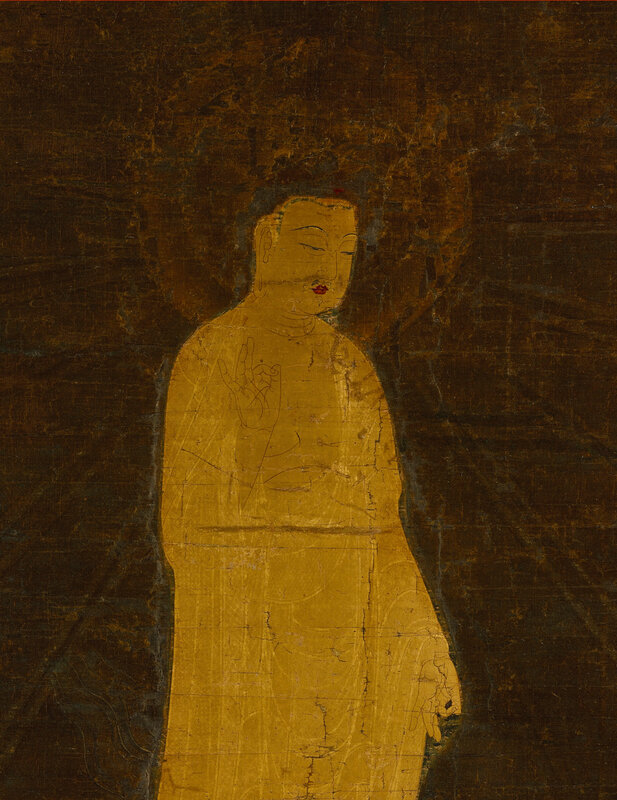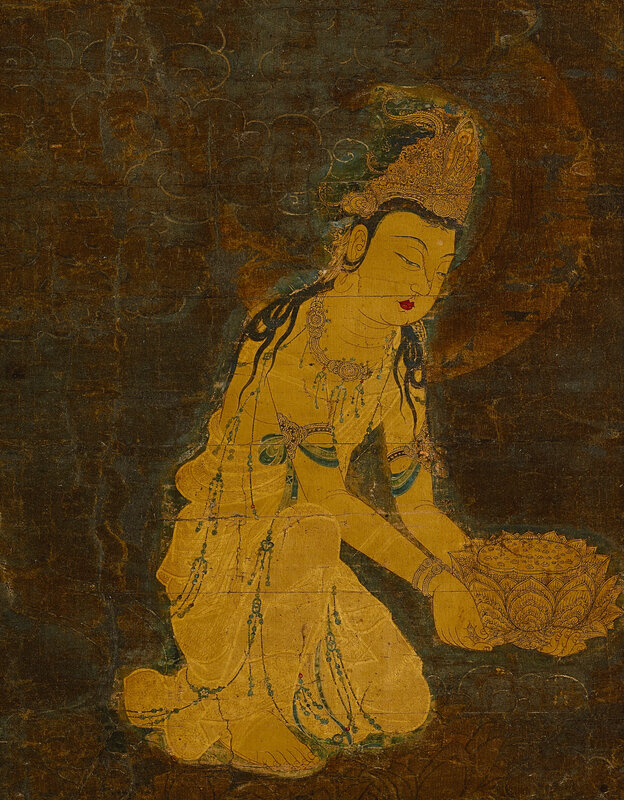 Lot 3071. Amida Raigo: The Descent of Amida, Japan, Kamakura period, Attributed to Takakane Takashina (Active 1309-1330), ink, colour, gold and silver on silk; 125.5 by 56.6 cm, 49 3/8 by 22 1/4 in. Estimate 2,500,000 — 3,000,000 HKD. © Sotheby's 2018
decorated with a figure of Amitabha Buddha with both hands held in vitarcka mudra, flanked by a pair of Bodhisattvas, Avalokiteshvara and Mahasthamaprapta, the two Bodhisattvas rendered reverential with one depicted kneeling and the other with the hands clasped together, all three figures of the triad portrayed inclined to their left, hanging scroll.
Provenance: Collection of Baron Kuki Ryuichi (1852-1931), box inscription dated to 1902.
Literature: The painting is accompanied by a certificate of Yamana Tsurayoshi (1836-1902), dated to the 17th year of the Meiji era (1884), attributing the present scroll painting to Takakane Takashina (active 1309-1330).
Note: This silk hanging scroll, with a theme based on the Muryojukyō, features a central figure of Amida Buddha and two Bodhisattvas at the forefront sweeping to earth on a bank of silvery clouds. They have arrived to "welcome" a dying devotee into the Pure Land (Western Paradise) over which Amida Buddha presides. Raigo or "welcoming descent" paintings of this kind became popular during the late Heian (eleventh through twelfth centuries) and Kamakura (1185-1333) periods.

The raigō theme, which originated in China, was first introduced to Japan by the monk Ennin (794-864) in the ninth century, and was made popular with the teachings of the monk Genshin (942-1017) during the eleventh century. The image itself is based on one of forty-eight vows made by Amida Buddha in the text of the Muryojukyo. Raigo paintings in which Amida and his attendants come toward the viewer, were the principal images in Buddhist death rituals, used as a point of focus for the dying devotee. stream of silver cloud forms, which fill the immediate foreground of the painting.
Similar paintings are preserved in several museum collections, including an example in Kyoto National Museum, illustrated on http://bunka.nii.ac.jp/heritages/detail/43871. See also a hanging scroll of Amida Buddha flanked by two Bodhisattvas in the Carl Otto von Kienbusch, Jr., Memorial Collection of Princeton University Art Museum, published in Princeton University Art Museum: Handbook of the Collections, Princeton, 2013, p. 43, accession no. y1952-59.