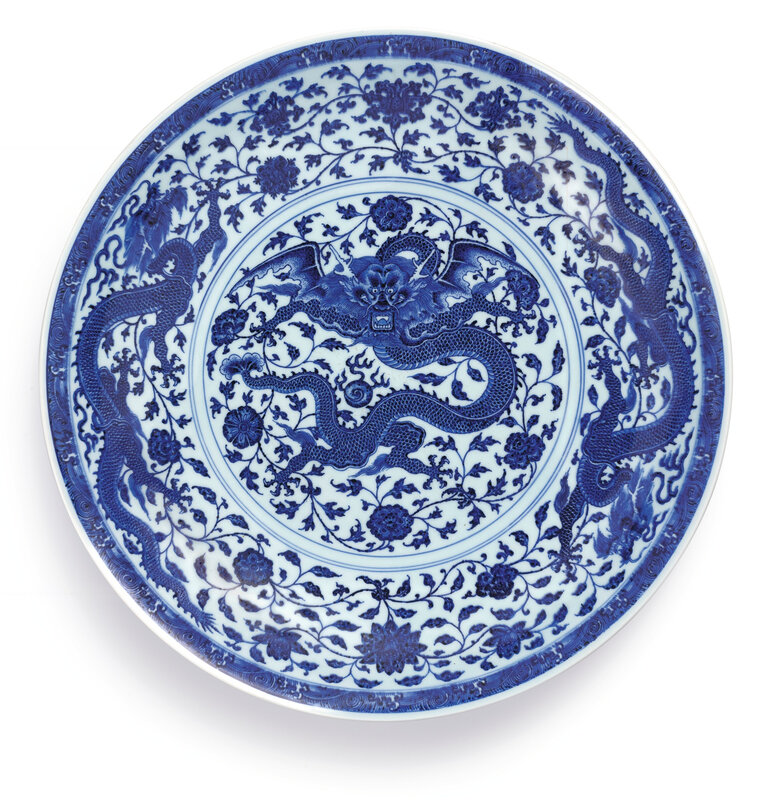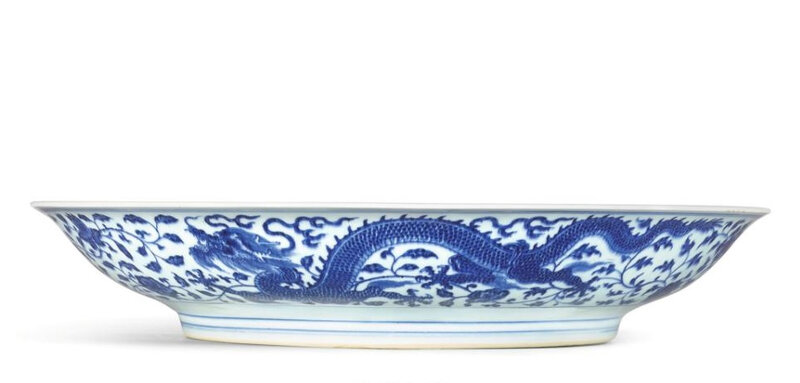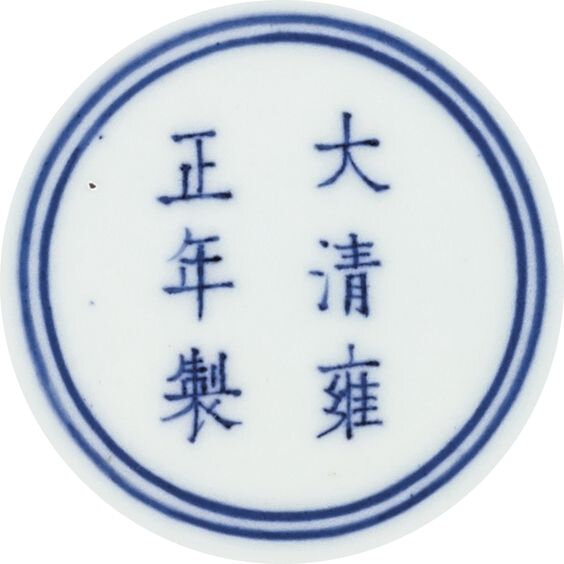 Lot 3202. A rare and large blue and white 'Dragon' charger, mark and period of Yongzheng (1723-1735); 50.5 cm, 19 7/8 in. Estimate 6,000,000 — 8,000,000 HKD (625,910 - 834,547 EUR). Unsold.© Sotheby's 2018.
the large well-potted body with shallow rounded sides rising from a slightly tapered foot to a flared rim, painted in intense cobalt blue in the slightly recessed centre with a winged, five-clawed fish-tailed dragon, the fierce and powerful creature depicted en face with open jaws and outstretched wings amongst scrolling flowers, writhing around a 'flaming pearl', the rounded cavetto decorated with two further five-clawed dragons striding amidst composite floral scrolls, below a rim border of crested waves, the reverse repeated with two dragons pacing amongst floral scrolls, the base left white and inscribed with a six-character reign mark within a double circle.
Provenance: Sotheby's Hong Kong, 15th November 1983, lot 241.
Note: Powerfully rendered dishes of this magnificent type represent the Yongzheng Emperor's dominion over the land and sea. Used at imperial banquets and on celebratory occasions, such as the 'Thousand Elderly Banquets' held in honour of senior citizens, they were displayed in the presence of thousands of guests. Such large imperial dishes reveal both the technical accomplishments of Qing dynasty potters and the Manchu custom of banqueting that closely followed the Mongolian and Tibetan traditions of communal dining.
Only a handful of Yongzheng examples of this impressive size and rigorous decoration is known. One similar dish is in the collection of Musée des Arts Décoratifs, Paris, gifted by Jules Audéoud in 1885 and exhibited in De la Chine aux Arts décoratifs: L'art chinois dans les collections du musée des Arts décoratifs [Chinese decorative arts in the collection of Musée des Arts Décoratifs], Paris, 2014, cat. no. 32 (inventory no. 2716).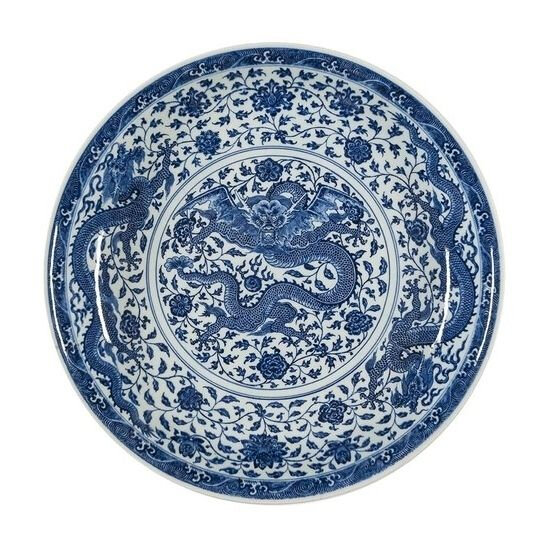 Plat à décor de dragons, Chine, Epoque Qing (1644-1911), Epoque Yongzheng (1426/1435). Porcelaine à décor bleu sous couverte qinghua. Don Jules Audéoud, 1885, 2716 © Photo Les Arts Décoratifs, Paris/Jean Tholance.
Another example was sold in our London rooms, 13th December 1988, lot 250, again at Christie's Hong Kong, 26th September 1989, lot 651, and a third time in these rooms, 9th October 2012, lot 27, from the Meiyintang collection; two further dishes were sold in these rooms, the first, 2nd May 2000, lot 673, and the second, 8th April 2009, lot 1607; three dishes were sold in our London rooms, the first, 11th December 1984, lot 408, the second, 7th June 2000, lot 126, and the third, 11th May 2011, lot 216; and a seventh dish was sold at Christie's New York, 22nd March 2007, lot 336.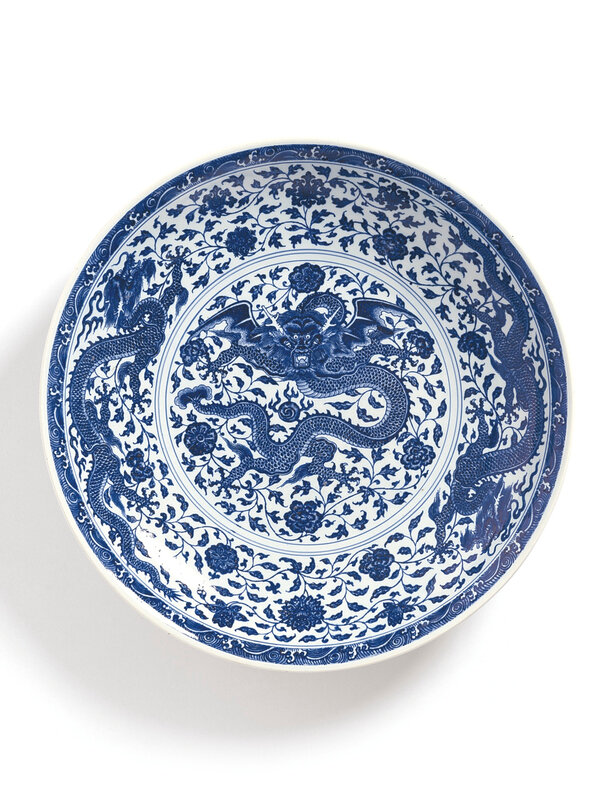 From the Meiyintang collection. A very rare large blue and white 'dragon' charger, Mark and period of Yongzheng (1723-1735); 50.5 cm, 19 7/8 in. Sold for 2,660,000 HKD at Sotheby's Hong Kong, 9th October 2012, lot 27. © Sotheby's 2012
Cf. my post: A very rare large blue and white 'dragon' charger, Mark and period of Yongzheng (1723-1735)
Dishes of this design were revived under the Yongzheng Emperor, who was known to have sent antiques from the palace to Jingdezhen in order to set standards and models for designs. The combination of a dragon amongst floral scrolls appears to be inspired by much smaller dishes from the Xuande (1426-1435) period, similarly painted with peony scrolls surrounding three dragons, all of which are side-facing, such as one in the National Palace Museum, Taipei, illustrated in A Panorama of Ceramics in the Collection of the National Palace Museum. Hsuan-te Ware I, Taipei, 2000, pl. 2. Furthermore, the stippled blue dots on the flowers and leaves were added to evoke the accidental appearance of cobalt-blue specks characteristic of early Ming blue and white, known as 'heaping and piling'.
The brilliance of Yongzheng potters is evident in their successful adaptation of the original small composition onto a considerably larger dish while maintaining its essence. The side-facing dragon has been replaced with a large and exquisitely-detailed winged form (yinglong) that faces forward, the innate confidence and power of which is conveyed through his ferocious eyes. The muscular bodies of the sinuous dragons are accentuated through the ornate flower scrolls, which have been perfectly spaced to provide a harmonious sense of movement. The flowers also offset the ferocity of the dragons and illustrate their benevolence on earth; a deliberate tool utilised to associate the qualities of the divine creature with the Emperor.
The band of wind-tossed crested waves around the rim is an innovative addition to the original composition. It brings 'water' into the overall composition which is quintessential to the yinglong. The yinglong in Chinese mythology is associated with water and is said to have helped stop the Yellow River from flooding by digging channels with its tail. It is also the carrier of rain in times of draught. The wave-band is also found on Xuande dishes decorated with similar flower scrolls to the present charger, but without dragons; see one illustrated in John Alexander Pope, Chinese Porcelains from the Ardebil Shrine, Washington, 1956, pl. 34. fig. 29.88 (fig. 2).
Yongzheng dishes with a related design are known, painted with a large central dragon without wings among clouds and surrounded by four smaller dragons; one in the National Museum of China, Beijing, is illustrated in Zhongguo Guojia Bowuguan guancang wenwu yanjiu congshu/Studies on the Collections of the National Museum of China. Ciqi juan [Porcelain section]: Qingdai [Qing dynasty], Shanghai, 2007, pl. 38; and another, included in the exhibition Ming and Ch'ing Porcelain from the Collection of the T.Y. Chao Family Foundation, Hong Kong Museum of Art, Hong Kong, 1978, cat. no. 81, was sold in in these rooms, 18th November 1986, lot 80.
Dishes of the present type continued to be favoured by the Qianlong Emperor who commissioned very similar vessels to be produced. Compare a large dish with a Qianlong reign mark and of the period sold twice in our New York rooms, 23rd October 1976, lot 325, and again, 22nd March 2000, lot 133; and another sold in these rooms, 26th November 1980, lot 311. Although Qianlong dishes closely follow the Yongzheng prototype, the flower scroll decoration is denser with the number of flower heads doubled while the leaves are also more uniform and crowded. The presentation of the dragon also changed, with the Qianlong dragon being more slender and stylised compared to its Yongzheng counterpart.
Sotheby's. Imperial Porcelain from a Distinguished Private Collection, Hong Kong, 03 Apr 2018, 10:15 AM