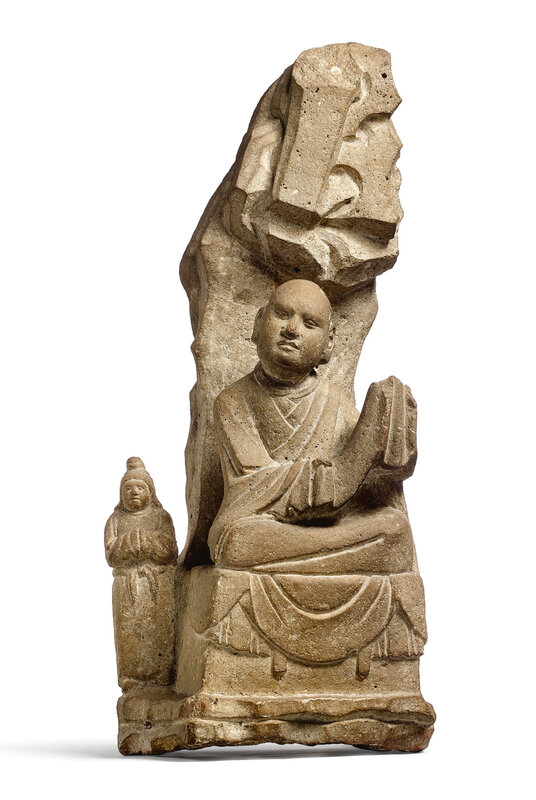 Lot 3082. A carved stone 'Luohan and attendant' group, Song dynasty (960-1279); 65 cm, 25 1/2 in. Estimate 600,000 — 800,000 HKD (63,069 - 84,091 EUR). © Sotheby's 2018.
depicting a luohan seated on a splayed rectangular plinth with the head lifted and turned gently to the right below jagged rockwork, the plinth rendered covered with layers of cloth falling neatly over the edges, the tonsured figure portrayed with a serene expression and clad in loose robes, possibly holding an album in his hands, attended on his right with a small figure with the elbows bent and hands placed before the chest and concealed within the loose sleeves.
Note: It is remarkable to find a Song dynasty stone luohan group of such fine sculptural quality. The carver has depicted the tranquil expression of the luohan with the uttermost sensitivity and naturalism, utilising a gentle yet precise carving style. In contrast, the lining of the loose-fitted robe is boldly picked out with sharp geometric angles. The contrast highlights the naturalism of the details on the figure's facial features, notably the expression of the mouth, closed eyes and auspiciously long pendulous ears. The overall posture of the luohan would have inspired reverence in the eyes of worshippers in the Song dynasty, and is still resonant today.

For a carved Song luohan in the Rietberg Museum, Zurich, see Karl With, Bildwerke Bildwerke Ost- und Su¿dasiens aus der Sammlung Yi Yuan, Basel, 1924, p. 62, which is also carved with similar contrasting style of gentle rendition of the facial features and sharp lines on the robes. See also a pair of luohan in the Royal Ontario Museum, Toronto, illustrated by Osvald Siren, Histoire Des Arts Anciens de la Chine. III. La Sculpture De L' Époque Han a l'Époque Ming, Paris and Brussels, 1930, p. 115, pls. A and B.
Sotheby's. Curiosity IV, Hong Kong, 02 Apr 2018, 10:30 AM