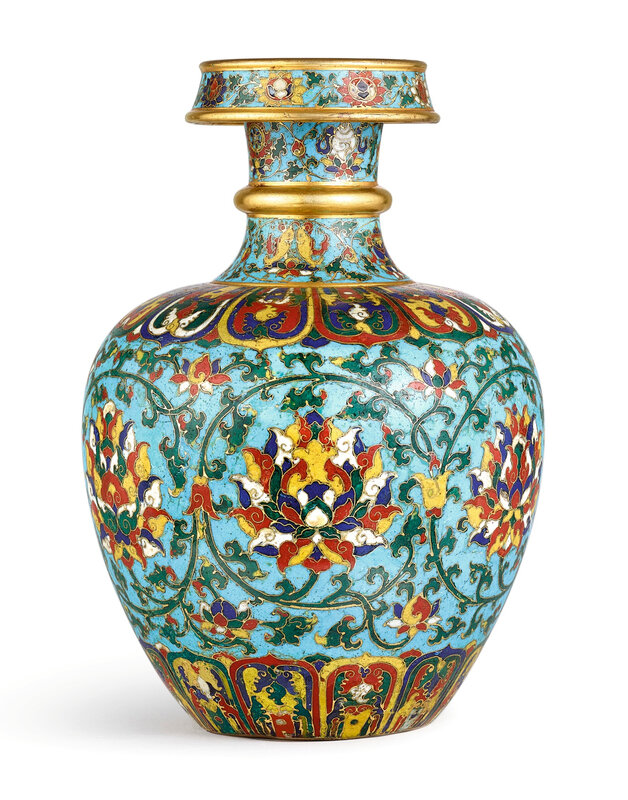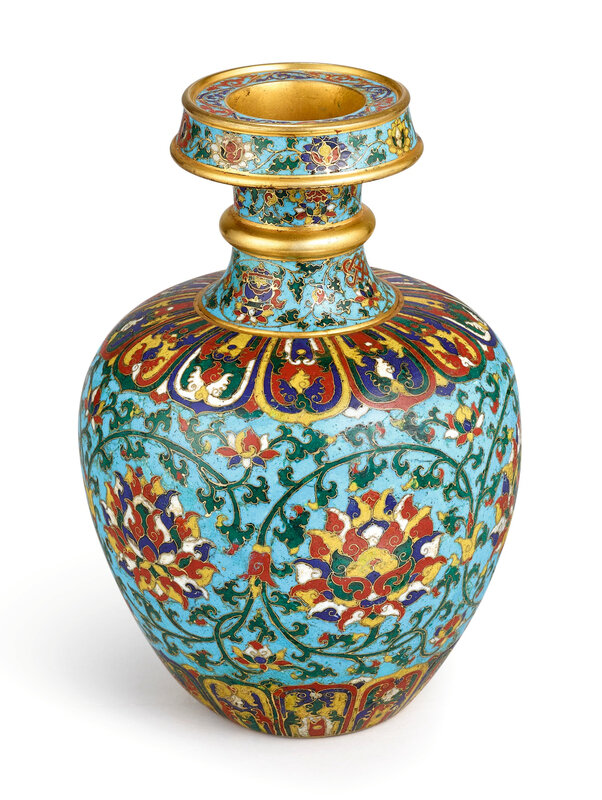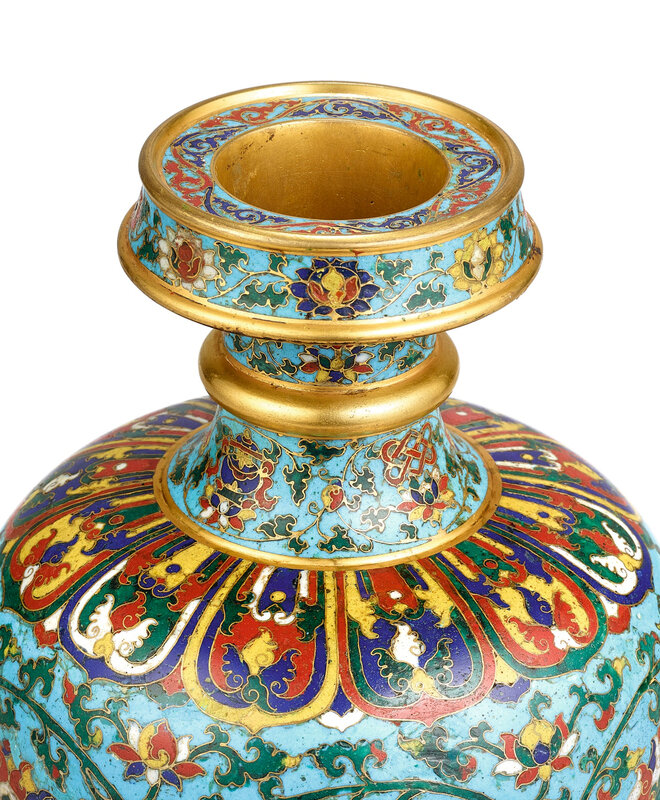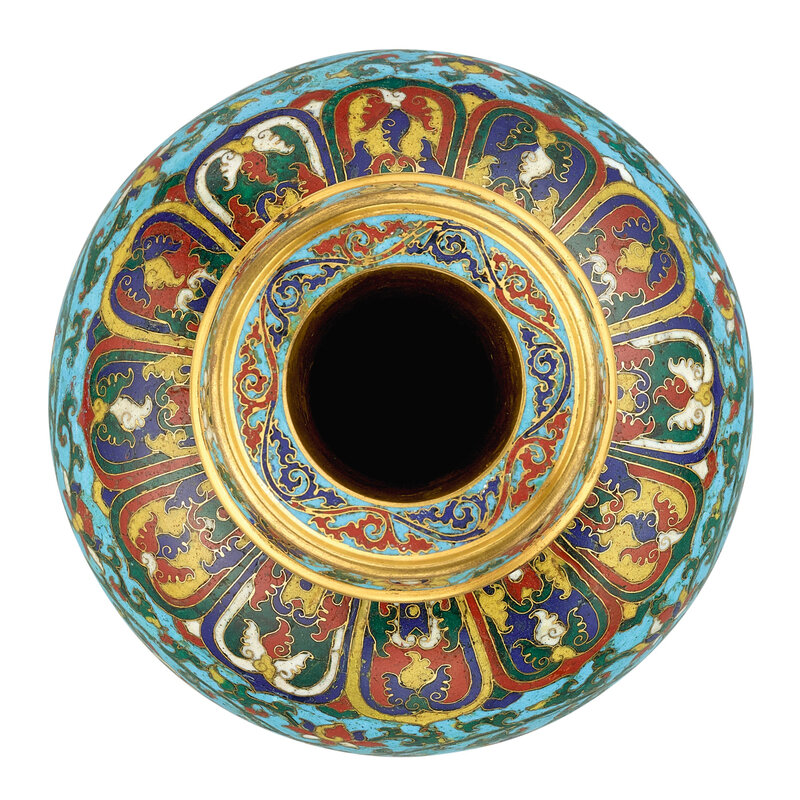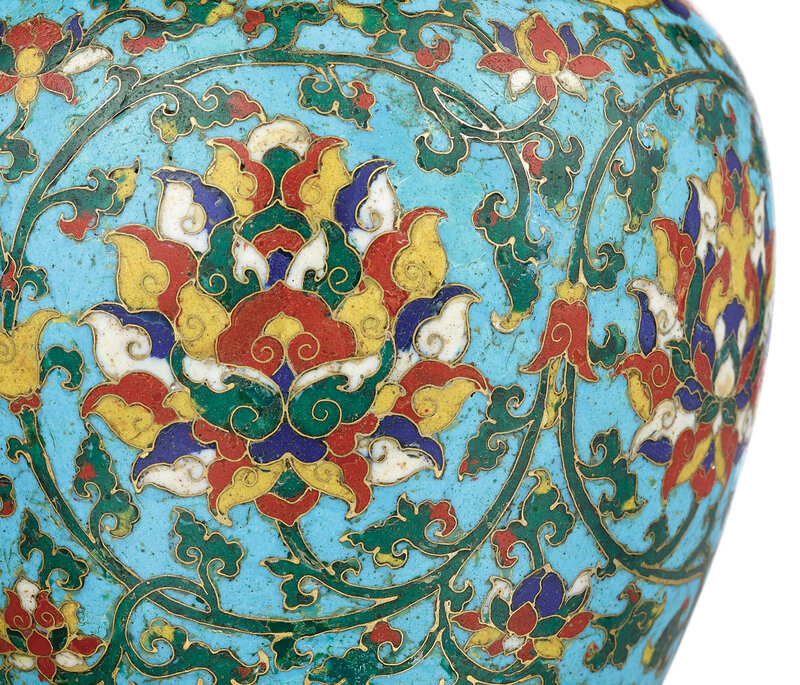 Lot 3428. A highly important and extremely rare cloisonné enamel 'Lotus' altar vase, Ming dynasty, Yongle–Xuande period (1403-; 25.5 cm, 10 in. Estimate 20,000,000 — 30,000,000 HKD. Lot Sold 21,720,000 HKD (626,857 USD). Courtesy Sotheby's 2018.
superbly cast with an ovoid body sweeping up from a flat base to a broad rounded shoulder, surmounted by a waisted neck and a wide splayed flange encircling the rim, the exterior of the body brilliantly decorated with a broad frieze of six large lotus blooms borne on and wreathed by leafy curly stems issuing smaller buds, all between borders of lotus lappets encircling the shoulder and foot, the neck adorned with two bands divided by a gilt-bronze raised fillet, each with four of the bajixiang rendered encircled by curling foliage, the rim bordered with a classic scroll band above a frieze of lotus florettes, the dense design brilliantly decorated in tones of red, yellow, white, blue and green cloisonné enamels against a bright turquoise ground, the leaves on the body further accentuated with yellow and red tips.
Provenance: A Washington D.C. private collection.
For an Imperial Altar
Regina Krahl
This dignified altar vase belongs to the exceptional cloisonné works created in the early 15th century for Buddhist usage, at a time when the Yongle (1403-1424) and likewise the Xuande Emperor (1426-1435) were deeply involved in all artistic production of the empire and recruited the greatest artisans to create objects in a variety of media for use in Tibetan Buddhist ceremonies. Even among roughly contemporary cloisonné vessels we rarely see the attention to detail afforded to this piece, which suggests a very early date, probably in the Yongle period. Only one companion piece appears to exist and few cloisonné vessels can compare in quality.
Vases of this shape with the distinct splayed, angular rim, are characteristic of forms used in Tibetan Buddhist ceremonies and are reminiscent of the bumpa shape, the classic Tibetan 'treasure vase', which mostly, however, has a distinct foot, is often depicted tied with ribbons, or enveloped in a silk pouch, or shown holding triple jewels or peacock feathers; the same form also comes with a spout. The shape without foot is better known from vases with elaborate dragon appliqués as handles, described as vases for holy herbs, such as two later examples in the Palace Museum, Beijing, one from the Qing court collection, both of which bear Jingtai (1450-1456) reign marks, but are attributed to the middle Ming (1368-1644) period, see The Complete Collection of Treasures of the Palace Museum: Metal-bodied Enamel Ware, Hong Kong, 2002, pls 35 and 36, where a third vase of that type in the Museum, pl. 3, also from the Qing court collection, is attributed to the Yuan dynasty (1279-1368).
Only one direct companion piece to our vase appears to be recorded, the vase in the Uldry collection, which is executed in the same elaborate style, has the same form and the same basic design, but displays slight differences in detail, most notably in the enlacement of the lotus scroll, confirming the individuality of the production process (fig. 1). The Uldry vase is well published, was sold at Christie's London, 26th October 1964, lot 61, from the collections of Mrs J.M. Hanbury, and in our London rooms, 2nd July 1968, lot 48, from the collection of Mariquita Sedgwick, is illustrated in Sir Harry Garner, Chinese and Japanese Cloisonné Enamels, London, 2nd ed., 1970, col. pl. C; and in Helmut Brinker and Albert Lutz, Chinese Cloisonné: The Pierre Uldry Collection, London, 1989 (German edition Zurich, 1985), col. pl. 9. Brinker and Lutz, in discussing this vase, state (p. 88) that the vase represents "quality of the highest order in early Chinese enamelling" and write "An exquisite lotus decoration covers the ovoid body of the base. Foliate scrolls gracefully encircle the fully open flowers, while two more formally designed bands of stylised lotus petals provide delimiting borders. The two friezes on the neck are enriched with the traditional bajixiang, the Eight Buddhist Symbols … Even though the bajixiang do not appear in a prominent position, an assumption that the vase once served Buddhist ritual purposes seems justified."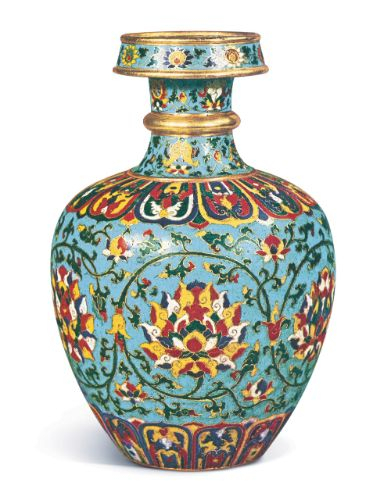 Cloisonné enamel 'Lotus' jar, Ming dynasty, Yongle – Xuande period, Sotheby's London, 2nd July 1968, lot 48. Uldry Collection.
The designs on these two vases are conceived in an unusually intricate, baroque style and executed in a particularly lavish technique. Extremely rare is the employment of the enamel colours to achieve the quasi-naturalism of depicting the lotus with colourful blooms and buds among green foliage and stems; this is pushed even further when several colours are combined in a single cloison, or cell, to depict green leaves whose tips have turned red or yellow. The wires are used as if in a drawing, not only outlining and enclosing the colours, but also delineating detail within monochrome cells.
All six lotus blooms are different, composed of variously rendered and coloured petals. Similarly complex lotus flowers can be seen, for example, on a kundika sold in our London rooms, 7th June 1994, lot 63, but not on a second, otherwise very similar early Ming kundika from the Kitson collection, sold in our London rooms, 18th October 1960, lot 104 and now in the British Museum, London, illustrated in Jessica Rawson, ed., The British Museum Book of Chinese Art, London, 1992, pl. 140.
The petal panels, which are composed of about a dozen differently shaped elements distinguished by colour, with four different colour schemes alternating, are even more complicated in their composition than those that appear on a monk's cap ewer in the Tibet Museum, Lhasa, one of the finest early Ming Buddhist cloisonné vessels preserved, that was included in the exhibiton Xueyu cangzhen. Xizang wenwu jinghua/Treasures from Snow Mountains. Gems of Tibetan Cultural Relics, the Shanghai Museum, Shanghai, 2001, cat. no. 90, where it is described as "most probably a gift granted by the imperial court".
Such careful craftsmanship is rarely found, even on other fine early Ming pieces made for use in a Buddhist context, such as, for example, two important incense burners, one from the collections of Mrs M.J. Shepherd and Frederick Knight, now in the Uldry collection, illustrated in Brinker & Lutz, op.cit., col. pl. 15, and sold in our London rooms, 15th June 1982, lot 129; the other from the Kitson collection, illustrated in Garner, op.cit., pl. 17A and sold in our London rooms, 18th October 1960, lot 105; and much simpler petal panels are seen, for example, on a disc and two boxes of Xuande mark and period, as well as the knob of the famous Xuande jar, all from the Uldry collection and illustrated in Brinker & Lutz, op.cit., pls 1, 2, 4 and 5.
The development and gradual simplification of the lotus flower design after the early fifteenth century is graphically illustrated in line drawings in Brinker and Lutz, op.cit. p. 59, and can easily be traced, when comparing later vessels with similar lotus scrolls in the Uldry collection, for example, a censer of the second half of the fifteenth century, ibid., col. pl. 27, a covered jar of the first half of the sixteenth century, col. pl. 44; a vase of the first half of the seventeenth century, col. pl. 124, or a kendi of Qianlong mark and period (1736-1795), pl. 253.