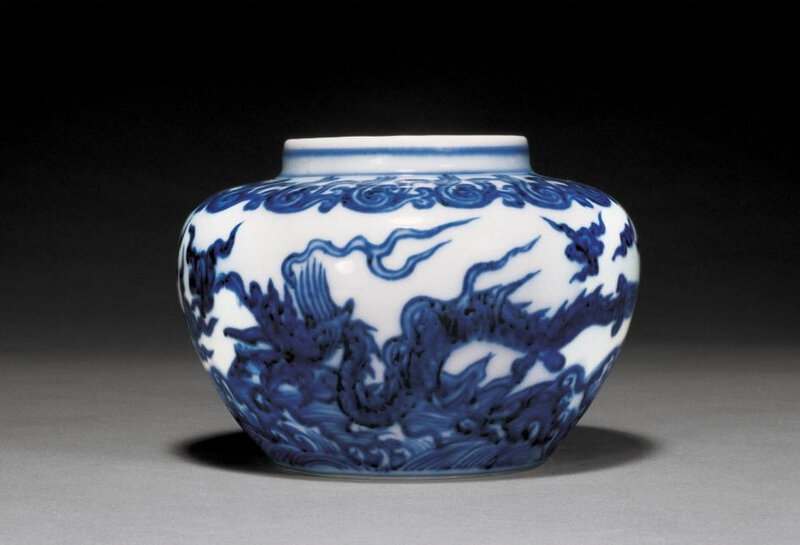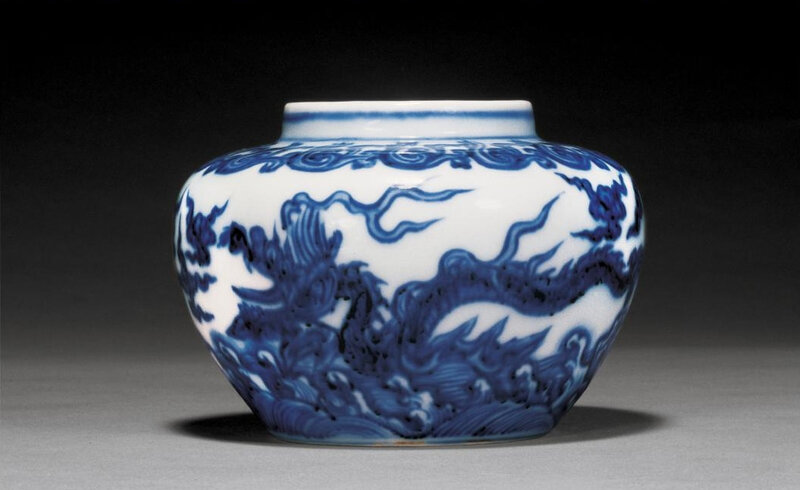 Lot 2932. A very rare blue and white 'Winged dragon' jar, mark and period of Chenghua (1465-1487); 8.8 cm., 3 1/2 in. Estimate 8,000,000 — 10,000,000 HKD. Lot sold 17,127,500 HKD (1,391,499 EUR) (2,199,000 USD). Courtesy Sotheby's 2008.
of broad shouldered form, painted in rich purplish tones of cobalt-blue with a pair of writhing dragons with jaws gapper open and wings thrashing through the air, amidst knotted clouds and flames above a rolling tempestuous sea emitting foam and spray, all below a border of scrolling vines and a blue line border at the straight neck, the stepped base with the six-character mark within double-circles.
Provenance: Collection of Sam Browne.
Sotheby's London, 23th May 1972, lot 126.
Exhibited: Exhibition of Chinese Ceramics from the Collection of the Kau chi Society of Chinese Art, Art Gallery, The Chinese University of Hong Kong, 1981-82, cat.no.70.
Note: Blue and white jars of Chenghua mark and period are extremely rare and only one other jar of this dragon design appears to be recorded, a piece from the collection of Mrs. Walter Sedgwick, sold in our London rooms, 2nd July 1968, lot 128, later in the collections of Mr. and Mrs. John D. Rockefeller 3rd and the Asia Society, New York, illustrated in Denise Patry Leidy, Treasures of Asian Art, New York, 1994, pl.189.

No jars of this type appear to be preserved in the Palace collections either in Beijing or Taipei, although the National Palace Museum, Taiwan, contains a small Chenghua jar of slightly different form, painted with garden flowers, which was included in the Museum's exhibition Ming Chenghua ciqi tezhan, Taipei, 1976, cat.no.163; and a few other blue and white Chenghua jars, all deocrated with flowers, are recorded by Julian Thompson in the exhibtion catalogue The Emperor's broken China: Reconstructing Chenghua porcelain, Sotheby's London, 1995, catalogue p.118 and p.125 (nos.B2-B5).

The Sedgwick jar is discussed in Margaret Medley, 'Re-Grouping 15th Century Blue and White', Transactions of the Oriental Ceramic Society, vol. 34, 1962-63, pp.93f., where she remarks on the similarities of the stepped base with examples bearing the Xuande reign mark and on the greater refinement of the Chenghua examples.
Sotheby's. Fine Chinese Ceramics and Works of Art, Hong Kong, 11 Apr 2008