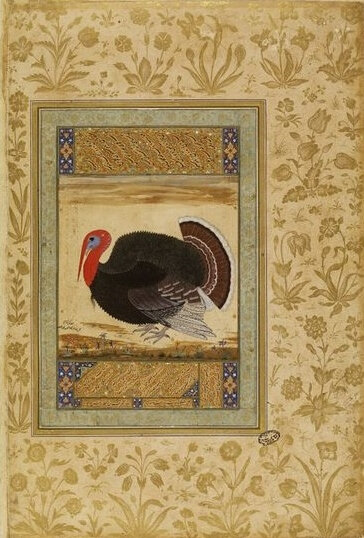 Mansur, Turkey cock, Mughal Empire, ca. 1612. Opaque watercolour and gold on paper. Bequeathed by Lady Wantage, IM.135-1921. © Victoria and Albert Museum, London 2017.
Sur le marché, un camelot propose pour deux pièces d'argent un oiseau aux merveilleuses couleurs, rouge, vert, jaune, bleu.
— Et surtout, il parle, précise le marchand dans son boniment. Il est capable de répéter tout ce qu'on lui dit. Achetez l'oiseau des îles ! Qui veut l'oiseau des îles ?
Toute la matinée, cette rareté provoque un grand étonnement parmi les chalands, mais personne ne l'achète : on trouve son prix élevé, bien trop élevé, et le marchand ne veut pas en rabattre.
Le lendemain, c'est au tour de Nasr Eddin de se présenter sur le marché, avec un dindon, qu'il a installé sur un perchoir, un dindon tout noir qu'il a pris dans sa basse-cour, et pour lequel il ne demande pas moins de trois pièces d'argent !
Est-il devenu fou ? À moins qu'il ne prépare encore quelque coup de sa façon…
— Explique-nous ce mystère, finit par lui demander un homme devant les curieux assemblés. Comment peux-tu espérer vendre un dindon à un tel prix, alors que pour la même somme on peut avoir un troupeau tout entier ?
— Ne discute pas, ignorant ! Si l'oiseau d'hier valait deux pièces d'argent, le mien en vaut bien trois. Je ne baisserai pas mon prix d'un aktché.
— Ta plaisanterie est de mauvais goût, Nasr Eddin. L'oiseau que nous avons vu hier est une merveille. Il parle.
— Justement, répond Nasr Eddin, justement ! Mon dindon, lui, fait beaucoup mieux !
— Ah ! Et quoi ?
— Il pense.
Extrait de "Sublimes paroles et idioties de Nasr Eddin Hodja. Tout Nasr Eddin, ou presque." Paroles recueillies et présentées par Jean-Louis Maunoury. Éditions Phébus, collection "Libretto", 2002. © Editions Phébus