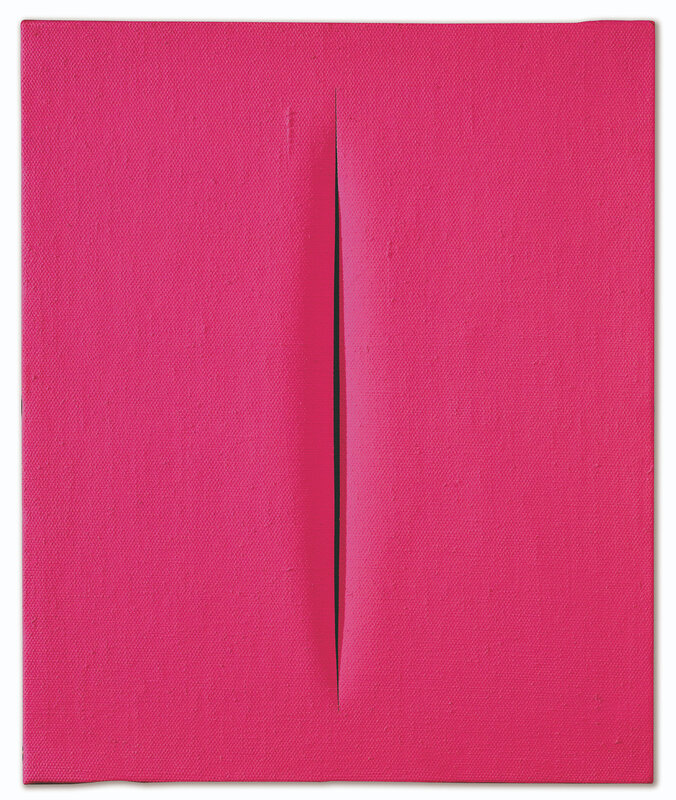 Lucio Fontana, Concetto Spaziale "ATTESA", 1964–65, signed and titled on the reverse, waterpaint on canvas, pink, 46 x 38 cm, estimate €480,000–650,000. © Dorotheum

VIENNA.- At Dorotheum, the 16th of May 2018 will be all about the international greats of contemporary art. Top lots include several excellent examples of the work of Lucio Fontana: two paintings from the nineteen-sixties – one pink, the other green – represent his "Concetto Spaziale", cutting the canvas to open up the traditional panel painting to the third dimension - and push art history forward in the process. (Concetto Spaziale "ATTESA", 1964–65, estimate € 480,000–650,000, Concetto Spaziale "ATTESA", 1968, €400,000–600,000).
Emilio Vedova, for whose work Dorotheum continues to retain the world sales record, contributes two works which, among other venues, were on display at the Venice Biennial 1962 (Per una protesta No. 6, €280,000–380,000).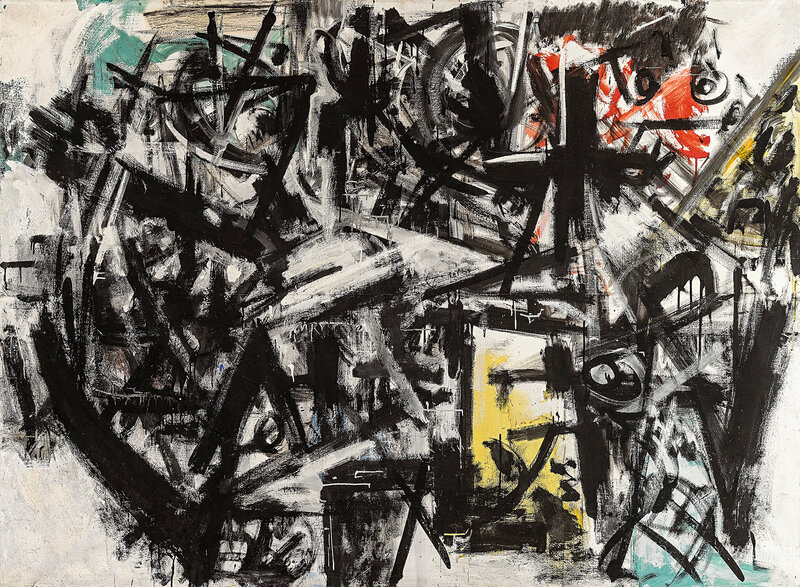 Emilio Vedova, Per una protesta No. 6 Dal ciclo della protesta, on the reverse signed, dated and inscribed Vedova 1953 Italia, oil on canvas, 140 x 190 cm, framed, estimate €280,000–380,000. © Dorotheum
Likely to attract particular attention are Andy Warhol's serigraph "Two Diane Keaton" as well as a mirror object by Adolph Luther more than two meters in dimension. A painting by Philip Guston dating to 1957, and as such to the abstract period of this "New York School" artist, offers a very fine example of the dramatic contrast between the vivid colours dominating the centre and the shades of grey in the background (€300,000–400,000).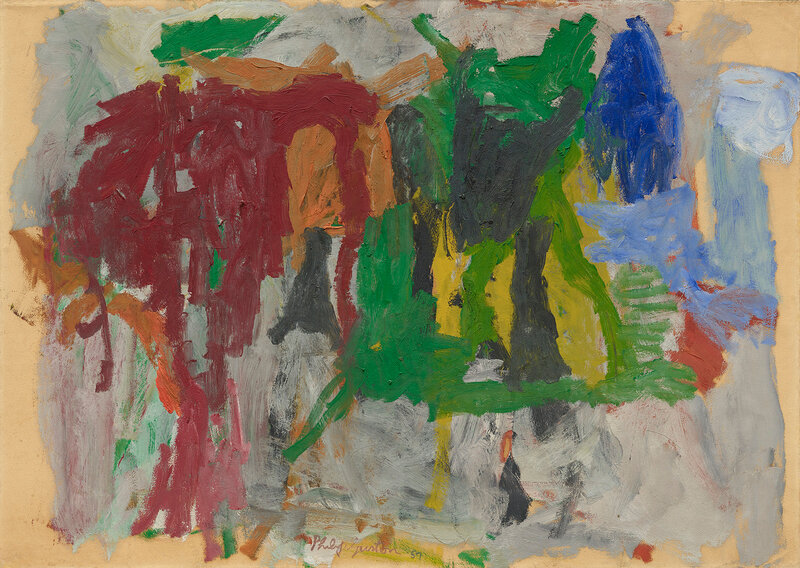 Philip Guston, Untitled, 1957, oil on paper on Masonite, 63.5 x 88.9 cm. Estimate €300,000-400,000. © Dorotheum
The wide range of important lots includes works by Yayoi Kusama, Gerhard Richter, Anselm Kiefer, Ludwig Wilding, Günther Uecker, Georg Baselitz, Stephan Balkenhol, Gotthard Graubner or Katharina Grosse. Gianni Colombo, himself an important proponent of Italian object art and kinetic art, also collected works belonging to these movements: from the items in this collection, the auction will feature a large-scale work by Jesus Rafael Soto (€240,000–320,000), among others.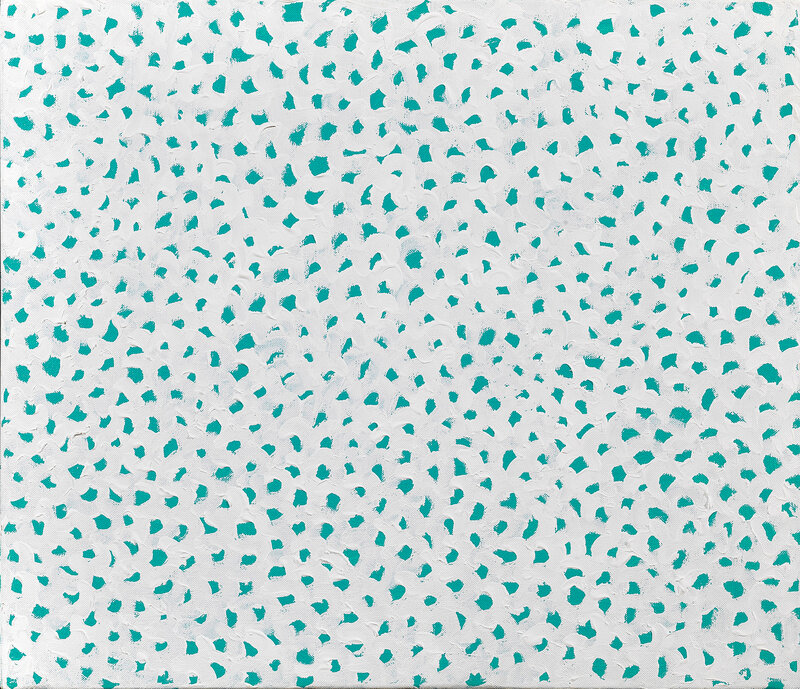 Yayoi Kusama, Nets 21, 1997, signed, dated and titled on the reverse Yayoi Kusama 1997 Nets 21, acrylic on canvas, 45.6 x 53 cm, framed, estimate €100,000–140,000. © Dorotheum
Works by Karel Appel and Asger Jorn ensure that the CoBrA-Group is once again well represented, while Austrian art appears in the work of Maria Lassnig, Arnulf Rainer, and Erwin Wurm.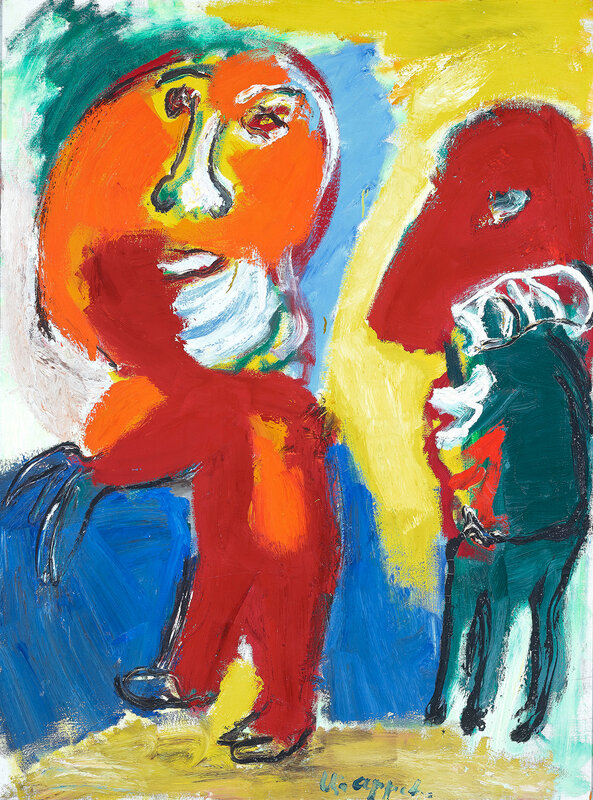 Karel Appel, Bon Homme de la Lune, 1963, signed K. Appel, signed and titled on the reverse, on the stretcher: Bon Homme de la Lune Appel, oil on canvas, 130.5 x 97 cm, framed, estimate €100,000–120,000. © Dorotheum
Under the auspices of Viennese Modernism
At the Modern Art auction on May 15th 2018, important international figures like Henri Matisse (Portrait de femme avec un collier € 280,000 – 320,000), Edgar Degas (€ 200,000 – 300,000), or Fernando Botero (€140,000–180,000), will share the limelight with artists who like no others represent the pioneering spirit of the fin de siècle avant-garde: Gustav Klimt and Egon Schiele.

The auction's emphasis on Viennese Modernism also reflects the 100th anniversary of the deaths of Gustav Klimt, Otto Wagner, Koloman Moser, and Egon Schiele in the current jubilee year.

Egon Schiele contributes a 1914 drawing, using both sides of one sheet, with a "Kneeling female nude" on the facing side and a "Reclining female nude" verso. Valued at 350,000 to 500,000 Euro the work comes from an Austrian private collection. Egon Schiele's estate awarded it to one of his relatives and it appears probable that the kneeling nude was coloured by his brother-in-law, Anton Peschka.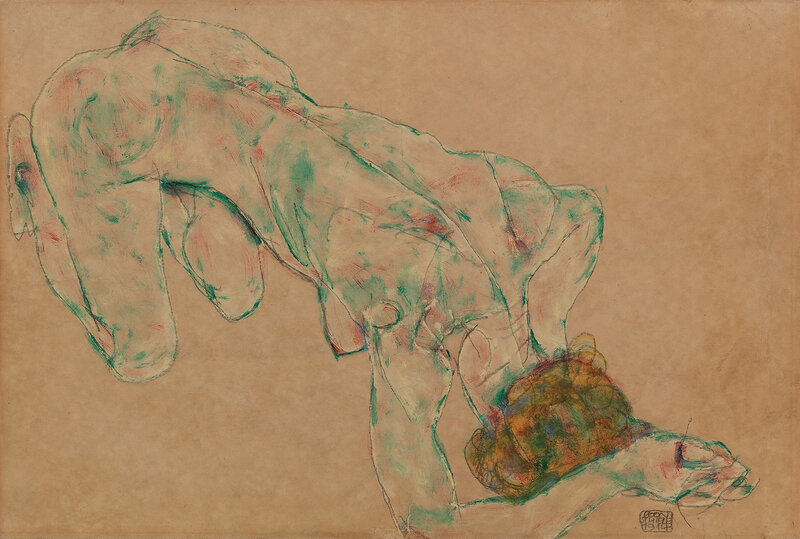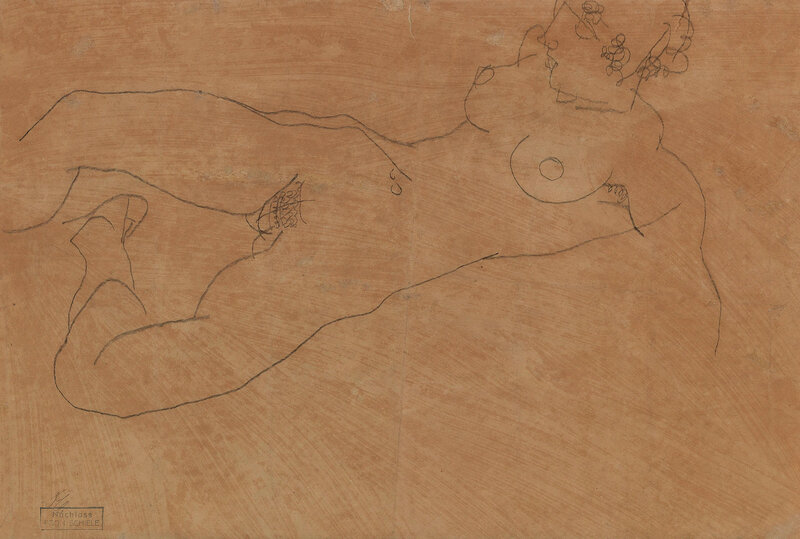 Egon Schiele, Kneeling female nude, signed, dated Egon Schiele 1914, pencil drawing coloured by another hand, on the other side: reclining female nude, 1914, stamp: Nachlass Egon Schiele, pencil on paper, sheet size 51.3 x 46.5 cm, framed, estimate €350,000–500,000. © Dorotheum
Gustav Klimt, Schiele's friend and patron, likewise offers up a pencil drawing, the "Reclining female semi-nude", which enters the auction at 38,000 to 58,000 Euro.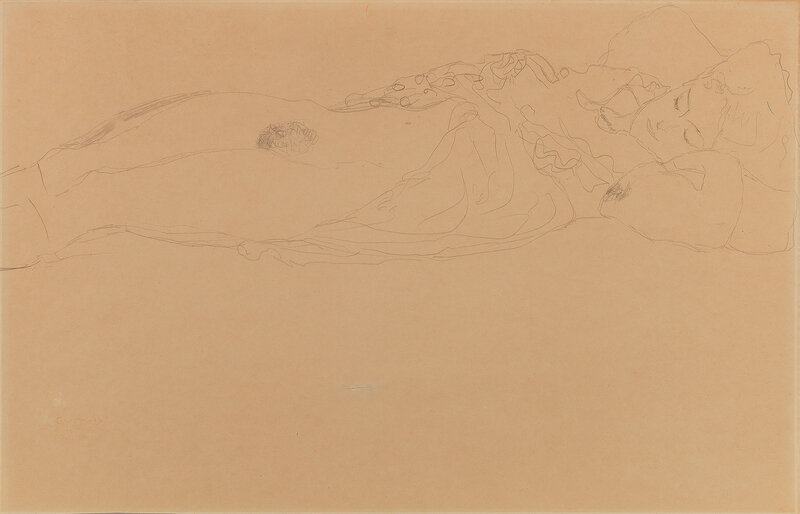 Gustav Klimt, Reclining female semi-nude, 1914/15, pencil on paper, 35.6 x 55.6 cm, €38,000–58,000. © Dorotheum
The auction also presents a Koloman Moser design drawing for the windows of the Steinhof Church – one of Vienna's most important Jugendstil buildings. Otto Wagner, who designed the church, had commissioned his artist friend Koloman Moser to design the windows. Despite the opposition of the ecclesiastical building committee, the windows were carried out according to his specifications. Moser later left the project, when his design for the high altar was refused.
Fritz Wotruba, Alfons Walde, Wilhelm Thöny and Oskar Laske represent Austrian art at the upcoming auction, while Bernard Buffet, Sonia Delaunay, Giacomo Balla and Marino Marini carry the torch for Italian and French Modernism.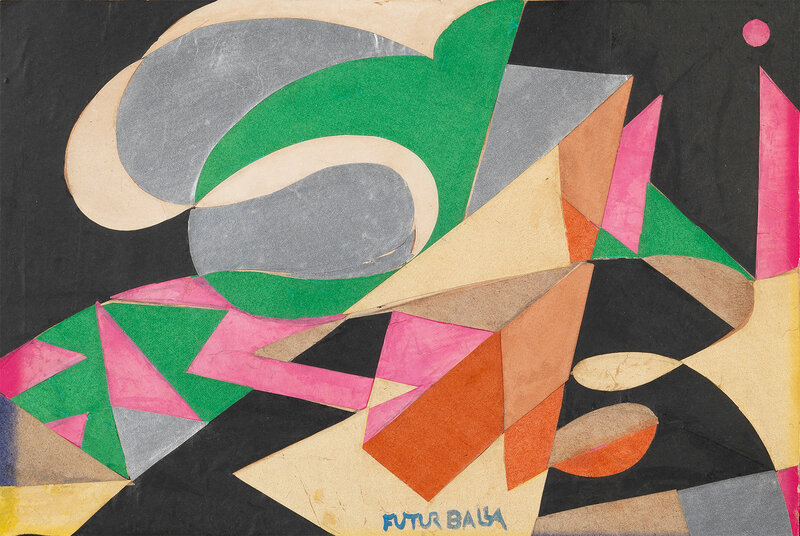 Giacomo Balla, Motivo con la parola FAZZOLETTI, c. 1916, collage of coloured and silver paper on cardboard, 21.5 x 31.5 cm, estimate €30,000–40,000. © Dorotheum
Aristocratic jewellery and exquisite watches
High-carat diadems, brooches, necklaces, and rings from well-established European aristocratic collections (incl. House Savoy) will provide the main focus of interest at the auction on May 17th 2018; whereas precision watches by Patek Philippe, Jaeger LeCoultre, and Roger Dubuis promise to attract bidders to the auction of Wrist- and Pocket Watches on May 18th 2018.