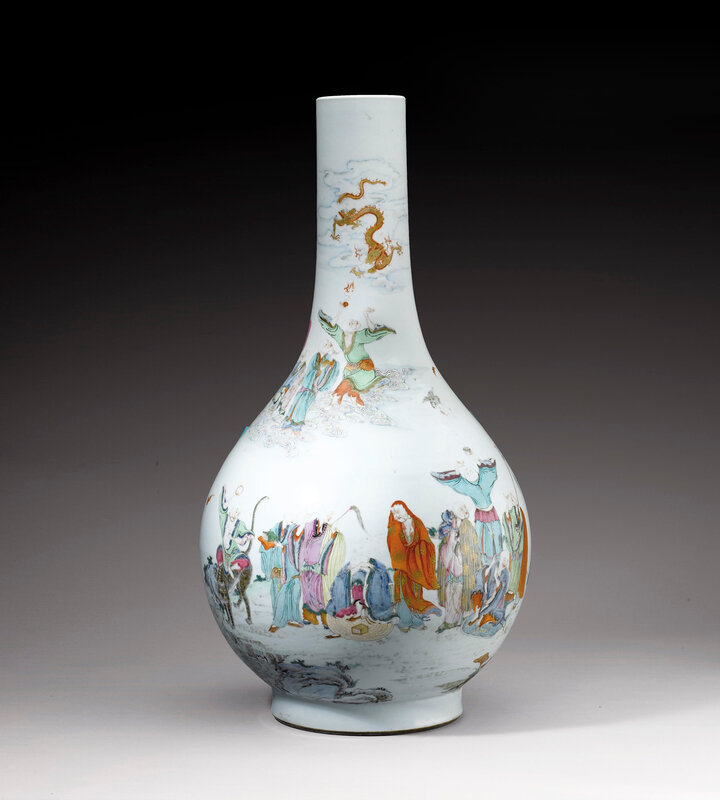 Lot 86. Rare grand vase bouteille en porcelaine de la famille rose, Chine, Dynastie Qing, XVIIIE siècle; 70 cm, 27 5/8 in. Estimate 50,000 — 70,000 €. Lot sold 780,750 €. Courtesy Sotheby's 2011.
la panse piriforme surmontée d'un long col tubulaire reposant sur un pied droit, le pourtour décoré des dix-huit lohans dont Subindha au-dessus de flots tumultueux tenant un rouleau à la main, Pindola monté sur un tigre féroce son anneau magique à la main, Vijraputra jouant avec son lionceau et Kanaka élevant son bol vers le ciel dans un paysage agrémenté de rocher, pin et lingzhi, au-dessus dans les nuages sont figurés entre autres Nagasena tenant son vase et Nantimitolo offrant la perle enflammée à un dragon rouge et or émergeant de la brume, peint sur le col du vase, un stupa apparaissant dans le lointain parmi des chauves-souris en vol, un numéro d'inventaire japonais peint en noir à la base et étiquette d'inventaire aux armes des Wendel de Lorraine et des Montiers-Mérinville ; fêle à la glaçure, la bordure du col légèrement rodée.
A rare and massive '18 luohans' famille rose bottle vase, China, Qing dynasty, 18th century
Note: The present vase stands out for its painterly design, fine and well preserved enamelling and its magnificent large size. It is the work of potters employed at the Imperial kilns at Jingdezhen, Jiangxi province, where vessels of such exceptional workmanship were made during the Qing dynasty. The subject matter of the 18 luohan is one that would have been specially commissioned by a devout Buddhist or to celebrate an auspicious occasion such as a wedding or birthday. The design, painted against a white ground, is after scroll paintings where the motif is gradually revealed as the work is unfold. By turning the vase, the viewer is introduced to the eighteen holy men, or sages, who have realized the Buddhist doctrine and have attained enlightenment. Generally depicted as elderly monks with shaved heads and loose robes, each lohan is identifiable by his individual attribute which he often carries or holds in his hand. Although occasionally worshipped as individuals, more frequently lohan were venerated in groups for their collective power.
Although no other similar example appears to be recorded, the painting style is comparable to that seen on a Qianlong lantern-form vase with the design of eight immortals, a similarly auspicious and celebratory theme used for birthdays, illustrated in Kangxi. Yogzheng. Qianlong. Qing Porcelain from the Palace Museum Collection, Hong Kong, 1989, pl. 31; and on another vase in the Palace Museum also decorated with the eight immortals published in Zhongguo taoci quanji, vol. 15, Shanghai, 2000, pl. 35. See also a smaller vase of upright shape, painted with the three Daoist star gods accompanied by several children, the figures dressed in beautifully coloured robes on a white ground, from the collection of H.M. Knight, sold in our London rooms, 12th May 1970, lot 124.
It is also worth comparing another large vase bearing a Daoist scene of immortals with Xiwangmu, from the collections of Viceroy Li Hongzhang, Alfred Trepnell and General Brayton Ives and illustrated in Edgar Gorer and J.F. Blacker, Chinese Porcelain and Hardstones, vol. II, London, 1911, pl. 215, sold at Christie's New York, 19th September 1996, lot 321, attributed to the Yongzheng and early Qianlong period.
Sotheby's. Arts d'Asie, Paris, 09 Jun 2011