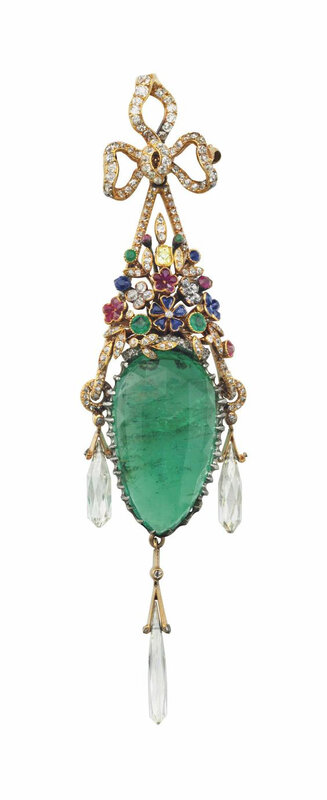 Lot 30. An antique multi-gem pendant brooch, by Frédéric Boucheron, circa 1890. Estimate USD 40,000 - USD 60,000. © Christie's Images Limited 2018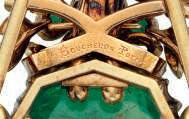 Designed as an old and rose-cut diamond ribbon-bow, suspending a floral bouquet of variously-cut sapphires, rubies, emeralds and an old-cut yellow diamond, to the pear-shaped faceted emerald, enhanced by three briolette-cut diamond drops, circa 1890, 3 1/2 ins., with French assay marks for 18k gold. Signed F. Boucheron for Frédéric Boucheron, Paris, with maker's mark.
Frédéric Boucheron was born into a family of merchant drapers, however, from a young age he found jewelry to be his true passion. At fourteen, he acted as an apprentice under Jules Chaise, a notable jeweler whom his father was acquainted with. From observing Chaise's work, to later taking a position on the sales floor of the well-known jewelry store Tixier-Deschamps, Boucheron developed a strong skills set and an appetite for the jewelry business.

It was a difficult start for Frédéric Boucheron when he decided to strike out on his own. Due to financial restraints, he knew he could not initially invest in large expensive stones to feature in his creations. Instead, Boucheron used his talent as a jeweler to design pieces that highlighted materials that he could afford. He worked diligently to build an inventory and never compromised on quality.

As a skilled metalworker, Boucheron set precious stones into beautifully woven gold designs of lace and ribbon. He quickly developed a unique style and a reputation as a reliable precious stone expert and craftsman. By 1858, he opened his first jewelry salon at the Palais Royal. Boucheron also began to exhibit in many international expositions, including the 1876 Philadelphia Centennial, the 1893 World's Colombian Exposition in Chicago and the 1889 and 1900 Expositions Universelles in Paris. Through his great success at these exhibitions, as well as his storefront's prominent location in the Palais Royal, Boucheron caught the eye of the most prominent European families. These relationships helped establish his firm's impressive and enduring significance.

In 1887, in an attempt to subdue the fear of a return to royalist power, the French Crown Jewels were auctioned to the public. Frédéric Boucheron attended the sale where he acquired over thirty significant diamonds. The success of these publically acquired purchases greatly increased the demand of goods from his workshop. In 1893, the firm moved to a larger location in the Place Vendȏme in order to accommodate the rapidly growing list of clientele.

Frédéric Boucheron died in 1902. His company was passed on to his children who maintained the high standards and refined craftsmanship that was of utmost importance to their father. Over the following decades the firm established boutiques around the world. Today, Boucheron has over thirty international store fronts, continuing to supply jewelry and precious stones to the world's elite, including the most recognized royal families.

Though the firm has been operating since 1858, Frédéric Boucheron's original designs only capture a fraction of the house's history. Lot 30 is an exceptional example by the founder himself. The pendant-brooch combines a sizeable faceted emerald, suspended from a variety of diamonds, colored diamonds and other variously-shaped precious stones. To find a piece with Frédéric Boucheron's signature, in such incredible condition, is a rare feat and a key addition to any jewelry collector's assemblage.
Christie's. Magnificent Jewels, New York, 17 April 2018