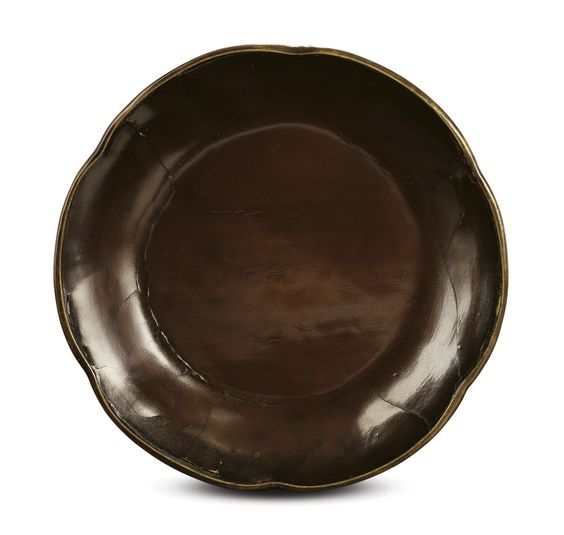 Lot 2101. A rare brown lacquer prunus-shaped dish, Song dynasty (960-1279); 5 1/4 in. (13.4 cm.) wide. Estimate HKD 60,000 - HKD 80,000. Price realised HKD 187,500. © Christie's Images Ltd 2008
The mouth rim is gently indented to form six-lobes, bound with a thin metal band, the interior and exterior with a chestnut-brown lacquer, resting on a circular recessed base, Japanese wood box.
Exhibited: The Museum of East Asian Art, Cologne, 1990, Dragon and Phoenix, Chinese Lacquer Ware, The Lee Family Collection, Catalogue, no. 14
Los Angeles County Museum of Art, 1990/91
The Shoto Museum of Art, Shibuya, Japan, 1991, Chinese Lacquerware, Catalogue, no. 2
King Tsi Lee was born in Shandong on November 7th, 1930. He is the eldest son of Sammy Yu-kuan Lee (b: 14 October 1902).

By the time King Tsi Lee was born, his father had already opened an antique shop in Beijing, and the latter was so heavily involved with his business operations that he was only able to return to Shandong once every year for the Chinese New Year celebrations. King Tsi joined his father's business as a youngster, after the usual period of apprenticeship in Beijing art shops. Thereafter he was afforded the unique privilege of enrolling at Beijing University, something which was highly unusual for art dealers at that time.

In the period prior to World War II, the Beijing art circle experienced intense competition for Chinese art, with Europe, the United States, and Japan all sending dealers, curators, and government agencies to acquire what was available on the market. It was during this time that King Tsi Lee was fortunate enough to meet Sir Percival David. Sir Percival encouraged King Tsi to travel to London, and this he did, making a number of visits between the 1950's and 1970's. Despite the disparity in their ages they found that they had much in common and formed a good relationship. After the end of the war, Sir Percival was able to travel to Japan, and stayed at the Lee Family residence. It was through his relationship with Sir Percival David that King Tsi was later to meet Mr. and Mrs. Alfred Clark and other members of the Oriental Ceramic Society, who enabled him to acquire many of the treasures that found their way to Japan.

In 1949, during an era of political upheaval in China, King Tsi and his father moved to Hong Kong, abandoning their business operations in Beijing. It was in Hong Kong that they competed for the fine works of art which became available on the market from the collections of those who also left China during the turmoil. In the late 1950's the Lee Family decided to move to Japan where there was a revival of interest in Chinese art. This golden opportunity allowed their business to flourish, and they formed long lasting relationships with the three great collections of Chinese art that were being formed by Idemitsu, Matsuoka, and Ataka.

In 1976, King Tsi saw an opportunity in Hong Kong and re-opened an operation that was to attract a new wave of local collectors, which included members of the Min Chiu Society. In Hong Kong he met T.Y. Chao, K.S. Lo, S.K. Ko, Dr. Ip Yee, Yeung Wing Tak, Quincy Chuang, James Watt and many others who gave him much valued support.

It was also in Hong Kong that King Tsi was to meet his long term friend, the collector and scholar, Dr. S.C. Hu (1924 -2006). The two often spent long hours at Dr. Hu's residence over dinners which lasted until dawn - with the approval of Mrs. Duccus Hu who left the two gentlemen to continue their long discussions on Chinese lacquer or companionable silences - in a friendship that lasted for three decades.

In 1972, King Tsi received a letter from Arthur Sackler, who was interested in acquiring his father's collection of Chinese Lacquer (the majority of the pieces are illustrated in the book by Lee Yu-kuan, Oriental Lacquer Art, New York, 1972). Following lengthy negotiations, an agreement was reached and the collection now resides at the Arthur Sackler Gallery in Washington D. C.

Following in the footsteps of his father, and wanting to prove himself an equally discerning and knowledgeable collector, King Tsi began to amass his own collection of Chinese lacquer in the 1970's. King Tsi found that Japan was a perfect place to collect fine pieces, since they were both well-documented and invariably very well preserved, often having been kept in specially made boxes.

In 1976 a superb early Ming cinnabar Lacquer bowlstand from the collection of Sir Percival and Lady David (lot 2119) came up for sale at auction. King Tsi was determined to purchase this important piece even though the world was in the midst of a major recession brought on by the oil crisis. After heated bidding during the auction he was able to acquire it despite the best efforts of one of the leading London dealers, Roger Bluett. Bluett's client was so determined that the same evening King Tsi was approached by Bluett who tried to persuade him to sell the bowlstand. A short time later, Dr. Sherman Lee (1918-2008) a good friend of the Lee Family and Director of the Cleveland Museum of Arts (1958-1983) also called and asked King Tsi to re-consider the offer, revealing that the client to whom he was acting as advisor to was in fact John D. Rockefeller.

In 1990 King Tsi Lee retired at the age of 60 and moved to Rancho Mirage, California, where he was able to enjoy his other interests, foremost among which was golf. Today he has returned to the province of his birth, and resides in Qingdao, Shandong with his father, who celebrated his 106th birthday in October.
Note: A similar lacquer dish found amongst a group of lacquer dated to the Tang dynasty excavated at Jianli Xian, Hubei province, is published in Wenwu, 1982, 2.93, pl. 8. fig. 4.

The shape and the metal bound mouth rim relate closely to Dingyaoceramics of the Tang period from which the present lacquer dish has taken its inspiration. Cf. three lobed Dingyao dishes with metal bound mouth rims, illustrated in Catalogue of the Special Exhibition of Ting Ware White Porcelain, National Palace Museum, 1987, nos. 102-104. Thinly potted Dingceramic bowls and dishes were fired upside down on unglazed mouth rims, and were often fitted with metal bands either for protection or to provide a smoother surface..
Christie's. Important Chinese Lacquer Wares from the Lee Family Collection, Hong Kong, 3 December 2008