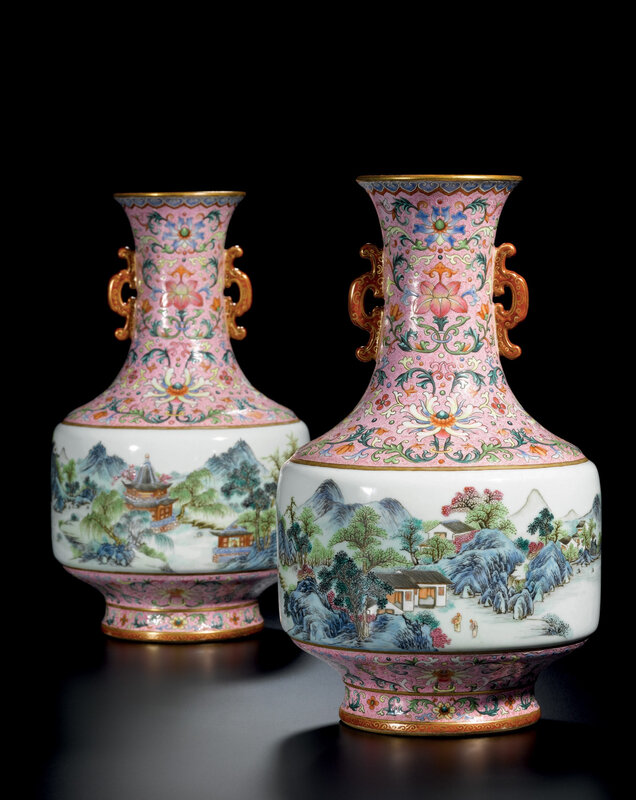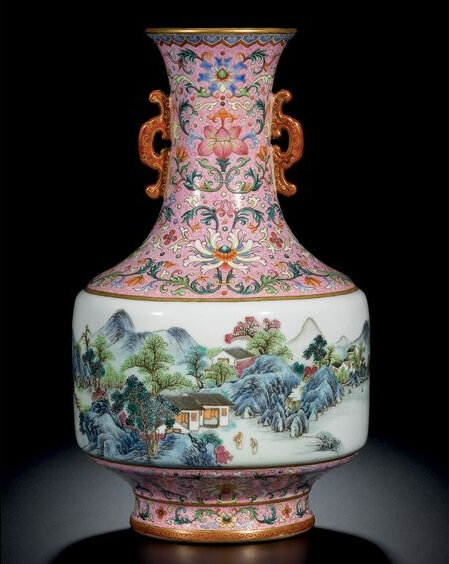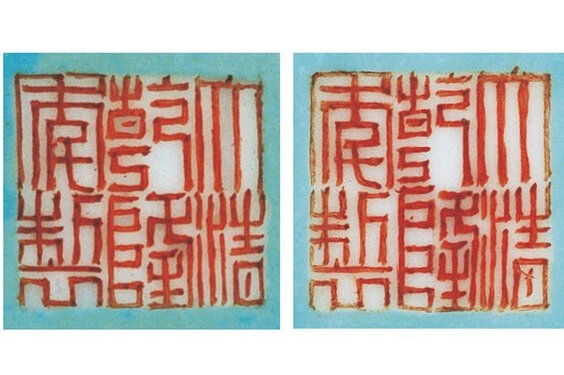 Lot 2130. A superb pair of pink-ground famille-rose 'Landscape' vases, seal marks and of the period of Qianlong (1736-1795); 36.5 cm., 14 3/8 in. Estimate 20,000,000 — 30,000,000 HKD. Lot sold 99,220,000 HKD . Courtesy Sotheby's 2010.
each well potted with a wide cylindrical body set between a slender waisted neck with a flared mouth at the top and a narrow slightly splayed foot, the neck flanked by a pair of archaistic iron-red C- shaped 'ear' handles, the body deftly painted with a continuous idyllic landscape filled with humble thatched-roof cottages and large pavilion homes overlooking calm lakes surrounded by trees and rocky blue-green hills, the neck and foot similarly decorated with large stylised lotus blooms and hibiscus flowers borne on acanthus leaf scrolls, all reserved on a pink enamel ground finely painted with a dense pink feather scroll ground, the neck further collared by a blue ruyi-head band below the mouth, the details picked out in gilt with the mouth further edged gilt, the interior and base glazed in turquoise, the base inscribed with a six-character reign mark in iron-red reserved on a white square.
Provenance: Nagatani Inc., Chicago, 1960s.
Note: Idealized landscape scenes encircling the body of a vase, like a painting on an unrolled hand scroll, are rather rare on Qianlong porcelain. Such continuous paintings commanded not only accomplished brushwork but also particular skill at composition. Mountainous landscapes featuring pavilions in richly coloured vegetation among towering rockwork and expanses of water were applied onto porcelain by Tang Ying (1682-1756), superintendent of the Jingdezhen imperial factory and a gifted painter himself. Scenes signed with his seal, either painted by him directly onto the vessel or transferred there from his ink paintings by professional porcelain decorators have survived from the early Qianlong period; see, for example, Peter Y.K. Lam, 'Tang Ying (1682-1756). The Imperial Factory Superintendent at Jingdezhen', Transactions of the Oriental Ceramic Society vol. 63, 1998-9, pp. 65-82, figs 8 and 9, where a landscape painting by Tang Ying is compared to a porcelain vase with similar decoration from the collection of Paul and Helen Bernat, sold in these rooms, 15th November 1988, lot 52.
With their combination of dramatic mountain sceneries with formal scrollwork on a coloured ground, these vases from J.T. Tai & Co. represent a somewhat later stage of porcelain decoration in the Qianlong reign. Although the individual elements of both shape and decoration are all well known from this reign, close counterparts are difficult to find, since the Qianlong potters were masters at combining their many style elements in myriad ways to create ever new designs. The pink-ground neck and foot with formal floral scrolls are simulating the sgraffiato work characteristic of yangcai porcelain from the early Qianlong period by replacing its needlepoint engraving with finely painted scrollwork in a darker shade of pink.
Similar vases were more typically painted with landscapes forming a backdrop for figure scenes and the floral scrolls are more often set against a darker puce-coloured ground. A pair of Qianlong vases of related form decorated in this way from the Chang Foundation, Taipei, is illustrated in James Spencer, Selected Chinese Ceramics from Han to Qing Dynasties, Taipei, 1990, pl. 168; and a single vase is published in the Illustrated Catalogue of Ch'ing Dynasty Porcelain in the National Palace Museum, Republic of China: Ch'ien-lung Ware and Other Wares, Tokyo, 1981, pl. 36.
Vases of this basic model inspired copies in later reigns, particularly in the Daoguang period. A related Daoguang vase in the National Palace Museum, Taipei, with figures in a landscape and a pink-coloured neck is illustrated ibid., pl. 120; another in the Palace Museum, Beijing, with a garden scene and a puce-coloured neck is illustrated in Zhongguo taoci quanji[Complete series on Chinese ceramics], Shanghai, 2000, vol. 15, pl. 165.
Sotheby's. Masterpieces of Qing Imperial Porcelain from J.T. Tai & Co., Hong Kong, 07 Oct 2010