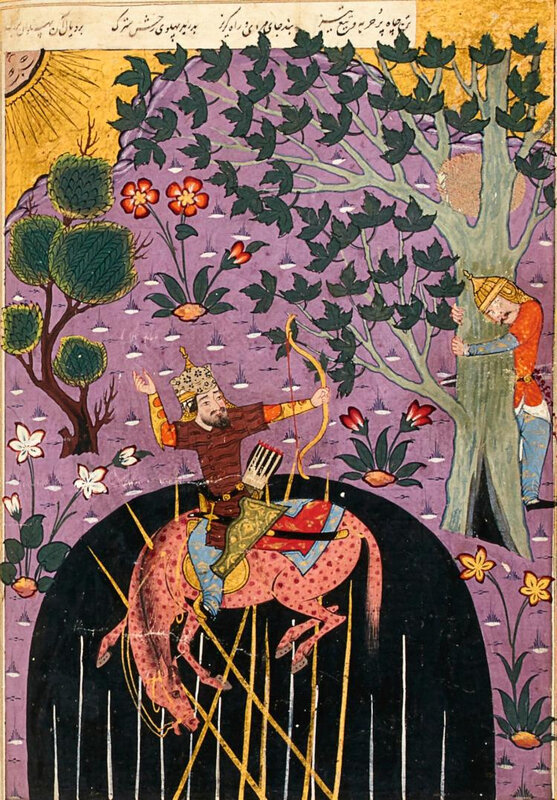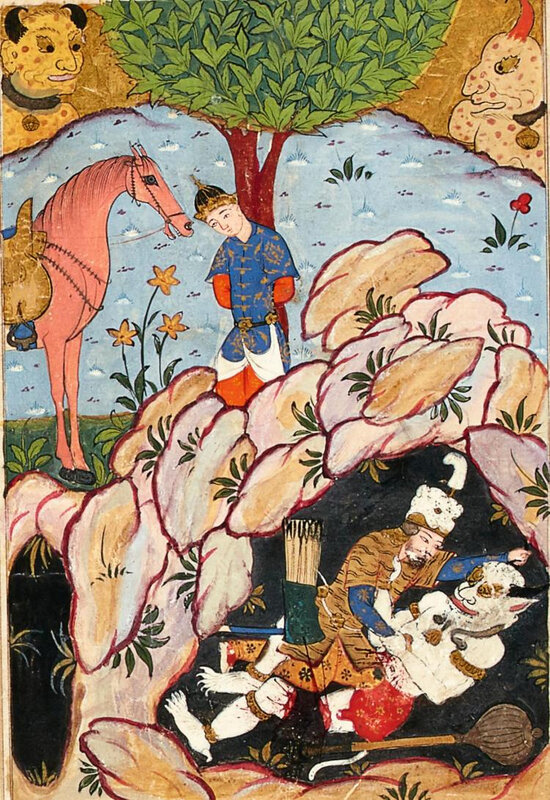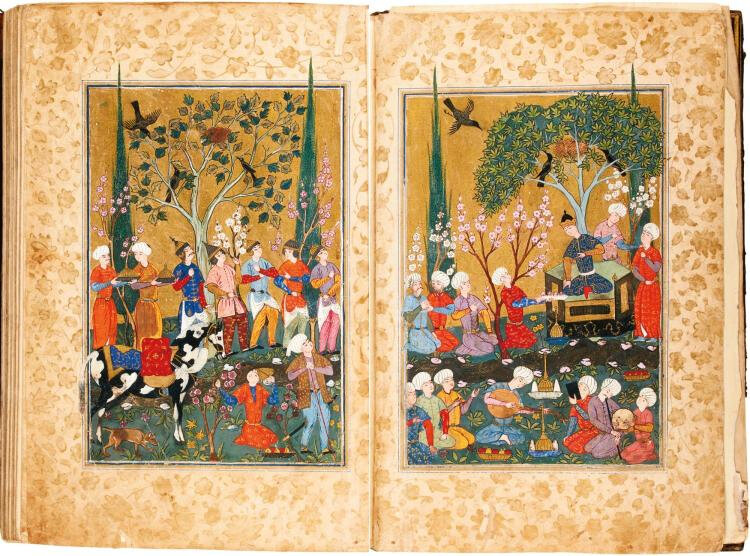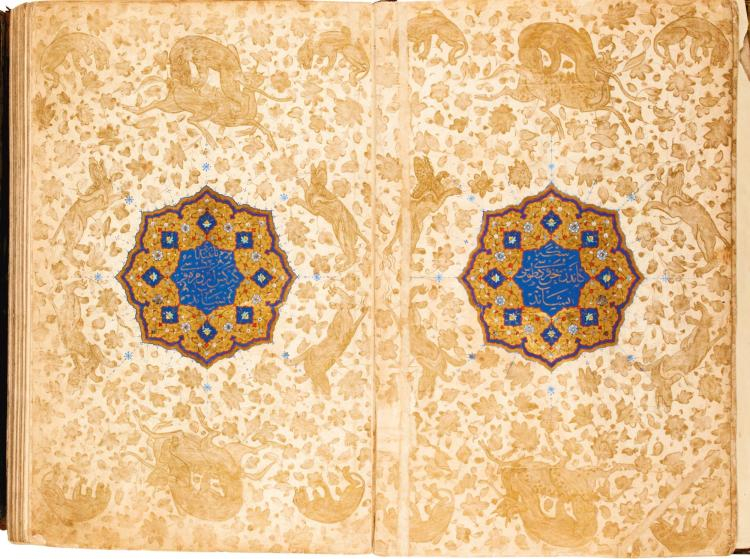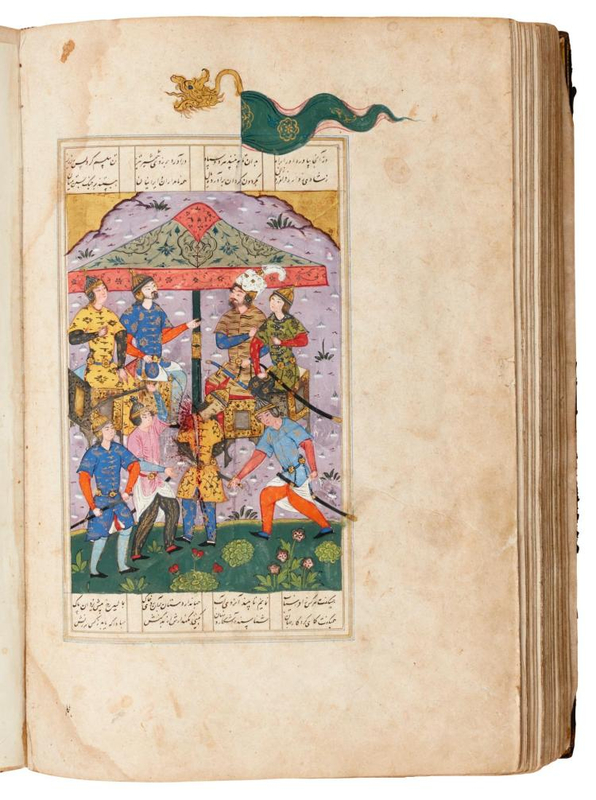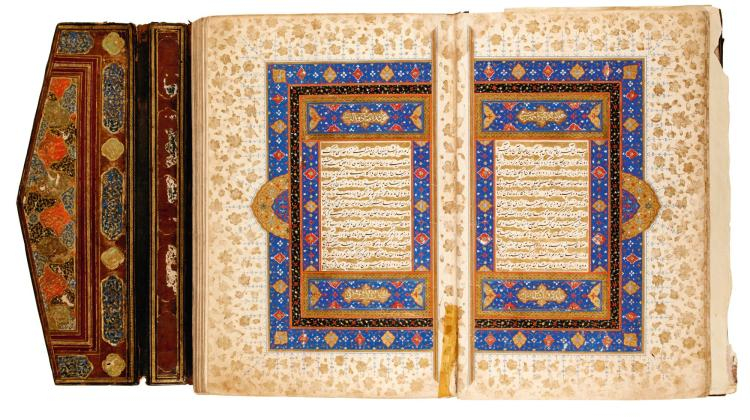 Lot 68. Firdausi (d.1020 AD), Shahnameh, Persia, Qazwin, Safavid, dated 985 AH/1577 AD. Estimate 30,000 — 50,000 GBP. Lot Sold 81,250 GBP (92,983 EUR). Courtesy Sotheby's 2018.
Persian manuscript on paper, 472 leaves plus 3 fly-leaves, 25 lines to the page text arranged in 4 columns, written in nasta'liq in black ink, titles in gold, f.3b and 4a with gold and polychrome shamsas followed by an opening bifolium with 12 lines of nasta'liq within clouds against a gold ground, surrounded by polychrome and gold scrolls against a blue ground, 22 miniature paintings, in contemporaneous gilt-stamped Safavid binding with fine polychrome doublures, with flap; text panel: 23 by 13.8cm. leaf: 35.7 by 23.6cm.
Provenance: Christie's, London, 11 July 1974, lot 8.
Note: This finely illuminated manuscript contains 22 illustrations as follows:
F.1b &2a: two paintings depicting a banquet
F.15b: Jamshid teaching the crafts
F.28b: Tur slays his brother Iris
F.34b: Manuchihr kills Salm
F.64b: The battle of Turanians and Persians: Rustam carries off Afrasiyab's crown and girdle
F.72b: Rustam kills the white div
F.93b: Rustam slays his his son Sohrab
F.101b: The fire ordeal of Siyavush
F.135b: A party scene
F.174b: Rustam pulls Khaqan off his elephant with his kamund
F.181b: Rustam slays Puladwand
F.217b: Rustam spares Barzu
F.232b: Rustam witnesses an execution
F.272b: Rustam shoots Shughad through a tree from the pit
F.290b: Kay Khosrow puts to death Gersiwaz and Afrasiyab
F.306b: Gushtasp slays the dragon
F.331b: Shidah's head being cut off after his defeat in wrestling with Kay Khusraw
F.347b: Arjasp killed by Isfendi
F.380b: A battle scene
F.404b: The execution of Faramurz by Bahman
F.457b: The fight between Iskandar and Fur.
Sotheby's. Arts of the Islamic World, London, 25 Apr 2018, 10:30 AM