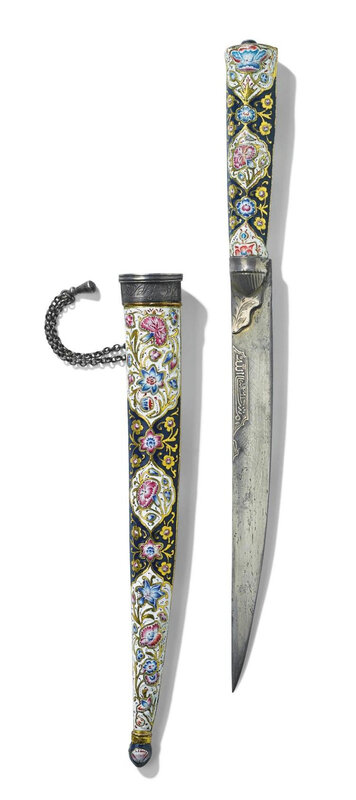 Lot 196. A Zand enamelled and gilt-copper dagger (kard) and scabbard, Persia, signed 'Ya Allah Aziz', dated 1207 AH/1792-3 AD, with Ottoman blade, Turkey, dated 1261 AH/1845-6 AD; 32.5cm. length. Estimate 14,000 — 18,000 GBP. Courtesy Sotheby's 2018.
the tapering steel blade with silver inscription and incised floral design at the forte, the hilt and scabbard each decorated in polychrome enamel flowers and foliage in white ground cartouches on a blue ground scattered with flowers, with cartouche bearing date and suspension loop, gilt copper outlines.
Provenance: Christie's, London, 28 April 1998, lot 123.
Note: Inscriptions
On the blade:
tawakkaltu 'ala allah
'I put my trust in God'
ma sha' allah sana 1261
'What God wills, year 1261 AH (1845-6 AD)'
On the scabbard:
ya 'aziz 1207
'O Mighty! 1207 AH (1792-3 AD)'
Sotheby's. Arts of the Islamic World, London, 25 Apr 2018, 10:30 AM