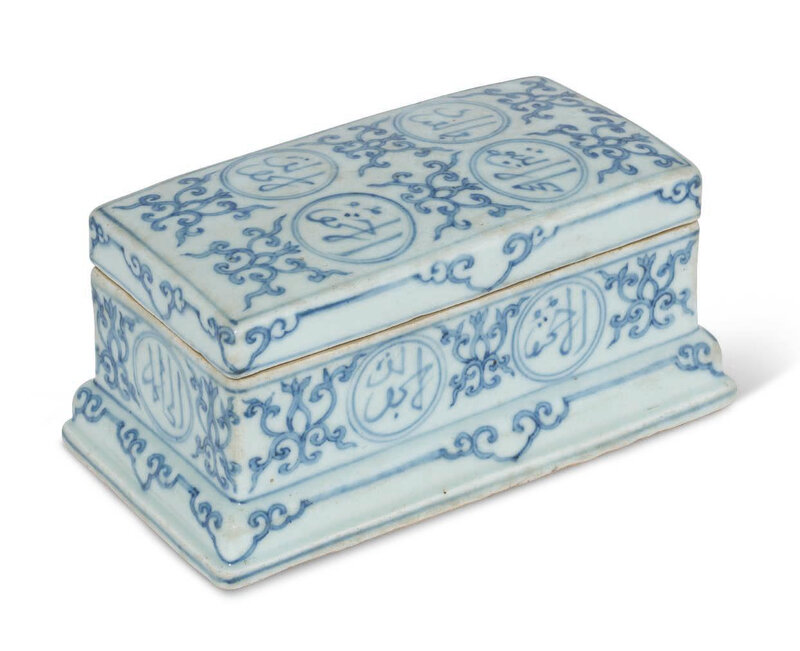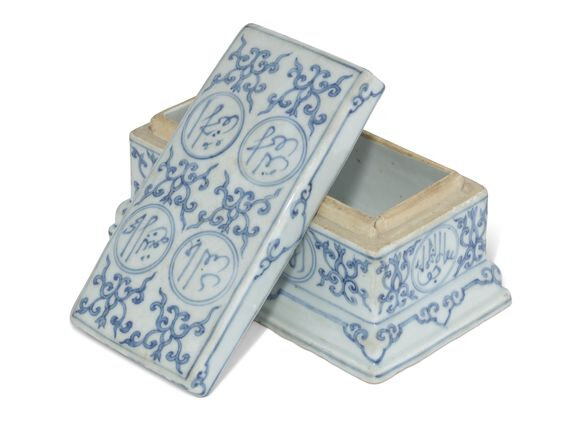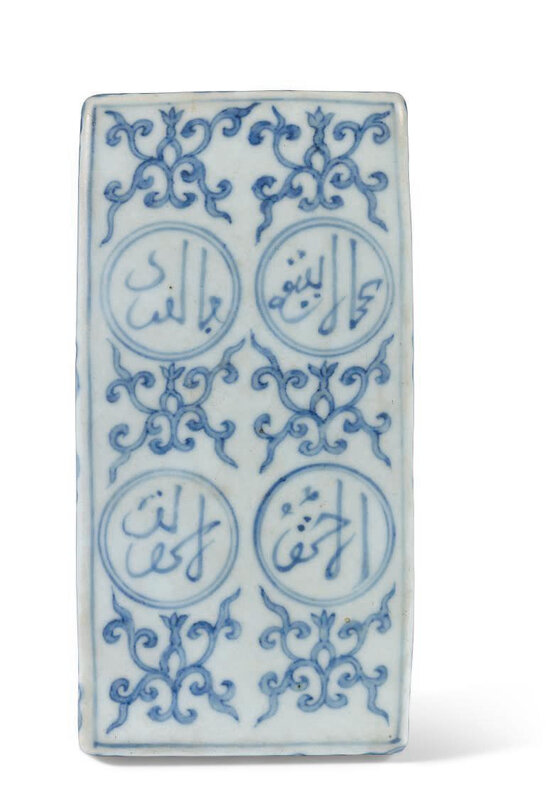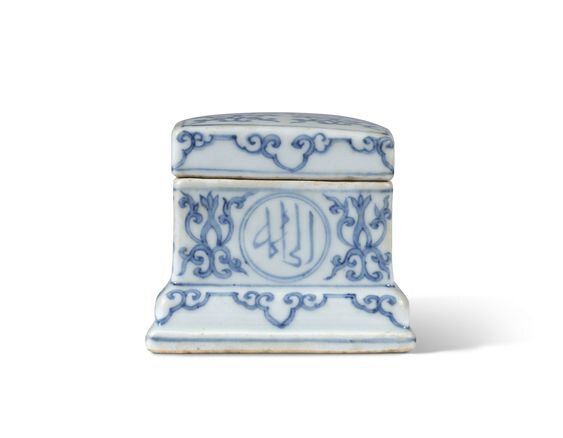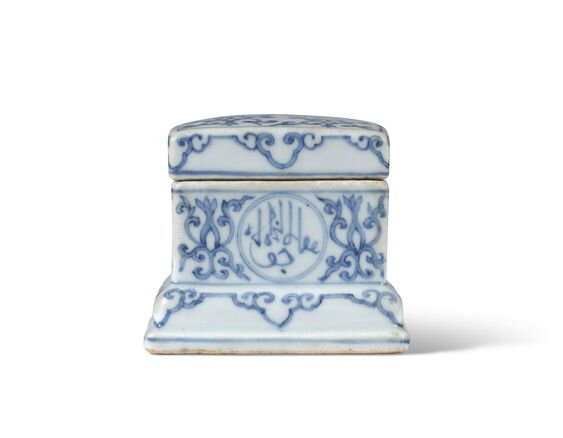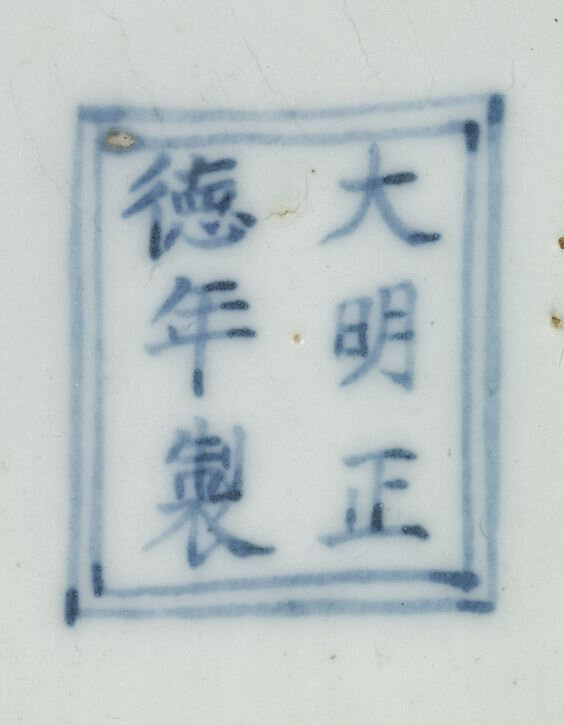 Lot 163. A rare Ming blue and white porcelain pen box, Jingdezhen area, Jiangxi province, China, Zhengde reign (R.1506-21); 8 1/8 x 4 ¼ x 4in. (20.5 x 10.8 x 10.2cm). Estimate GBP 120,000 - GBP 150,000 (USD 170,160 - USD 212,700). © Christie's Images Limited 2018.
Of rectangular form with separate lid and splayed base, the surfaces decorated with calligraphic roundels of sini script on foliate ground surrounded by leafy vine, the raised base marked with a six-character seal.
Note: This box bears the imperial reign mark of the Ming Emperor Zhengde (r.1506-21). It is one of a small group of heavily potted blue-and-white porcelains decorated with Arabic and Persian calligraphy that were made in his name. The pieces associated with this group are mostly desk furniture – brush rests, ink slabs, penholders, boxes and vases made to decorate a scholar-administrator's desk (Jessica Harrison-Hall, Ming Ceramics in the British Museum, London, 2001, p.188). Many of the shapes of the porcelains associated with this group are unfamiliar in the Islamic world and it seems unlikely therefore that they were made for export. None are known to have survived in either the Topkapi Sarayi or the Ardebil shrine.
Sir Harry Garner suggested more plausibly that they were kept in the offices of powerful Muslim eunuchs that lived at court and who were well-versed in Chinese, Persian and Arabic (Sir Harry Garner, Oriental Blue and White, London, 1973, pp.29-30). It is also possible that they were used by the Emperor himself, who was fascinated by foreign scripts (Harrison-Hall, 2001, p.88). 'Ali Ekbar, a merchant from eastern Turkey, visited China in 1505, wrote an account of his visit describing the court as well as recording the process for manufacturing porcelain. He described most of the officials of the Zhengde court as Muslim eunuchs and wrote that the young Emperor himself was believed to have embraced the Muslim faith (quoted in Garner, 1973, p.29). Although this is unrecorded in the Chinese Ming official histories, it certainly paints a picture of the context in which these pieces were made. The inscriptions are usually either descriptive, mentioning the use of the vessel – such as a pen rest in the British Museum inscribed across two sides with the word khamadan (OA F.147B) – Qur'anic inscriptions or, as on our box, encouraging phrases or proverbs.
A very similar pen box to ours is in the British Museum (OA 1973.7-26.364; published Harrison-Hall, 2001, no.8:5, p.194). It is of precisely the same form as ours, and similarly decorated with double-outlined calligraphic roundels alternated with formal lotus scroll – all in a grey-blue. Although both hands are sketchy and interpreted slightly differently, the inscriptions on the two boxes are the same (although read slightly differently here). One minor difference between the British Museum box and ours is the orientation of the roundels on the lid – on ours they are arranged such that they can be read vertically whereas on the British Museum box, they are arranged on the horizontal. Similarly decorated ink slabs are also known. From the exterior, they are remarkably similar to the pen boxes but are slightly squatter in form. One such ink slab is in the British Museum (OA F.147A; Harrison-Hall, 2001, no.8:6, p.195). Another is in the Musée national des arts asiatiques – Guimet, currently on view at the Louvre Abu Dhabi (published Xavier Besse, La Chine des Porcelaines, Musée Guimet, Paris, 2004, pl. 16). The decoration of both of these, like ours, is arranged on the vertical rather than the horizontal.
Porcelain rectangular pen box and cover with underglaze blue decoration, Ming dynasty, Zhengde mark and period (1506-1521). Height: 9 cm (with cover), Length: 20 cm, Width: 11 cm. The Seligman Collection of Oriental Art, 973,0726.364.a-b © Trustees of the British Museum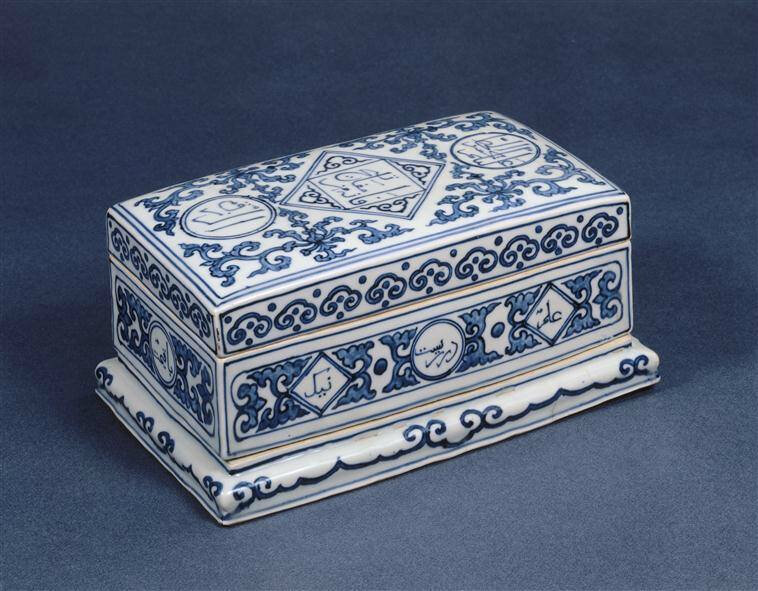 Boîte écritoire, inscriptions en arabe et en persan, règne de Zhengde (1506-1521), porcelaine à décor bleu et blanc. Paris, musée Guimet - musée national des Arts asiatiques, G4458. Photo © RMN-Grand Palais (MNAAG, Paris) / Mathieu Ravaux
Another similar pen box is in the Royal Ontario Museum of Archaeology (Garner, 1973, pl.43A). In the catalogue entry to the British Museum box, Harrison-Hall mentions that there are two others pen boxes of this type known – one in the private Tianminlou collection and the other in the Ashmolean Museum in Oxford.
Christie's. Art of the Islamic and Indian Worlds Including Oriental Rugs and Carpets, London, 26 April 2018