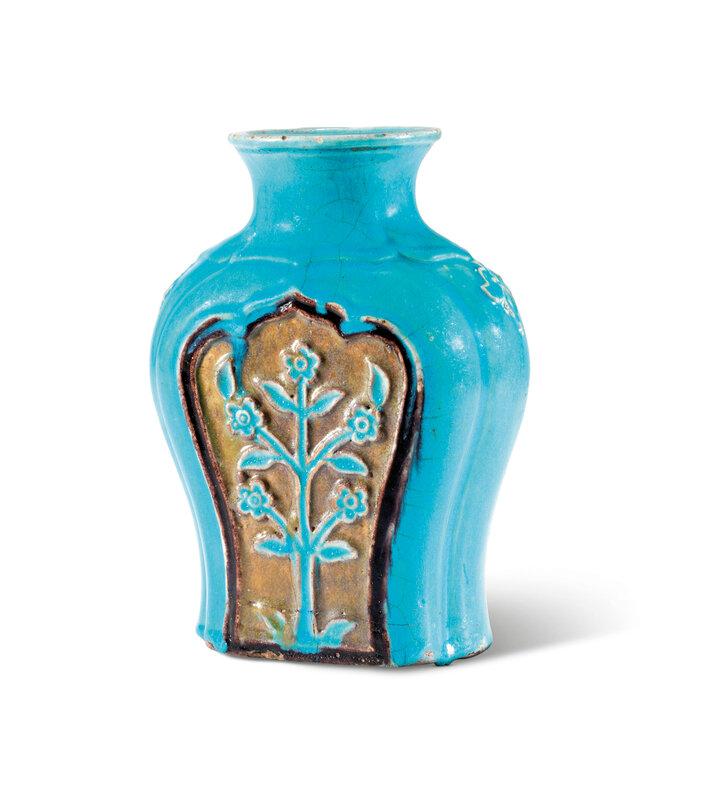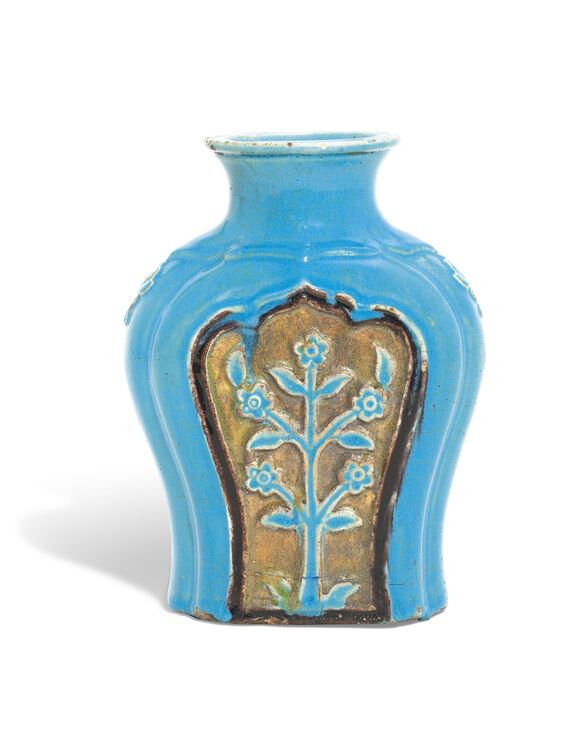 Lot 77. A Safavid moulded turquoise and manganese glazed jar, Iran, 17th century; 7 ¾in. (19.2cm.) high. Estimate GBP 12,000 - GBP 18,000 (USD 17,016 - USD 25,524). © Christie's Images Limited 2018.
With two flat arched sides rising from flat base, the cusped sides with elegantly moulded palmettes at the shoulder, the flat sides with moulded floral sprays on brown ground, repaired breaks.
Note: This bottle is one of a small, distinctive group of Safavid pottery. Although they were designed to imitate the Chinese Fahua techniques and glazes of the late 15th and early 16th centuries, the known examples are all of forms that follow typically Persian models. The group is characterised by moulded decoration which serves to keep apart rich opaque coloured glazes. As on our jar, 'thin smears of 'golden syrup' glaze [are] commonly applied under the foot, whatever the colour of the rest of the vessel' (Arthur Lane, Later Islamic Pottery, London, 1957, p.108). A bottle with a body very similar to ours is in the Victoria and Albert Museum (inv.no. 634-1889; published in Lane, 1957, pl.92A). Like ours, the body of the V bottle is a brilliant turquoise, with moulded palmettes at the shoulder and a cusped niche enclosing a floral spray on both of the flattened sides. Ours is clearly conceived as the jar it is now, but the close similarity between the two vessels may suggest that they were the product of the same workshop.
Bottle, fritware, relief-moulded, turquoise glaze with details in cobalt, maroon and yellow; Iran, 1650-1725. Height: 30.5 cm conversion, Width: 16.5 cm, 634-1889, © Victoria and Albert Museum, London 2017.
A covered bowl (tas) of the same type recently sold at Christie's London, 26 October 2017, lot 94.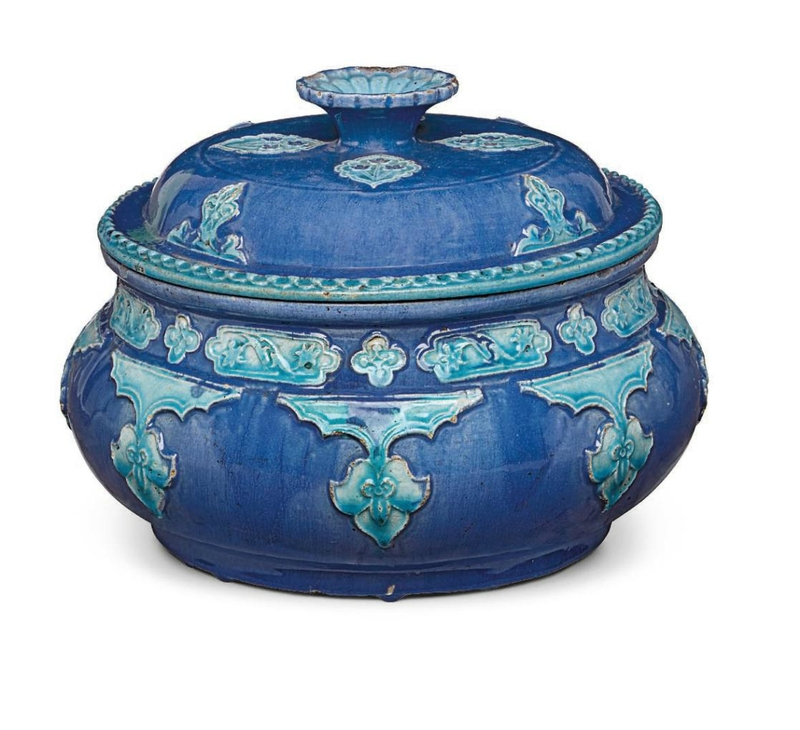 A rare Safavid blue-glazed pottery covered bowl (tas), Iran, 17th century. 9¾in. (25cm.) high; 12 5/8in. (32cm.) diam. Sold for 68,750 GBP at Christie's London, 26 October 2017, lot 94. © Christie's Images Ltd 2017
Cf. my post: A rare Safavid blue-glazed pottery covered bowl (tas), Iran, 17th century
Christie's. Art of the Islamic and Indian Worlds Including Oriental Rugs and Carpets, London, 26 April 2018