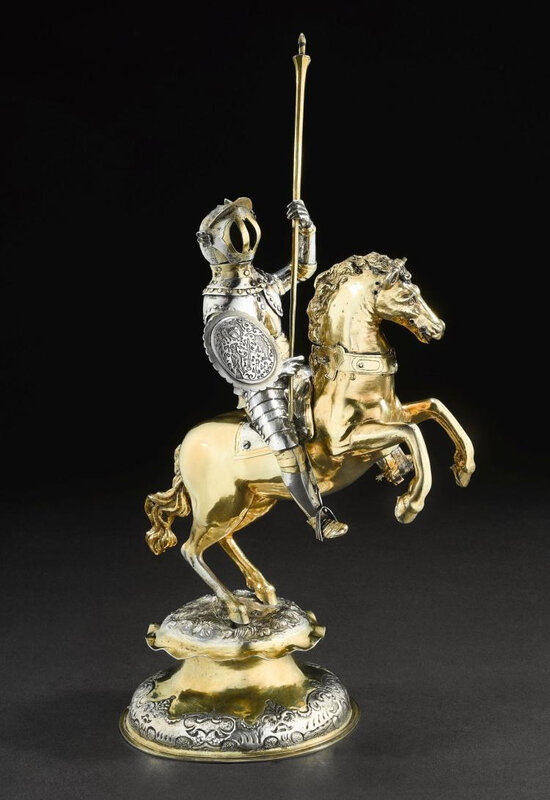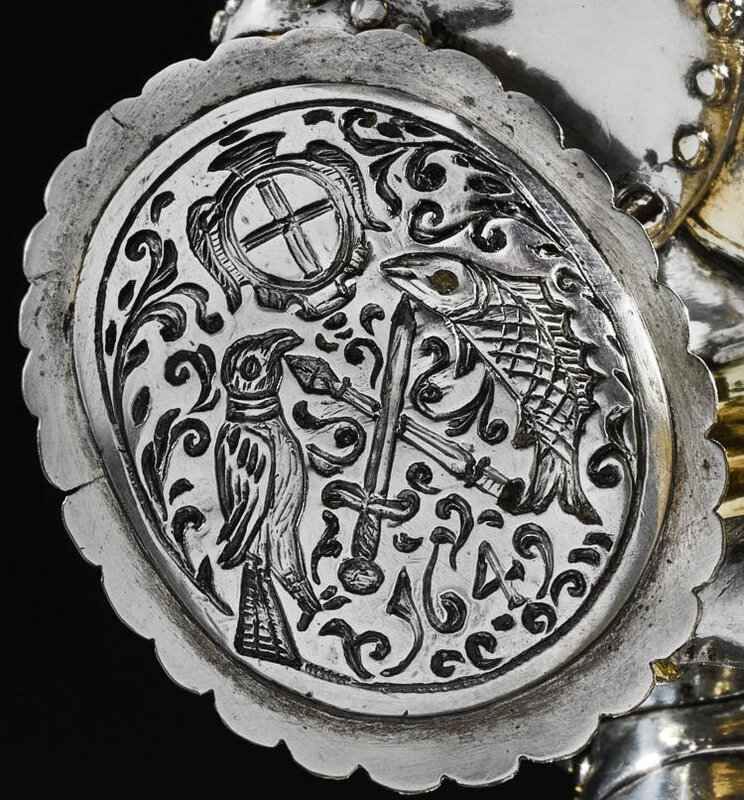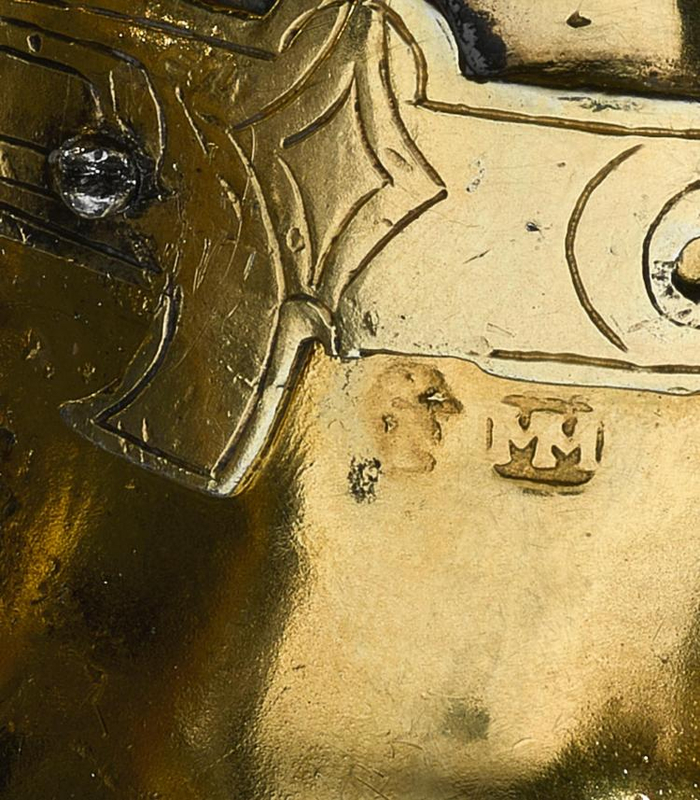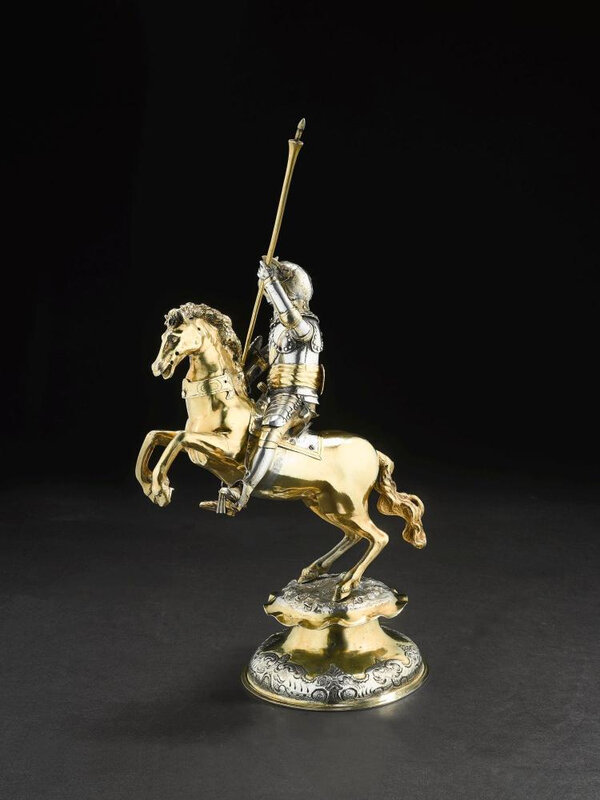 Lot 282. A German parcel-gilt silver horse on stand with mounted rider, the rider and stand, maker's mark only GIS, circa 1650, the horse associated possibly earlier; 35.5cm., 14in. high; 923gr., 29oz. 22dwt. Estimate 12,000 — 18,000 GBP. Courtesy Sotheby's 2018.
the rearing animal with detachable head, the figure in armour with pike, hinged visor, saddle and stirrups, holding an armorial engraved shield dated 1649, on domed base embossed and chased to simulate a forest floor above lobate ornament, marked on saddle and base.
Note: The horse in this sculptural group originates from one workshop while the rider and base of the group come from another. The latter two pieces are united by having the same marks and following the regime of alternate gilt and white parts. They are also stylistically in keeping with the date on the horseman's shield, which is engraved 1649 and which also includes traces of coloured enamel.
The horse, which is stylistically earlier than the rider and base, is cast. This casting includes a Nuremberg town mark and the maker's mark MM probably for Martin Malfait (working dates 1569-1608) or Michel Michaelis (1606-1627), makers who have been confused in the past (see Karin Tebbe et al. Nürnberger Goldschmiedekunst 1541-1868, Nuremberg, 2007, nos. 551 and 580). Neither of these goldsmiths are recorded making animals by the authors of Nürnberger Goldschmiedekunst, but a model of a partridge attributed to Michel Michaelis, Nuremberg, circa 1620, formerly in the Sidney J. Lamon collection, was sold Sotheby's, Monaco, 7 December, 1991, lot 717.
Two identical models of the horse, by the Nuremberg goldsmith Jacob Fröhlich, 1560/70, are in the Kunsthistorisches Museum, Vienna, formerly at Schloss Ambras, and the Hermitage St. Petersburg (see op. cit. no. 249). These two are on a very small base and stand up because the animals' tail acts as a separate support. The horse in the current lot is constructed in the same way, so that its tails should act as an extra support. A fourth model, of the same size as the other three, but where the collar appears to be tooled into the metal rather than applied to it, by Thomas Stör the younger, Nuremberg, circa 1635 was sold Sotheby's, Zurich, 18 November 1977, lot 102.
The horse in the present lot has been tested for impurities in the silver. Against a data bank of English silver, these impurities are consistent with alloys datable to between 1500-1600.