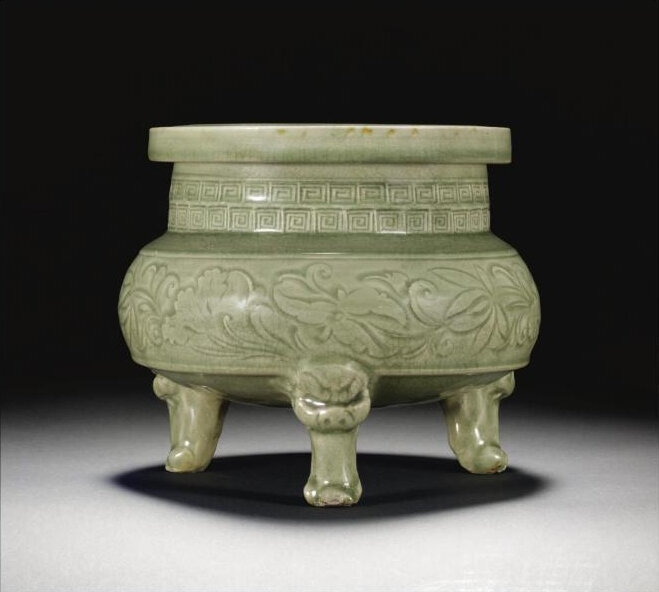 Lot 273. A rare and large 'Yaozhou' tripod censer, Northern Song dynasty (960-1127); 23cm., 9in. Estimate 20,000 — 30,000. Lot sold 26,900 GBP. Courtesy Sotheby's 2007.
the compressed globular body freely carved with a broad band of leafy scrolling lotus between two raised filets, the broad neck carved with two key-fret bands below the broad square-section everted rim, all supported on three lion-paw feet issuing from lion masks, covered overall with a glossy olive-green glaze pooling to a darker tone around the carving to emphasise the design, the unglazed interior pierced to allow air to escape from the legs in the firing.
Provenance: Sold in these rooms, 15th December, 1981, lot 135.
Exhibited: Song Ceramics, Southeast Asian Ceramic Society, Singapore, 1983, cat. no. 16.
Literature: Julian Thompson, Chinese Celadons, Arts of Asia, November-December 1993, p. 66, fig. 6.
Note: Yaozhou censers of this distinct shape, impressive size and naturally carved lotus scroll decoration are extremely rare, although a censer of related form carved with peonies and supported on three lion's feet issuing from masks is illustrated in Yaozhou kiln, Xi'an, 1992, p. 113. Three other Yaozhou incense burners of equally remarkable size and exquisite decoration are comparable, but all with sprig-moulded designs instead of the carved lotus scroll; see one from the Ataka collection, now in the Museum of Oriental Ceramics, Osaka, illustrated in Sekai toji zenshu, vol. 12, Tokyo, 1977, col. pl. 195; one discovered in Linxi county, Inner Mongolia, and now in the Linxi Cultural Relics Bureau, published in Zhongguo wenwu jinghua daquan. Taoci juan, Shanghai, 1993, pl. 505; and a third with additional handles, excavated in Lantian, Shaanxi province and now in the Shaanxi Provincial Museum, ibid., pl. 506.
Compare also a smaller Yaozhou censer carved with a similar lotus scroll and a simple carved diaper design around the neck, illustrated in Mary Tregear, Song Ceramics, London, 1982, p. 105, pl. 122, from the Avery Brundage collection in the Asian Art Museum, San Francisco, where Tregear notes that 'the legs in the form of monster masks are traditionally features of the archaic bronze original'. Censers of this smaller form can also be found decorated with a band of combed trefoil leaves curling back on an undulating stem within line borders, such as the piece from the collection of Matsushige Hirota and now in the Tokyo National Museum included in the exhibition Celadon of Yaozhou Ware, Museum of Oriental Ceramics, Osaka, 1991, cat. no. 20; another twice sold in these rooms, 25th March 1975, lot 216, and 7th June 2000, lot 106, included in the exhibition So Gen no bijutsu, Osaka Municipal Art Museum, Osaka, 1978, cat. no.1:41; and a third example in the Nanjing Museum illustrated in Zhongguo taoci quanji, vol. 7, Shanghai, 2000, pl. 85.
Sotheby's. Fine Chinese Ceramics and Works of Art, London, 07 Nov 2007