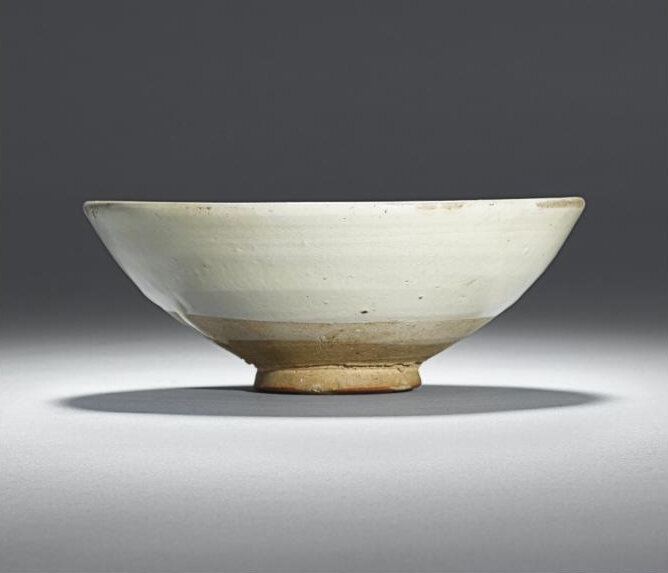 Lot 4. A very rare polychrome painted 'Cizhou' bowl with fish, Jin dynasty, 12th-13th century; 17.6cm., 6 7/8 in. Estimate 30,000 — 40,000. Lot Sold 49,250 GBP. Photo Sotheby's 2011
with softly rounded sides and a low splayed foot, covered with a rich layer of white slip and a glossy transparent glaze, the interior freely painted with a carp in bright iron-red enamel in front of a lotus flower with red bloom and green leaf and further green water weeds, surrounded by red and green bands, the red accentuated by yellow dots, the green enamel partly iridescent, the exterior plain white with glaze and slip stopping well above the foot, revealing the buff stoneware body, the centre inside showing a ring of five spur marks, similarly repeated on the foot, in Japanese purple silk pouch (shifuku) with matching silk cushion and four corner posts, in ribbon-tied paulownia-wood box and cover, ribbon-tied black-lacquered outer box and cover, and double brown cotton furoshiki with inscribed wooden tag.
Provenance: Collection of Eugene Bernat.
Sotheby's New York, 7th November 1980, lot 125.
Exhibited: Chinese Ceramics of the Sung Dynasty, Currier Gallery of Art, Manchester, New Hampshire, 1959, cat. no. 98.
Chinese Art, Smith College Museum, Northampton, Massachusetts, 1962, cat. no. 136.
Worcester Art Museum, Worcester, Massachusetts (on loan).
Chūgoku tōji. Bi wo miru kokoro /Chinese ceramics, Enlightening through Beauty, Sen-Oku Hakuko Kan, Kyoto, 2006, cat. no. 28.
Literature: Jan Wirgin, 'Sung Ceramic Designs', Bulletin of the Museum of Far Eastern Antiquities, no. 42, Stockholm, 1970, pl. 56 g.
Note: The present bowl is outstanding in its delightful, freely painted nature scene and its intense, well-preserved colours – a combination that is extremely rare among polychrome 'Cizhou' wares. Various 'Cizhou' kilns particularly in Henan province began in the late Northern Song or Jin dynasty to decorate their transparent-glazed, white-slipped stonewares in red, green and yellow enamels. Such colourfully painted vessels represent China's first polychrome painted ceramics. Since the enamels are applied over the glaze, they tend to wear off with use; companion pieces of similar quality are therefore hard to find.
A bowl with a similar fish among water plants but on a green ground, also surrounded by a red border with yellow dots, is illustrated in Wang Ye, 'Henan zhongbu yibei faxian de zaoqi youshang duose caihui taoci [Early ceramics with overglaze polychrome painting from the middle to northern region of Henan], Wenwu, 2006, no. 2, p. 69, pl. 54. Two related fish-decorated bowls are also illustrated in Jingcai. Jin Yuan hong lu cai ciqi zhong de shenqi yu shixiang/Splendid. The Deities and Secular World in Polychrome Overglaze Decoration Ceramics of Kin and Yuan Dynasties, Beijing, 2009, pls 196 and 197, the former coarser overall and with the fish on a green ground, the latter similar in design but larger and less finely painted.
Sotheby's. Fine Chinese Ceramics & Works of Art, 11 May 11, London