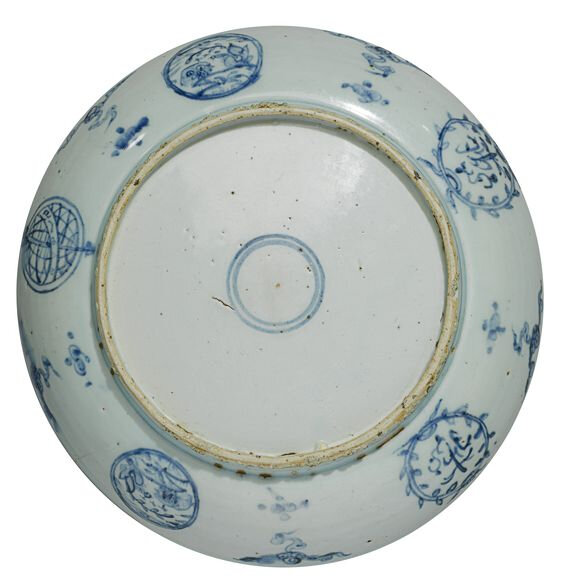 Lot 57. An extremely rare blue and white dish for the Portuguese market, Ming dynasty, Jiajing period, circa 1540-1550; 31.6cm, 12in., diam. Estimate 8,000—12,000 GBP. Lot Sold 30,000 GBP. Photo Sotheby's 2011
the rounded sides rising from a straight foot, painted in underglaze cobalt-blue to the interior with a central medallion enclosing two Buddhist lions with beribboned brocade balls encircled by a trellis border at the rim, the exterior with IHS monogram medallions, the armillary sphere, and roundels enclosing a bird of prey perched on a branch surveying a hare, all divided by lingzhi cloud wisps.
Lot 59. A blue and white bottle vase for the Portuguese market, Ming dynasty, Jiajing period, circa 1540-1550; 24.4cm, 9 5/8 in. Estimate 40,000—60,000 GBP. Lot Sold 49,250 GBP. Photo Sotheby's 2011
the globular body rising from a splayed foot to a long neck tapering to a garlic-form mouth, decorated in underglaze cobalt-blue with four armillary spheres below a band of lotus lappets, the neck with floral sprays issuing from rockwork, the garlic mouth with a band of flames, the foot skirted with a further band of lotus lappets, the base inscribed with an apocryphal four-character Xuande mark.
Note: No other vase of this type appears to have been published, although the armillary sphere motif is known on a ewer, with an extremely rare Zhengde reign mark and of the period, sold in these rooms, 18th November 1998, lot 1060; and a bowl illustrated in Regina Krahl, Chinese Ceramics in the Topkapi Saray Museum, vol. II, London, 1986, pl. 812, which is dated to 1541.
Further ewers, with a dragon-head spout and handle terminating in a fish tail, decorated with the armillary sphere emblem are known; see one in the Fundacao Medeiros e Almeida, Lisbon, included in the exhibition Do Tejo aos Mares da China. Uma Epopeia Portuguesa, Palacio Nacional de Queluz, Queluz, 1992, cat. no. 21; and another in the collection of Jose Cortez, included in the exhibition Caminhos da Porcelana, Fundacao Oriente, Lisbon, 1998, cat. no. 1. Although both ewers and this vase have a spurious four-character Xuande nianzao mark on their bases, according to Jean-Paul Desroches and Maria Antonia Pinto de Matos in 'The Portuguese, Discoverers of China', Orientations, April 1992, p. 79, the heavy potting and luminous glaze are typical of Zhengde period porcelain.
The circular medallion bearing an armillary sphere and an inscription which is meant to read 'In Deo Spero' (In God I Trust) is the emblem of King Manuel I of Portugal (r. 1469-1521) which was granted to him by his brother-in-law and his predecessor, King Joao II. The armillary sphere was the personal device of King Manuel I and represented his temporal power over his expanding empire.
Sotheby's. Fine Chinese Ceramics & Works of Art, 11 May 11, London