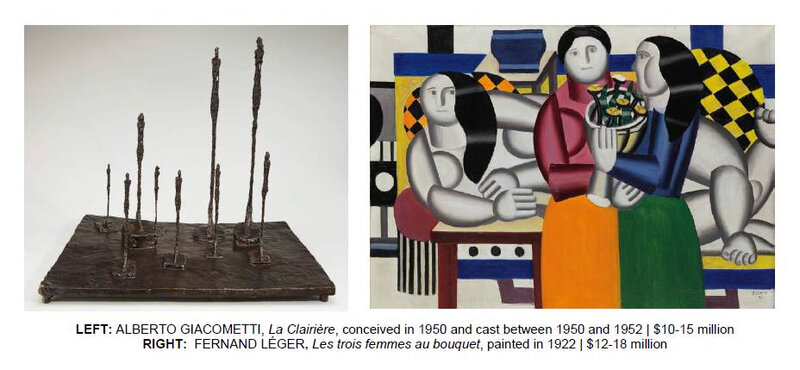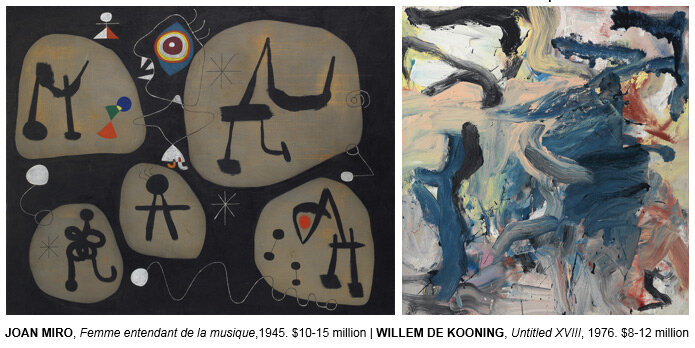 NEW YORK, NY.- Christie's announced further details on The Collection of Joan and Preston Robert Tisch, which will be offered as a central highlight of the Impressionist and Modern Art and Post-War and Contemporary Art Sales taking place in New York this May. Encompassing over 40 objects in total, The Collection of Joan and Preston Robert Tisch is expected to realize more than $80 million. Collection proceeds will go to the Tisch family foundations to continue the couple's lifelong philanthropic mission.

Conor Jordan, Deputy Chairman, Impressionist and Modern Art, remarked: "Joan and Preston Robert Tisch were judicious collectors, who acquired superlative examples by many of the most pioneering artists of the 20th century. The group that they assembled epitomizes the aesthetic dynamism that came to define the art of the Modern era. It will be an honor to present this collection at auction this May."
While studying English at the University of Michigan, Joan met Preston Robert "Bob" Tisch, a fellow student and Brooklyn native. The couple married in 1948, and went on to have three children. Across nearly six decades of marriage, Bob and Joan Tisch rose to become two of New York's most prominent civic and philanthropic leaders. Bob Tisch became a goodwill ambassador for his city: in addition to championing New York in Washington, he lobbied to bring two Democratic National Conventions to Manhattan, and generated support for largescale urban development initiatives such as the Javits Center. A lifelong football fan, Bob Tisch purchased a fifty percent stake in the New York Giants in 1991.

Joan Tisch was a remarkably driven woman with an unwavering belief in her family's ability to affect change. Beyond their significant contributions to institutions such as the University of Michigan and Tufts University, the Tisches' native New York was a particular focus of their energies. From the Central Park Children's Zoo to New York University, the Metropolitan Museum of Art, and the Museum of Modern Art (where Joan Tisch served as a trustee and posthumously donated works by Léger, Braque, and Giacometti,) the family provided significant support to organizations benefitting New Yorkers from all walks of life. Today, the Tisch name can be found throughout the city, reflecting a multi-generational ethos of giving.

"You could ask what would New York be without the Tisches," MoMA trustee Marie-Josée Kravis mused upon awarding the family the museum's David Rockefeller Award, "and I think a lot of institutions would be different."

Steadily acquired through personal erudition and connoisseurship, the collection includes works by some of the leading names of the recent art historical canon. From strikingly modern bronzes by Alberto Giacometti and Henry Moore to boldly-colored canvases by Willem de Kooning, Helen Frankenthaler, Joan Miró, Fernand Léger, Pablo Picasso and others, it is a dynamic lesson in 20th century creativity.

Leading the collection is Fernand Léger's Les trois femmes au bouquet, 1922. When Léger received a medical discharge in early 1917, ending his front-line service, he had not picked up a paintbrush in fully three years. Léger needed to catch up on later synthetic cubism, constructivism, abstraction, and neo-plasticism, as well as the new classicism. Remarkably, just four years later, Léger had achieved a position at the very forefront of the avant-garde. His first fully fledged manifesto of this new idiom was Le grand déjeuner (The Museum of Modern Art, New York), which he exhibited at the 1921 Salon d'Automne; a preliminary version of this masterwork will be offered in the present sale. However, Les trois femmes au bouquet, painted in 1922, represents the next stage in the evolution of Léger's unique vision of the Three Graces.
In Le grand déjeuner, Léger directly confronted the theme of the female nude, by which so many past masters had staked their claim to artistic greatness. Seeking a more authentically modern subject, the artist expanded his focus to encompass the example of 17th century genre imagery, in which simple daily routines provide a pretext for monumental figure painting. Les trois femmes au bouquet, which centers upon the modest domestic luxury of a floral bouquet, is a key signpost in this development. Estimate: $12-18 million.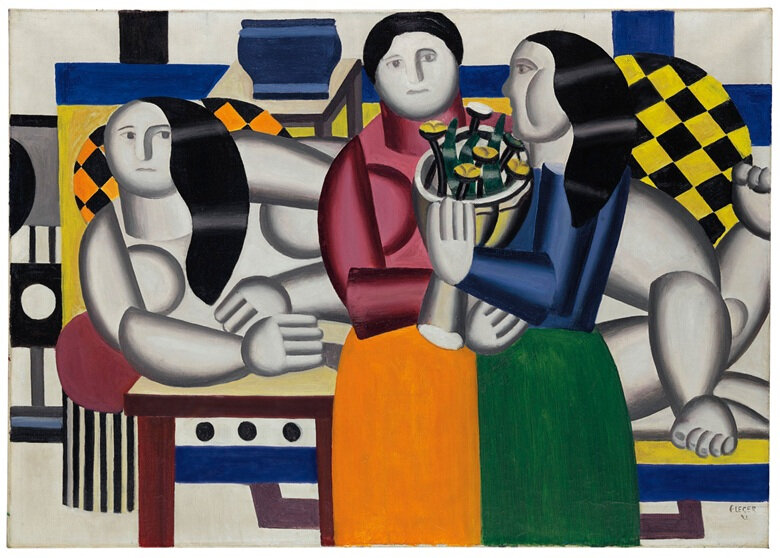 Fernand Léger, Les trois femmes au bouquet, painted in 1922. Estimate $12-18 million. © Christie's Images Limited 2018.
Alberto Giacometti is represented by three works in the collection, including two sculptures and one painting. The group is led by La Clairière, conceived in 1950 and cast between 1950-1952. From 1948-1950 Alberto Giacometti created a series of multi-figure compositions that were shown in his second exhibition at the Pierre Matisse Gallery, New York, in December 1950. The new sculptures proved to be a most astonishing development in his work. Whereas the most recently created highlights of his previous show had been large, figures and body parts, which were mainly male, the standing figures in Giacometti's newest group sculptures were predominantly female. These works would establish the paradigm to which the artist would generally adhere for the rest of his career—woman as goddess and muse, modeled full-length, upright, immobile, viewed as if from a distance. The chance arrangement of the figures in La Clarière, each in its own scale, rejects any conventional sense of distance and consistent perspective. There is no single, definitive vantage point—this sculpture virtually reinvents itself for the viewer each time one approaches it. Estimate: $10-12 million.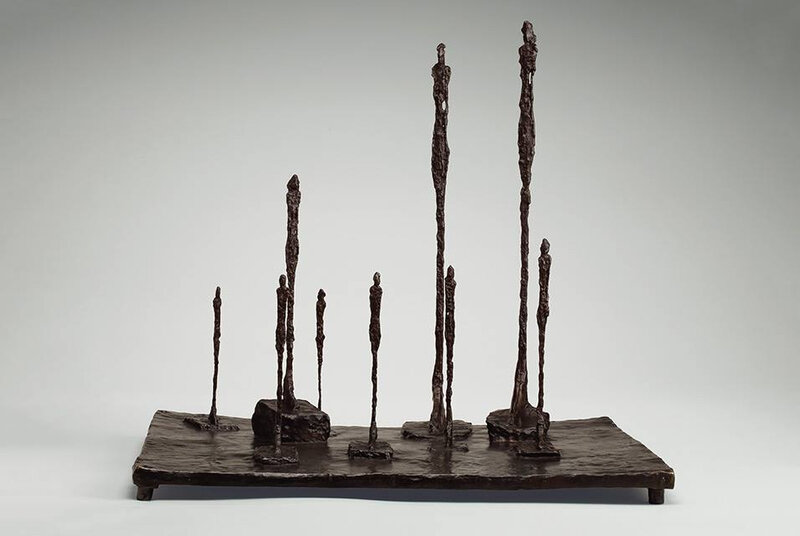 Alberto Giacometti, La Clairière, conceived in 1950 and cast between 1950 and 1952. Estimate: $10-15 million. © Christie's Images Limited 2018.
Joan Miró painted Femme entendant de la musique on 11 May 1945 —Germany had surrendered on 7 May, ending the Second World War in Europe. The western Allied democracies celebrated their V-E Day on the 8th, the Soviet Union the following day. Miró, residing in Barcelona, soon afterward received a letter from Henri Matisse dated Venice 8 May: "At last! Let us rejoice together." One may appreciate in the animated calligraphy of Miró's figures in this painting the artist's joy at this welcome, long awaited news. For Miró, however they are more complex, as the events of the day were also a reminder of his own nation's grim political reality. The whole of the Iberian Peninsula remained under fascist control, where it would remain for years to come. (Estimate: $10-15 million).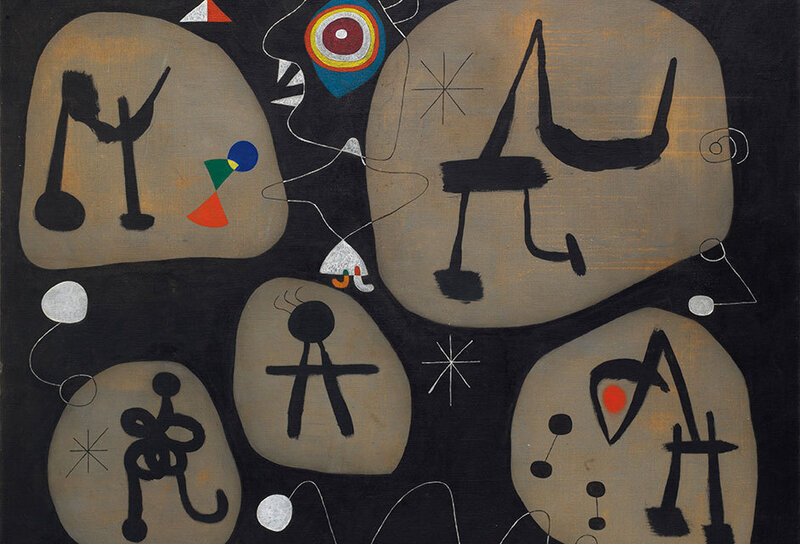 Joan Miró, Femme entendant de la musique, 1945. Estimate: $10-15 million. © Christie's Images Limited 2018.
Pablo Picasso's L'Atelier, dated 28 October 1955, brims with sundry accoutrements of the artist's profession. The painted ceramic Tête de femme, 1953 (Musée Picasso, Paris) represents the classic studio encounter between artist and model. This choc-a-bloc studio inventory is the fourth and most elaborate of the eleven Atelier canvases that Picasso painted between 23 and 31 October 1955. The occasion of the October Atelier series coincided with Picasso's 74th birthday—25 October—the first that he celebrated in "La Californie," having purchased the villa in the spring of that year. "He quickly responded to the stimulus of the place in a series of what he called paysages d'intérieur: interior landscapes," Marie-Laure Bernadac explained. "For Picasso, his studio is a self-portrait in itself." Moreover, The Atelier series is a sequel to the fifteen canvases of Les femmes d'Algers completed in February 1955, a second eulogy Picasso devoted to his rival, friend and sole acknowledged peer—Henri Matisse—who died in November 1954. Estimate: $6-9 million.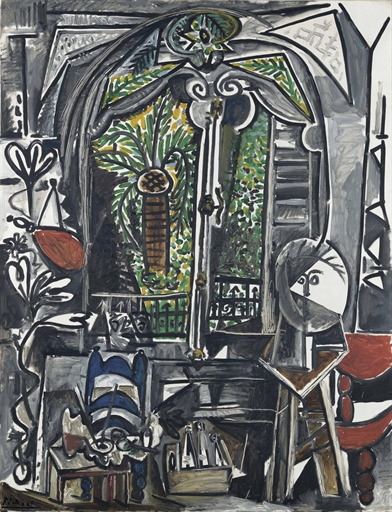 Pablo Picasso, L'Atelier, 1955. Estimate: $6-9 million. © Christie's Images Limited 2018
Leading the Post-War Highlights is Willem de Kooning's Untitled XVIII, 1976. Distinguished by its lavishly painted surface and riotous palette, Untitled XVIII epitomizes de Kooning's last great cycle of "pastoral" paintings that ushered forth from the artist in a final flourish between the years 1976 and 1977. Widely considered to be among his best work, these large-scale landscapes—with Untitled XVIII a seminal example—evoke the bucolic splendor of the artist's East Hampton studio at Springs. In exuberant strokes of effervescent, translucent paint, de Kooning captures and distills the essence of the seaside hamlet. Penetrated by an inner glow, the painting evokes the specific character of North Atlantic light, making it a harmonious ballet of color, form and gesture. Having featured in the seminal debut of de Kooning's "pastoral" paintings at the Solomon R. Guggenheim in 1978, Untitled XVIII belongs to a select group of only about twenty paintings that the artist deemed worthy of exhibition, in what would be his first solo museum show in New York in nine years. Estimate: $8-12 million.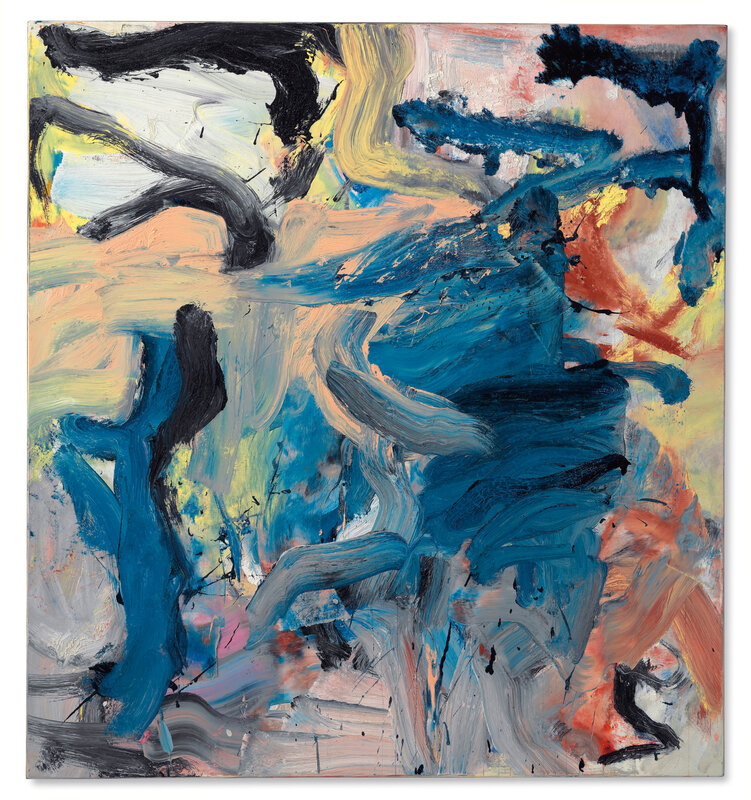 Willem de Kooning, Untitled XVIII, 1976. Estimate: $8-12 million. © Christie's Images Limited 2018