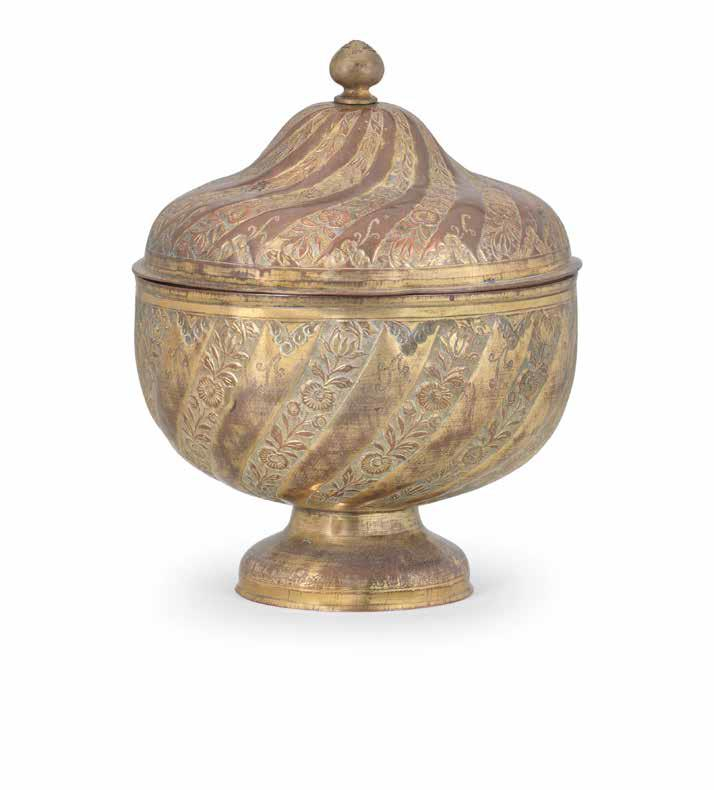 Lot 196. An Ottoman gilt copper (tombak) bowl and cover, Turkey, dated AH 1233/ 1818 AD; 24.5 cm. high. Estimate £6,000 - 8,000. Sold for £ 18,750 (€ 21,379). © Bonhams 2001-2018
of deep rounded form on a stepped, splayed foot, the lid of domed form with brass knop finial, the body and lid engraved with undulating bands alternately filled with floral vines and palmette motifs, inscription to foot .
Inscriptions: sahibü'l-hayrat kapucuk-dari gürci osman ağa'nın sofa-i hassa ocağına vakfıdur fi 25 z sene 1233, 'Pious endowment (vakıf) of the munificent Gatekeeper Gürci Osman Ağa to the Corps of the Imperial Terrace on 25th z (i.e. Dhu'l-Qa'ada) year 1233 (26 September 1818).'

The Sofa Ocağı was the corps of Terrace Keepers in the Topkapi Palace. This lidded bowl was presumably endowed to a mosque or charitable foundation associated with them.
Bonhams. ISLAMIC AND INDIAN ART INCLUDING MODERN AND CONTEMPORARY SOUTH ASIAN ART, 24 Apr 2018, LONDON, NEW BOND STREET