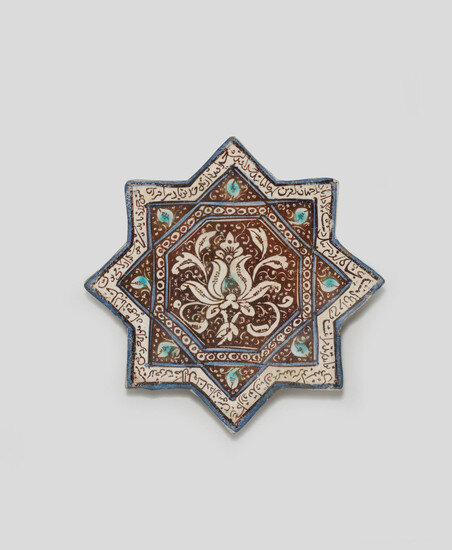 Lot 173. A Kashan lustre pottery star tile, Persia 13th-14th Century; 21.2 cm diameter. Estimate £3,000 - 5,000. Sold for £ 4,375 (€ 4,988). © Bonhams 2001-2018
of eight-pointed stellar form, decorated in cobalt blue, turquoise and brownish gold lustre on a cream ground with a central octagonal panel containing a lotus flower surrounded by a band of circle motifs, the corners with vegetal motifs, the border with a band of inscription.
Inscriptions: couplets from the beginning of the story of Rustam and Isfandiyar from Firdausi's Shahnama, followed by benedictory couplets.
Bonhams. ISLAMIC AND INDIAN ART INCLUDING MODERN AND CONTEMPORARY SOUTH ASIAN ART, 24 Apr 2018, LONDON, NEW BOND STREET