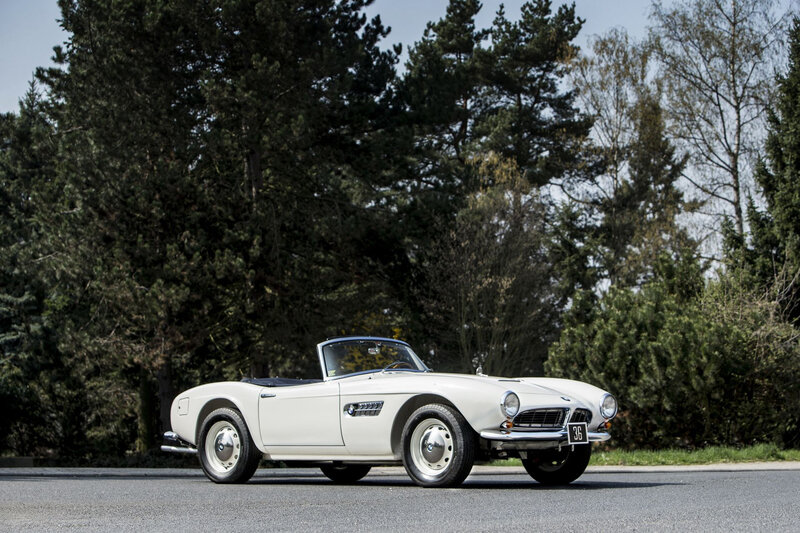 1959 BMW 507 Roadster. © Bonhams 2001-2018
MONACO - The 1959 BMW 507 Roadster of King Constantine II of Greece, godfather to Prince William, is to be offered at Bonhams Monaco Sale for a world record of £2.2million.
This 1959 BMW 507 Roadster was delivered new to King Constantine II of Greece in 1959. He was the final king of Greece, reigning from 1964 until 1973, and was deposed following a referendum in 1974 in which the Greek people voted overwhelmingly in favor of a republic. He remained in exile from his homeland for nearly 40 years after the vote, and only returned to Greece in 2013 where he lives to this day.
The BMW 507 is widely recognized as the car that redefined the German marque and firmly established it as a creator of top-end luxury vehicles. It perfectly combines striking elegance with sporty performance and has been favored by celebrities since its release in 1956. Other famous owners have included Elvis Presley, John Surtees, Fred Astaire, Hans Stuck, and Ursula Andress.
It is not surprising that King Constantine opted for such a sporty car, as he is a very able sportsman. He served in all three armed services in Greece, and won an Olympic gold medal in sailing — the first Greek gold medal in the sport since 1912.
© Bonhams 2001-2018
The 507 was designed by Albrecht von Goertz or 'The Count,' an aristocratic German designer also responsible for the BMW 503 — the first European convertible with an electrically operated top. BMW created the 507 for the burgeoning American market and was intended to fill the gap between the ultra-expensive Mercedes-Benz 300SL and the cheaper British roadsters being built by marques such as MG and Triumph. BMW originally intended to build 5,000 of the luxury sporting model, but high production costs limited them to just 252 cars — compare these low numbers to the 3,257 Mercedes-Benz 300SL created — only 217 of which were Series II models such as the example offered here.
The Series 2 is the more generously proportioned version of the two – its smaller fuel tank offers more cockpit space. 202 of the original 252 models are believed to survive, a testament to the lasting impact of the car's timeless appeal. This is a very rare motor car that remains one of the most beautiful of its era, if not of all time. Examples are scarce at public auction, and one with such unique royal provenance rarer still.
The auction will hold on May 11, 2018 at Bonhams, Villa La Vigie, Monaco.
© Bonhams 2001-2018
© Bonhams 2001-2018