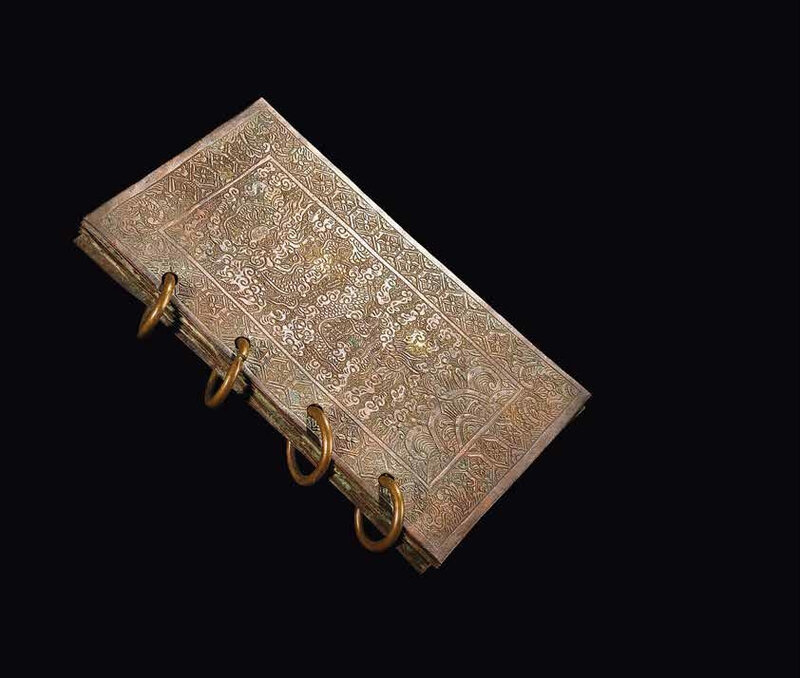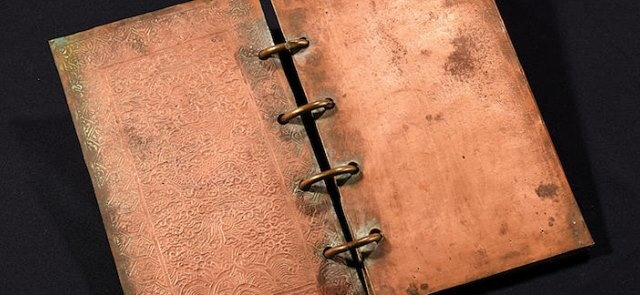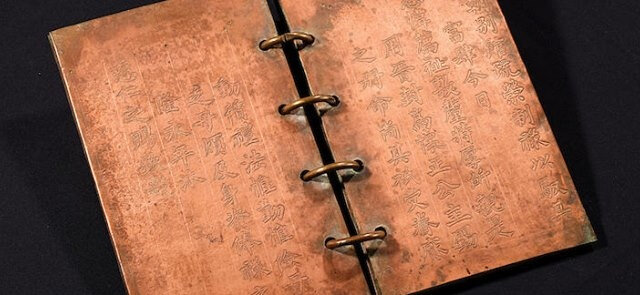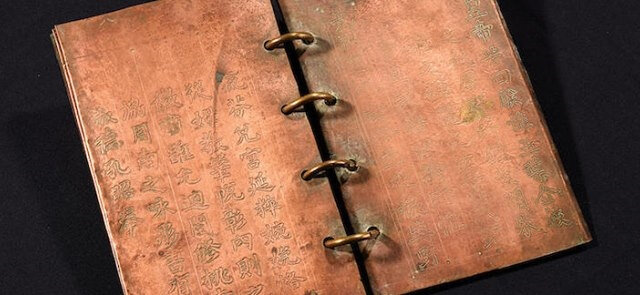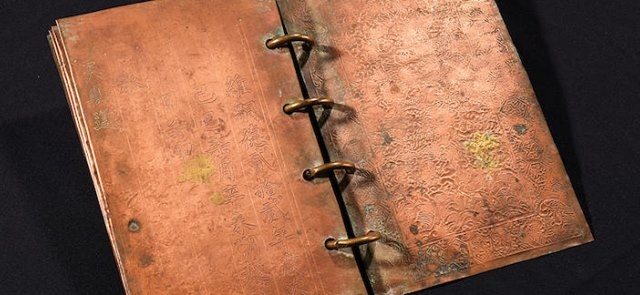 Lot 30. An imperial copper book by Emperor Tu Duc, Vietnam, dated 1869; 21.5 x 15 cm (8 ½ x 6 in). Estimate HK$200,000 - 300,000. Sold for HK$ 200,000 (€ 21,287). © Bonhams 2001-2018
Dated 2nd day of the 7th month in the 22nd year of the reign of Tu Duc.
Provenance: Private Swiss Collection
Note: Five pages including three inscribed double pages, front and back cover page.
The thick cover pages are decorated with a five-clawed Imperial Dragon standing, front-facing, amidst clouds above raging waters. The dragon is framed by a row of lemon blossoms within hexagonal cartouches and a bat at each corner of the page. The three inner pages are divided into five columns engraved with Hán Nôm (漢喃) characters (Sino-Vietnamese characters). Four bronze rings bind the pages together.
Born in 1832, Princess Nha Vien (Công chúa Nhã Viện; 1832-1875) was the daughter of the prior Emperor Thieu Tri (Thiệu Trị; 紹治, r. 1841-1847) and the sister of reigning Emperor Tu Duc ( (Tự Đức; 嗣德;1829-1883, r. 1847-1883). This book dates to the 2nd day of the 7th month of the 22nd year of the reign of Emperor Tu Duc (1869), the day the Emperor Tu Duc grants his sister the title of Hoài Chính Princess Nhã Viện (Hoài Chính công chúa Nhã Viên 懷正公主雅媛).

The date documented on the copper book was when the Princess was thirty-seven years old, which may suggest it was given as a replacement for a gold book she previously held and which had to be returned to the Emperor in order to meet the exorbitant war compensations claimed by France.

Further to granting rank, this ceremonial book was intended to be used as an object of worship posthumously on her family altar. Such books for Princes and Princesses were traditionally made of gold. Princess Nha Vien, born in 1832, was most certainly granted hers before 1869 either by her father the Emperor Thieu Tri or by her brother the reigning Emperor Tu Duc. Facing financial hardship due to war reparations imposed by France in 1862, Emperor Tu Duc reclaimed those gold books and replaced them with copper ones. Hence, the 1869 ceremonial copper book of Princess Nha Vien, elevating her in the meantime as Hoai Chinh Princess.
The 2nd day of the 7th month of the 22nd year of the reign of Emperor Tu Duc (1869)
Following Heaven's will, the Emperor proclaims:
I contemplate that you are blessed with a Royal Character like jade leaves on golden branches; your beauty is resembling red cinnamon flowers and pink orchids giving you outstanding grace.
Today is a propitious day of the month, so I declare:
Of my deep thoughts, the Royal Lady Nha Vien, eighth princess of the Preceding Reign,
Well known for being gentle, kind-hearted, illuminating the Royal Palace,
Well educated and respectful your virtue is so brilliant, friendly and in harmony you go along with others as the peach and plum of the Chu nam poem.
Shining red book enlightening your virtue.
By the preceding dynastic rules of the Empress Quarters, I am raising your rank to give you more wealth.
Thus, today, from deep in my soul, offering you more flowers [beauty], particularly for enhancing our binding relationship,
I elevate you to be Hoai Chinh Princess, giving you this Book of Your Self.
So, you will respectfully accept my blessings; Royal ceremonial rules to be followed,
Watchful of resources, but never with worries, never deprived.
Carry those privileges and honour, forever showered with my grand generosity.
Be it heard!
For similar work, see Sotheby's, Paris, 16 December 2010 and 10 December 2009, lot 317 and lot 302 respectively.
Bonhams. RITUAL + CULTURE, Fine Southeast Asian Arts, 29 Mar 2018, HONG KONG, ADMIRALTY