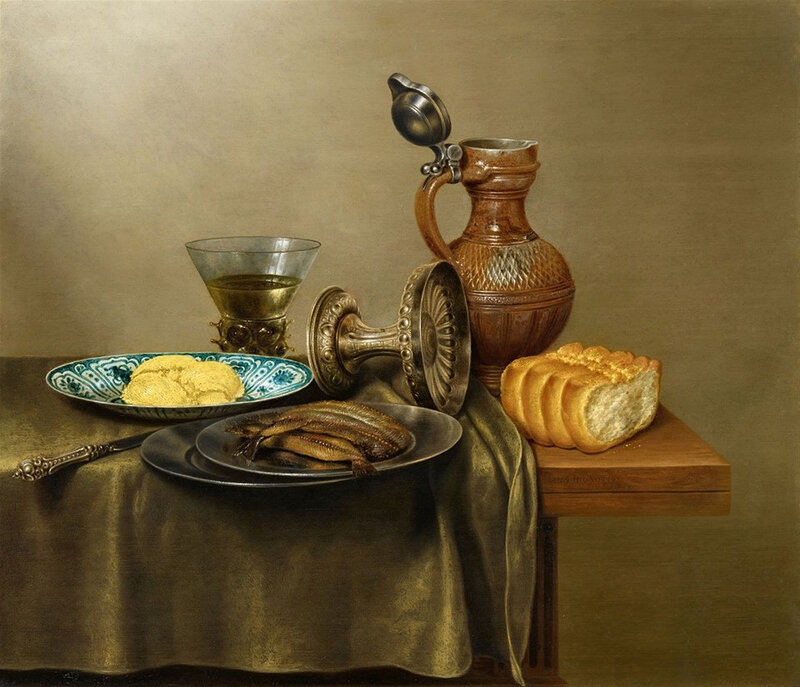 Lot 1051. Gerret Willemsz. Heda (1625 Haarlem - 1702 Haarlem), Still life with herring, roman, wanli dish and a bread. Oil on wood. 58 x 68 cm. Signed and dated lower right: Gerret Heda 1646. Estimate: € 100,000 - € 120,000. © Lempertz
Provenance: Lepke, Berlin, Auction 4.4.1911, Lot 54. - Rudolf Isbary's Collection, Berlin. - Collection Baron Buschmann, Vienna 1924. - Galerie Sankt Lukas, Vienna 1959. - Austrian Private Collection. - Gallery Sankt Lukas, Vienna, Winter Exhibition 1998/99. - German private collection.
Note: The Haarlem painter Gerrit Willemsz Heda was the son and pupil of Willem Claesz Heda, whose style he took over and developed further. With Pieter Claesz his father Willem Claesz Heda was the founder of the so-called "Monochromen Banketjes". These are meal still lifes, whose reduced coloring emanates from a dominant tone. To this around 1620/30 developed genre also belongs our 1646 created still life, which is one of his earliest dated works.
Various objects are spread out on a table top, including a Chinese porcelain bowl with butter, a filled wine glass, a Raeren earthenware jug, a pewter plate with herring, a knife, a lying tin tazza and a piece of bread. The arrangement impresses with its calmness and simplicity. The objects presented are not sumptuous, but rather belong in a bourgeois environment, which the painter also emphasizes by the choice of its colors. On the other hand, the painterly precision of both the outlines and the light reflections on the surface of different materials such as porcelain, clay, fabric or glass captivates. Gerrit Heda's virtuoso handling of light and color, outline and overall arrangement stands out on this meal image.