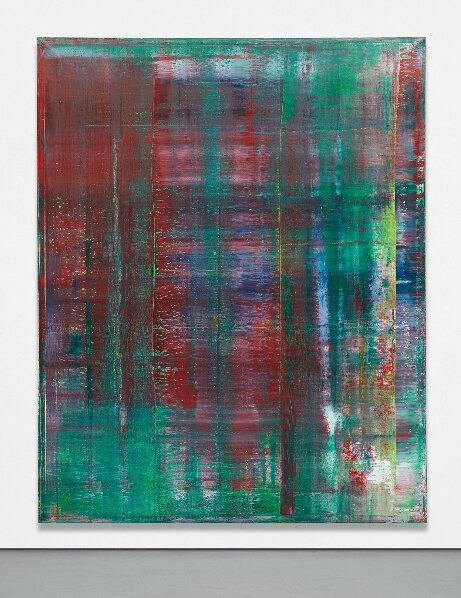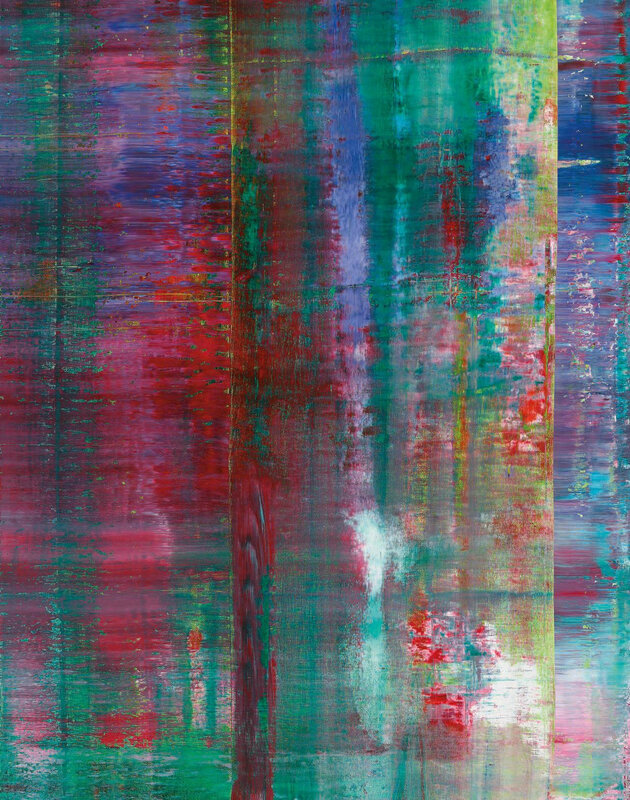 Lot 13. Gerhard Richter, Abstraktes Bild (811-2), signed, numbered and dated "811-2 Richter 1994" on the reverse, oil on canvas, 98 x 78 1/2 in. (248.9 x 199.4 cm.) Painted in 1994. Estimate $12,000,000 - 18,000,000. Image courtesy of Phillips.
Provenance: Marian Goodman Gallery, New York
Galerie Löhrl, Monchengladbach
Private Collection, Berlin
Alan Koppel Gallery, Chicago
Acquired from the above by the present owner
Literature: Gerhard Richter 1998, exh. cat., Anthony d'Offay Gallery, London, 1998, no. 811-2, p. 104 (illustrated, p. 89)
Gerhard Richter, exh. cat., K20 Kunstsammlung Nordrhein-Westfalen, Dusseldorf, 2005, no. 811-2, p. 310 (illustrated, p. 271)
Note: "I always need to paint abstracts again. I need that pleasure." – Gerhard Richter

"With abstract painting we create a better means of approaching what can neither be seen nor understood because abstract painting illustrates with the greatest clarity, that is to say, with all the means at the disposal of art, "nothing"…we allow ourselves to see the un-seeable, that which has never before been seen and indeed is not visible." – Gerhard Richter

"[My abstracts are] something musical. There's a lot in the construction, in the structure, that reminds me of music. It seems to self-evident to me, but I couldn't possibly explain it." – Gerhard Richter

Engulfing the viewer in an iridescent expanse of color, Gerhard Richter's Abstraktes Bild 811-2 invites us to gaze into the kaleidoscopic abyss of painting. With rhythmic pulses and concerted calculation, Richter successively pulls curtains of red paint across his monumental canvas, the paint layers obscuring but also fusing with the underlying strata of freshly applied pine green, blue and white wet paint. Relishing in the chance potential of his hallmark squeegee technique, Richter allows for a richly marbled, iridescent palimpsest to emerge. Forming a bridge between Richter's Bach, 1992, Moderna Museet, Stockholm, and Cage, 2006, Tate Modern, London, Abstraktes Bild 811-2 is an epic example of Richter's unparalleled opus of abstraction.

Painted in 1994, Abstraktes Bild marked a period of intense personal happiness and artistic success in Richter's life. At the same time as he was embarking upon a new life chapter following his marriage to Sabine, he was experiencing an unprecedented surge of critical success. Following his breakthrough exhibition at Tate, London, in 1991, in 1992 his work was subject to the major touring retrospective Gerhard Richter: Malerei 1962-1993 that Kasper König curated. Exhibiting over 130 works created over the course of 30 years, this exhibition firmly put Richter in the pantheon of the greatest post-war artists. As critic Doris von Drathen wrote at the time, "There are exhibitions that, like great milestones, reset the standards in contemporary art. Richter's retrospective, launching now at the ARC in Paris, is of this quality" (Doris von Drathen, "Gerhard Richter", Kunstforum International, no. 124, November-December 1993, p. 245).

BEYOND THE SUBLIME

Abstraktes Bild celebrates an artist at his prime, one who confidently pushes his pictorial innovations from the past decades into ever astonishing heights. We see here the crystallization of Richter's remarkable squeegee technique – referred to by Robert Storr as the artist's single most innovative contribution to the history of painting. Further developing the haptic swirls of painting that canceled out the photorealistic images in his early work, such as (Tisch) Table, 1962, Richter began exploring this technique in the 1980s, using a home-made squeegee to rub, drag and scrape large bands of paint. Finding its purest articulation between 1989 and 1994, the application of the squeegee developed into a rhythmic, structured gesture that gave rise to stark columns reminiscent of wall planks.

As the rhythmic traversing of the squeegee coalesces into a diffused color field, Abstraktes Bild hovers between figuration and abstraction - evoking the landscapes of Claude Monet's Nymphéas as if seen through an opaque veil. The sense of ease and spontaneity that radiates from this work belies Richter's famously laborious and complex working method. Indeed, the present work would have undergone multiple variations whereby Richter would repeatedly apply, erase, remake and obliterate the various paint strata - each addition and effacement introducing new chromatic and textural juxtapositions.

The present work's diaphanous color palette, lyrical composition and expansive power in many respects evoke the work of the great Abstract Expressionist painter Mark Rothko. Its towering field of red, blue and green variegation vividly recalls the tonal stacking central to Rothko's inquiry into the sacred spaced bestowed by color, or what Robert Rosenblum has described as the "abstract sublime". While Abstraktes Bild similarly envelops the viewer, it is nonetheless resolutely anti-idealistic in that it denies any claims to a Rothko-esque transcendental sacred image.

Richter's stance on the connections of the sublime remains ambivalent – at first resolutely distancing himself from Abstract Expressionism by claiming in 1986 "an assault on the religiosity and falsity of the way people glorified abstraction, with such phony reverence" and noting with regard to Mark Rothko's transcendental approach, "there was a king of science fiction coming from Rothko's darkness that was Wagnerian or had a narrative side which bothered me" (Gerhard Richter, quoted in Robert Storr, ed., Gerhard Richter: Forty Years of Painting, exh. cat., Museum of Modern Art, New York, 2002, p. 69). Richter's stance on the subject later softened, stating in 1998, "I am less antagonistic to 'the holy', to the spiritual experience, these days. It is part of us and we need that quality" (Gerhard Richter, quoted in Robert Storr, ed., Gerhard Richter: Forty Years of Painting, exh. cat., Museum of Modern Art, New York, 2002, pp. 69-70).

With its seemingly infinite chromatic variations and shifting perspectives, this work ultimately puts forward a multiplicity of paintings. "If the ability of color to generate this emotional, spiritual quality is presented and at the same time negated at all points," as Benjamin Buchloh indeed argued with the notion of mise en abyme in mind, "surely its always cancelling itself out. With so many combinations, so many permutational relationships, there can't be any harmonious chromatic order, or compositional either, because there are no ordered relations left either in the color system or the spatial system" (Benjamin Buchloh, "An Interview with Gerhard Richter", 1986, Gerhard Richter, October Files, 8, Cambridge, 2009, pp. 23-24). Formally denying any claims to visual supremacy, is in this way that Richter masterfully cools down the emotionally heated and exultant rhetoric of post-war abstraction – involving us, as viewers, more in a perceptual than spiritual dialogue.

Fictitious Models of Reality

Above all, Richter's abstract works postulate themselves as a "new kind of post-photographic painterly image space" (Peter Osborne, "Abstract Images: Sign, Image and Aesthetic in Gerhard Richter's Painting", 1998, in Gerhard Richter, October Files, 8, Cambridge, 2009, p 109). The crucial driving force of Richter's over five decade-long artistic practice has indeed been centered around the dialectic between photography and painting. As Richter importantly explained, "I'm not trying to imitate a photograph; I'm trying to make one. And if I disregard the assumption that a photograph is a piece of paper exposed to light, then, I am practicing photography by other means: I'm not producing paintings of a photograph but producing photographs. And, seen in this way, those of my paintings that have no photographic source (the abstracts, etc.) are also photographs" (Gerhard Richter, 1972, quoted in Hans Ulrich Obrist, ed., Gerhard Richter The Daily Practice of Painting: Writings 1962-1993, London, 1995, p. 73).

Richter arguably achieved the furthest limit of his radical investigation into the nature of perception and cognition with his abstract paintings from 1972 onwards. While formally distinct, Richter's abstract paintings can be considered within the same spectrum of intangible reality as his photo-paintings. As Richter elaborated in his most definitive elucidation of his method of abstraction, as published in the Documenta 7 exhibition catalogue in 1979, "every time we describe an event, add up a column of figures or take a photograph of a tree, we create a model; without models we would know nothing about reality and would be like animals. Abstract paintings are fictitious models because they visualize a reality, which we can neither see nor describe, but which may nevertheless conclude exists. We attach negative names to this reality; the un-known, the un-graspable, the infinite, and for thousands of years we have depicted it in terms of substitute images live heaven and hell, gods and devils. With abstract painting we create a better means of approaching what can be neither seen nor understood (Gerhard Richter, quoted in Gerhard Richter: Paintings, exh. cat., Museum of Contemporary Art, Chicago, 1988, p. 107).

While Richter's abstracts works are independent from any particular photographic model, they nonetheless exhibit a quasi-mechanized reproducibility. The consistent use of red, blue and green in his abstract paintings call to mind the RGB color model that is used for the representation and display of images in such electronic systems as televisions and computer, as well as photography. Similar to the blurring in his early photo-paintings, the semi-mechanistic blending color with the squeegee in Abstraktes Bild gives rise to the sensation of looking into the abyss of an otherworldly, half-seen or remembered out of focus image. "Richter's abstract images are images of this image space itself," Peter Osborne aptly observed, "In this respect they are still 'photo paintings', but in an ontologically deeper sense than the phrase conveys when used as a designation for the earlier, more particularistically 'photo-based' work – a sense which is compatible with a compositional productivity, which places them closer to the video image and the digital image than the photographic image as such, as some works from the mid-1990s start to register, explicitly, in their videotic inflection of the famous blur" (Peter Osborne, "Abstract Images: Sign, Image and Aesthetic in Gerhard Richter's Painting", 1998, in Gerhard Richter, October Files, 8, Cambridge, 2009, p. 109).

CALCULATED CHANCE

Abstraktes Bild is a powerful example of Richter's post-conceptual affirmation of painting in the face of photographic, televisual and now digital visual realms. In doing so here, he crucially embraces the creative potential of chance, again via his innovation of the squeegee. As Dietmar Elger observed, the squeegee "is the most important implement for integrating coincidence into his art. For years, he used it sparingly, but he came to appreciate how the structure of paint applied with a squeegee can never be completely controlled. It thus introduces a moment of surprise that often enables him to extricate himself from a creative dead-end, destroying a prior, unsatisfactory effort and opening the door to a fresh start" (Dietmar Elger, Gerhard Richter: A Life in Painting, Chicago, 2009, p. 251). The chance effect of Richter's confident application of paint allows the artist to remove his hand from the composition, creating quasi-mechanical palimpsests of layered and scraped down color. As Richter, however, crucially pointed out, "above all, it's never blind chance: it's a chance that's always planned, but also always surprising. And I need it in order to carry on, in order to eradicate my mistakes, to destroy what I've worked out wrong, to introduce something different and disruptive. I'm often astonished to find how much better chance is than I am" (Gerhard Richter, quoted in Hans Ulrich Obrist, ed., Gerhard Richter: The Daily Practice of Painting – Writings 1962-1993, London 1995, p. 159).

Richter's reveling in the lyrical potential of chance demonstrates a strong affinity with that of the great minimalist and experimental composer John Cage. Cage's concept of the impossibility of saying nothing once a frame of communication had been constructed resonates beautifully within Richter's abstract painting. Richter first encountered the composer when Cage gave a performance at the Kunstakademie Düsseldorf in the 1960s, where the composer wrote with a microphone attached to a pen, resulting in the transmission of the scratching sound of the pen moving across the paper. Describing his abstract compositions as "something musical", Richter similarly demonstrates a willingness to let go of control in order for things to happen and for his individual actions to become part of something bigger (Gerhard Richter, quoted in Benjamin Buchloh, "Interview with Gerhard Richter", Gerhard Richter: Paintings, exh. cat., Museum of Contemporary Art, Chicago, 1988, p. 28). Richter's abstract paintings are constructed with a structure in mind, but ultimately, individual cadences of both dissonant and consonant color take on a life of their own as they unfold with the tempos of a symphony – where moments of delightful silence are followed by utter grandeur.
Phillips. 20TH CENTURY & CONTEMPORARY ART EVENING SALENEW YORK AUCTION 17 MAY 2018