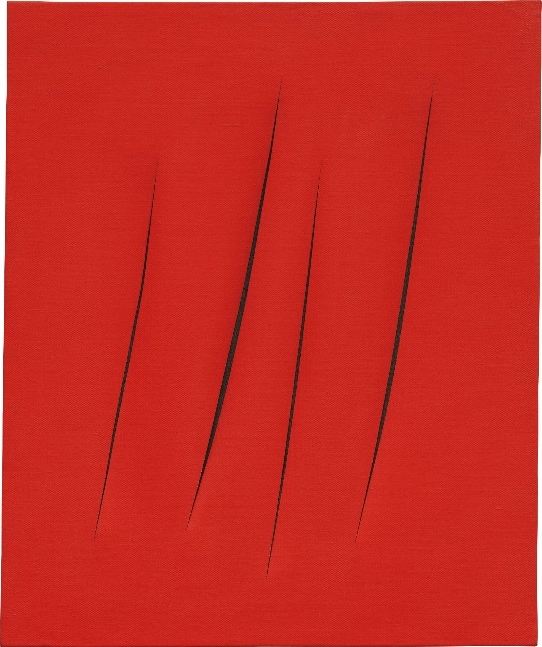 Lot 9. Lucio Fontana, Concetto spaziale, Attese, signed, titled and inscribed "l. Fontana "Concetto Spaziale" ATTESE Domani vado a riposarmi in america" on the reverse, waterpaint on canvas, 25 1/2 x 21 1/4 in. (64.8 x 54 cm.) Executed in 1964-1965. Estimate $2,500,000 - 3,500,000. Image courtesy of Phillips.
Provenance: Studio Pescali, Milan
Collection Campanelli Palmisano, Milan
Private Collection (acquired from the above circa 1975)
Private Collection, Milan (acquired by descent from the above)
Christie's, Milan, April 2, 2014, lot 11
Private Collection (acquired at the above sale)
Acquired from the above by the present owner
Exhibited: Milan, Galleria d'arte Medea, L'avventura spaziale di Lucio Fontana, October 16 - November 24, 1974, no. 38 (illustrated, dated 1966)
Literature: Enrico Crispolti, ed., Fontana, Catalogo generale, Volume secondo, Milan, 1986, no. 64-65 T 14, p. 549 (illustrated)
Enrico Crispolti, ed., Lucio Fontana, Catalogo ragionato di sculture, dipinti, ambientazioni, Tomo II, Milan, 2006, no. 64-65 T 14, p. 734 (illustrated)
Note: "My tagli are primarily a philosophical expression, an act of faith in the Infinite, an affirmation of spirituality. When I sit down in front of one of my tagli, to contemplate it, I suddenly feel a great expansion of the spirit, I feel like a man liberated from the slavery of material, like a man who belongs to the vastness of the present and the future." – Lucio Fontana

Created at the height of Lucio Fontana's groundbreaking career that would end just three years later, Concetto spaziale, Attese, 1964-1965, confronts the viewer with one of the most iconic and iconoclastic gestures of postwar art. Evoking the expressive painterly stroke only to empty it of all content, Fontana, with just four single decisive slashes down the red monochromatic canvas, pushes the medium of painting into new conceptual pastures. Firmly situated within the tagli, or "cut", series the artist created between 1958 up until his death in 1968, Concetto spaziale, Attese articulates Fontana's enduring concerns with the manipulation of space. With this deceptively simple, yet peremptorily and highly concentrated gesture, Fontana introduced a radically new perspective into the realm of art – exploiting the creative force of destruction to give rise to a zone of potentiality apt for the space age. Just as Yuri Gagarin had become the first man to view earth from space through the window of his Vostok 1 capsule in 1961, Fontana here was creating a radical language for painting which responded to the advancements of science and technology.

Concetto spaziale, Attese marked a jubilant moment in Fontana's career, for just a year after its completion, in 1966, his work was subject to a major solo show at the Walker Art Center, Minneapolis, and his contribution to the Italian Pavilion at the 33rd Venice Biennale won the International Grand Price for Painting. This was a period of felicitous creative vitality, with Fontana also conceiving his first Teatrini works in the same year as he started work on the present canvas in 1964.

With Concetto spaziale, Attese Fontana achieved the very synthesis of color, space, movement, and time that he grandiosely asserted as the aims of his art in 1947, espousing in his Manifesto Spaziale (Spatialist manifesto): "We believe that art liberates matter, the meaning of eternity from the concern for mortality. We are not interested in whether a completed gesture lives for a moment or a millennium, since we are truly convinced that it will be eternal after it has been accomplished" (Lucio Fontana, Primo Manifesto spaziale, Milan, 1947). Repudiating the illusory space of traditional easel painting to unite color and form in real space, Fontana from this time onwards began to advance a progression of experiments that he collectively entitled Concetto spaziale("spatial concept").

Works such as this one presented the climax of a series of artistic questions and answers that Fontana began probing since 1958, when he conceived his first tagli. Expanding upon the formal and conceptual concerns he had been exploring for nearly a decade by puncturing the canvas with buchi ("holes"), Fontana's first tagli in 1958 marked a key innovation in the evolutionary development of his visual idiom. In many ways, his radical gesture of slashing the canvas can be seen as a riposte to the painterly excesses of the increasingly dominant style of gestural abstraction – the serene cut becoming the symbolic and literal escape from such opulent, painterly materiality.

In Concetto spaziale, Attese, Fontana has slashed the canvas in a progression that vividly speaks of the artist's visceral and tactile process – first using a Stanley Knife with a single downward motion down the still damp canvas, then broadening the incisions by pulling them apart by hand. As the razor pierces and slices open the two-dimensional canvas, the most intense luminosity occurs at the point where the slightly curving planes at each side of the cut meet the slit of dark, conveying seemingly infinite space at the center. In the same year as he conceived of this radical gesture of opening the canvas up to the third-dimension, Fontana also began exploring the tandem effect of creating matte, monochrome surface - heightening the viewer's sense of space, but also to negating the representational conventions of painting. The violation of the pictorial plane was a profoundly conceptual act for Fontana, his violent slashes enforcing the idea that the painting is an object, not solely a surface. Though Fontana was intrigued by the impacts of technology and science on modern life, his cuts celebrate the artist's subjective intervention as a way to repudiate processes of industrialization and mechanization.

While emptying the picture plane of anything but pure form and color – to the extent that he stopped signing his works on the front – Fontana would often include inscriptions on the verso which sometimes featured nonsensical arithmetic or train-of-thought commentary from his own life. The present work is inscribed with the words "Concetto Spaziale" ATTESE Domani vado a riposarmi in america", whereby "attese", meaning "waiting", as with many of Fontana's works emphasizes this contemplation of an object that exists in time as well as in space. The latter part of the inscription, which translates to "Tomorrow I'm going to rest in America", likely refers to the artist's career and life defining trip to the United States, and New York more specifically. Fontana visited New York City for the first time in 1961 when he was invited to exhibited works at the legendary Martha Jackson Gallery. While Fontana was content with the success of his exhibition and his encounters with noted curators, collectors and critics, it was above all the city itself that excited him. To Fontana, New York City seemed to embody a neo-industrialist and futurist utopia – in its communications systems, its skyscrapers, the engineering feats of metal constructions.

Taking a distinct position within Fontana's tagli series for its specific reference to the modern metropolis, Concetto spaziale, Attese conveys all those utopian aspirations and hopes that pushed Fontana to explore hitherto unexplored territories of art making, the achievements of which would change the course of art history forever. Concetto spaziale, Attese not only opens up the picture plane to allow energy and light to pass through the canvas into the cosmos beyond, but also stands as a fervent existential response to man's newfound ability to enter this space himself. As such, this work encapsulates the essence of Fontana's pioneering Spatialist theories: "we want painting to escape from its frame and sculpture from its bell-jar. An expression of aerial art of a minute is as if it lasts a thousand years, an eternity" (Lucio Fontana, "The Second Spatial Manifesto", in Lucio Fontana, exh. cat., Palazzo delle Esposizioni, Milan, 1998, p. 118).
Phillips. 20TH CENTURY & CONTEMPORARY ART EVENING SALENEW YORK AUCTION 17 MAY 2018