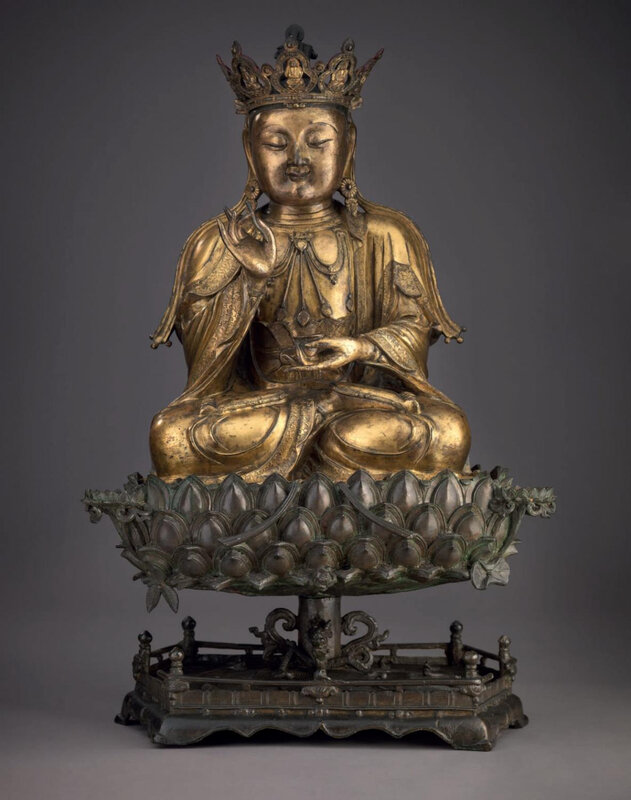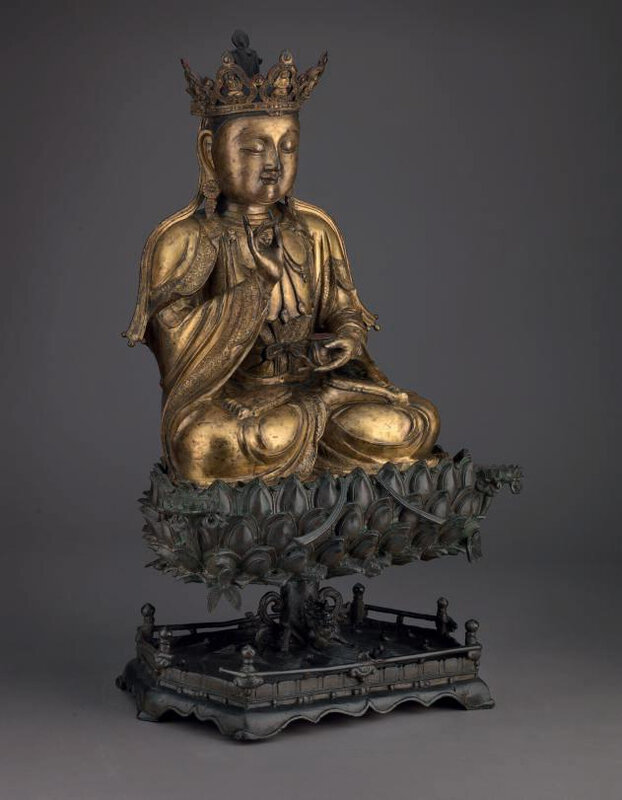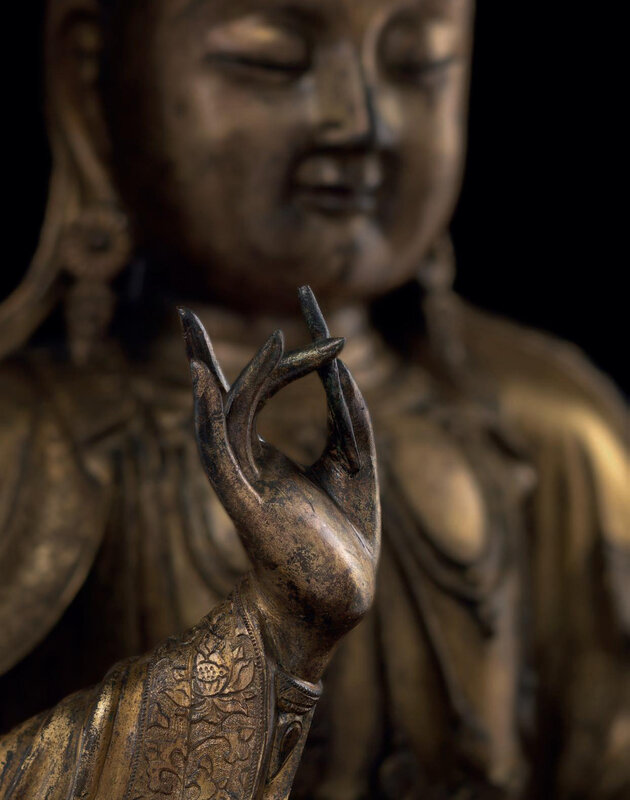 Lot 166. A large finely cast gilt-bronze figure of Guanyin, and a bronze stand, Ming dynasty, 16th-17th century; 31 1/8 in. (79 cm.) high overall. Estimate GBP 80,000 - GBP 120,000. Price realised GBP 272,750. © Christie's Images Ltd 2018.
The figure is cast seated in padmasana holding a willow stem in the raised right hand and a cup in the left, with a serene expression with downcast eyes. Her finely detailed hair is upswept into a top knot beneath an openwork crown centred with seated figures of Amitabha Buddha in each of the five points. The robe is tied in a sash at the waist and open at the chest to reveal a tasselled jewelled necklace. The hems of the robe are intricately worked with beaded decorative borders on stamped grounds variously enclosing lotus blooms on scrolling foliage and geometric designs. The separate bronze pedestal stand is cast with four rows of lotus leaves supported on a hexagonal base cast with crashing waves from which emerges a dragon coiled around the columnar support.
Provenance: Acquired prior to 1970.
Infinite Compassion - A Magnificent Finely Cast Gilt Bronze Figure of Guanyin
Rosemary Scott, Senior International Academic Consultant
This magnificent figure with its beautiful detailing represents the most popular and most venerated bodhisattva in Mahayanist Buddhism – Avalokiteśvara, known in China as 觀音Guanyin, short for 觀世音 Guanshiyin, 'The one who perceives the sounds of the world'. The name refers to the compassionate bodhisattva's ability to hear the cries of all mankind, and to strive endlessly to help those who offer prayers. In China Guanyin appears in both male and female form, but in the Ming period is frequently androgynous. The Lotus Sutra describes Avalokiteśvara as a bodhisattva who can take the form of any type of God, any type of Buddha, any type of King, any kind of Heavenly Guardian, and can appear with any gender male or female, showing the bodhisattva's limitless transcendence beyond gender, in order to teach the Dharma (teachings of the Buddha) to sentient beings. In the Ming dynasty it was popularly believed that in accordance with descriptions in the Avalokiteśvara chapter of the Lotus Sutra and 'The 25 Great Ones' from the Surangama Sutra that Guanyin could transform at will and appear in more than thirty human forms to expound Buddhist teaching.

Avalokiteśvara is described in the Lotus Sutra and the Karandavyuha Sutra. The Lotus Sutra, which has a chapter devoted to Avalokiteśvara/Guanyin was first translated into Chinese by Dharmaraksa, and the work was completed in AD 286, which marked the deity's introduction to China. Chapter 25 of the Lotus Sutra refers to the bodhisattva as Lokeśvara (Lord of all beings) and Lokenath (Lord and Protector of all beings) and credits him with the utmost attributes of divinity. After the 3rd century many more Buddhist scriptures regarding Guanyin were translated into Chinese and many tales of miracles were promulgated. In the Mahayana canon, the Heart Sutra is attributed entirely to Guanyin, despite the fact that the majority of Mahayana sutras are ascribed to Gautama Buddha and the teachings and deeds of bodhisattvas are described by Shakyamuni Buddha. The famous Buddhist saying: "Form is emptiness, emptiness is form" (色即是空,空即是色) comes from the Heart Sutra.

As in the case of the gentle facial expression of the current figure, Guanyin is usually depicted looking down, symbolising the bodhisattva's continual watch over humanity. In the teachings of Pure Land Buddhism, which, together with Chan Buddhism, was the dominant Buddhism in the Ming dynasty, Guanyin, along with Amitabha and the bodhisattva Mahasthamaprapta, is able temporarily to liberate beings from the Wheel of Samsara, allowing them to enter the Pure Land, where they will have the opportunity to accrue sufficient merit to be able to reach Buddhahood in a single lifetime.

The willow in the current figure's right hand symbolises the willingness and ability to heal people's illness and to fulfil their needs. In respect of the alleviation of physical suffering, the willow is considered by Buddhists to have properties of healing and purification, and indeed willow bark does contain the anti-inflammatory agent salicin, a chemical compound related to aspirin. Guanyin was also believed to use the willow to sprinkle divine water. In the current figure's left hand is a cup. Some Guanyin figures alternatively hold a flask in their left hand. Both the flask and the cup are present to contain water – the dew of compassion – which can be used to cure suffering, purify the body and the mind, and extend life.

A smaller Ming 17th century gilt bronze figure of Guanyin, also holding a willow branch and a cup and seated in padmasana was sold by Christie's London on 7 November 2017, lot 18. The quality, size and style of the current figure is, however, particularly close to that of another large and magnificent figure sold by Christie's Hong Kong on 1 June 2011, lot 3770. The Hong Kong figure was of Vairocana, seated in padmasana with his hands in abhisekana mudra. Like the current figure the Vairocana wears an elaborate five-leaf diadem, and each leaf is made up of a double arched nimbus within which is a seated Buddha. Both figures have flower-shaped pendants hanging from their ear lobes and the scarves which descend from their shoulders flare out, terminating in a chevron shape tipped by three jewels. The robes of the two figures not only fall in an almost identical way but have very similar fine floral scroll detail in the edges. The facial features of the two figures are also similar.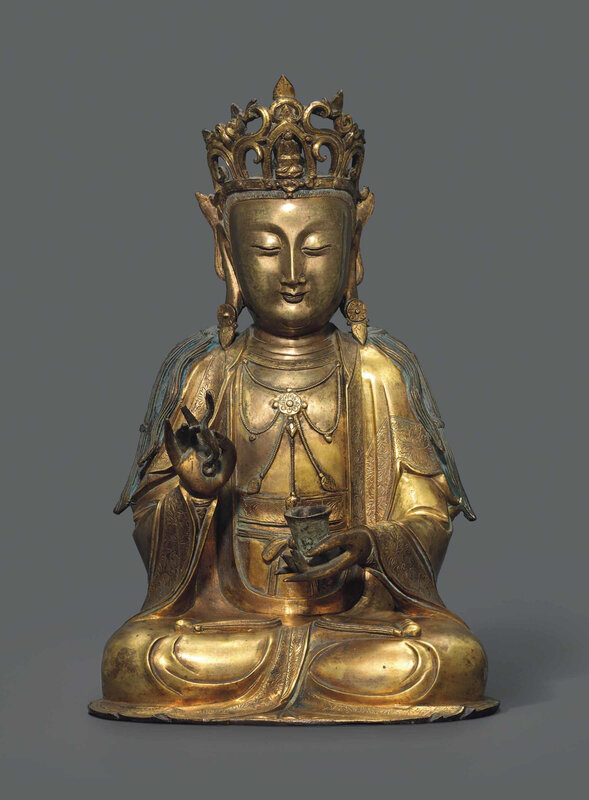 A finely cast gilt-bronze figure of Guanyin, Ming dynasty, 17th century; 18 ½ in. (47 cm.) high. Price realised GBP 87,500 at Christie's London, 7 November 2017, lot 18. © Christie's Images Ltd 2017.
Cf. my post: A finely cast gilt-bronze figure of Guanyin, Ming dynasty, 17th century
A very rare large finely cast gilt-bronze figure of Vairocana, Ming dynasty, 16th Century; 20 ¼ inches (51.5 cm.) high. Price realised HKD 11,860,000 at Christie's Hong Kong, 1 June 2011, lot 3770. © Christie's Images Ltd 2011.
Cf. my post: Christie's presents superb and rare Chinese ceramics and works of art in New York this September
Christie's catalogue of 2011 noted that the only comparable figure to the Vairocana was an impressively large figure formerly in the George Croft Collection, which was gifted to the Royal Ontario Museum (no. 921.31.30) by D.A. Dunlap. The authors of the catalogue also pointed out that these figures would probably have been commissioned by an important patron as pious gifts to a major temple where they may have formed part of a prestigious group. The authors also noted that such figures combined Chinese and Tibetan Tantric influences and were unusual in their depiction of the Five Tathagatas (Five Great Buddhas of Wisdom) in their crowns. It was also pointed out that the strong Chinese features included the full rounded faces and finely incised floral scrolls on the edges of the robes. The authors additionally noted the similarity between the floral motifs on the robes and those which were used to decorate late Yuan and early Ming porcelains.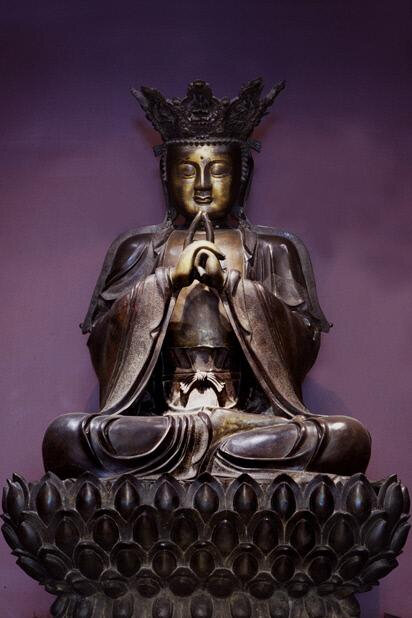 Figure of Vairocana Buddha, 16th-mid 17th century AD. Reportedly from Shijiazhuang, Hebei Province, China. Cast bronze, partially gilded; 271 x 136 x 176 x 138 cm. The George Crofts Collection, Gift of Mr. D. A. Dunlap, 921.31.30. © Royal Ontario Museum.
Note: Compare with a 17th century gilt-bronze figure of Guanyin sold at Christie's London, 8 November 2016, lot 114, and a second 17th century gilt-bronze Guanyin with the same attributes sold at Christie's London, 7 November 2017, lot 18. A 16th century gilt-bronze figure of Vairocana has similar decorative features to the present lot, sold by Christie's London, 1 June 2011, lot 3770.
Christie's. Fine Chinese Ceramics and Works of Art, London, 15 May 2018. SALE 15487