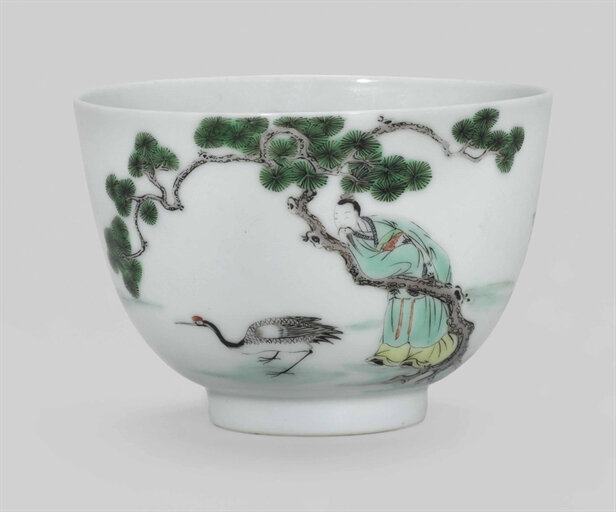 Lot 248. A famille verte 'Scholar and Crane' cup, Kangxi six-character mark in underglaze blue in a double circle and of the period (1662-1722); 3 ½ in. (9 cm.) diam. Estimate GBP 10,000 - GBP 15,000. Price realised GBP 93,750. © Christie's Images Ltd 2018.
The cup is delicately enamelled to the exterior with a scholar leaning on a gnarled spreading pine tree, accompanied by a crane and and two boy attendants, one holding a double gourd and the other holding a peach, all amongst a flower basket and lingzhifungus growing from rocks.
Provenance: From a Private English Collection.
Note: Compare the enamel colours and decoration of this cup to a Yongzheng mark and period bottle vase in the Sir Percival David Collection, British Museum, PDF 823, published and illustrated in Krahl, Regina; Harrison-Hall, Jessica, Chinese Ceramics: Highlights of the Sir Percival David Collection, London, BMP, 2009, p. 81, no. 4.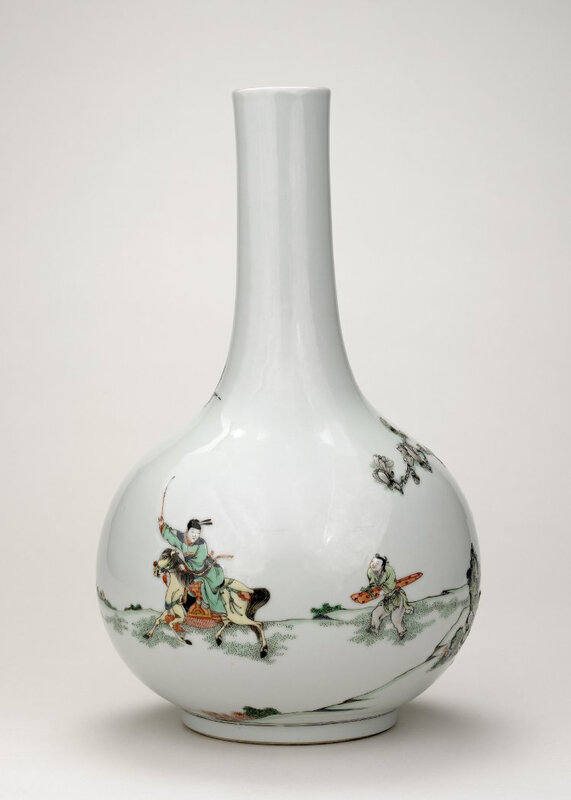 Enamelled vase with horseman, Qing dynasty, Yongzheng mark and period, AD1723–35. Porcelain with relief carving and overglaze enamels, Jingdezhen, Jiangxi province. Height: 36,5 cm. Sir Percival David Collection, British Museum, PDF 823. © The Trustees of the British Museum
This vase shows a scholar-official on horseback, accompanied by his servant carrying a 古琴 (guqin 'zither') wrapped in a flower-patterned cloth. The rider holds his crop in the air, pointing to a pair of flying birds that emerge from intertwined prunus and magnolia trees. The scene may be an illustration of the Tang poet Meng Jiao's 孟郊(AD 751–814) lines from his poem 'On Passing the Imperial Examinations': "On my cantering horse in the spring breeze, my eyes joyfully devoured all the blossoms in the capital Chang'an in a single day." Potters carved the design in low relief to make it more dramatic and added enamel colours over the glaze, using green wash shading to add volume and tiny black dots to suggest texture. This translucent watercolour-like palette, characterised by shades of green, black, red and yellow, and the relief carving style are rare in the period of the Yongzheng emperor but were highly popular in his father, Kangxi's reign (AD1662–1722).
The bottle vase was no 215 in the Sotheby London catalogue of June 1937. Yamanaka bought the vase at the June 1937 auction.Van Heukelom made a description of his collection in this ms it is no. 208. In the ms it states that he bought it from Worch (unfortunately no date, but probably around 1930) for 10,600 guilders. (appr 1000 pounds, bit more), Heukelom wrote that the vase came directly from China. Margaret Medley 1975, records: From the Hon Mountstuart Elphinstone Collection. PDF card: Elphinstone Collection.
Christie's. Fine Chinese Ceramics and Works of Art, London, 15 May 2018 - SALE 15487