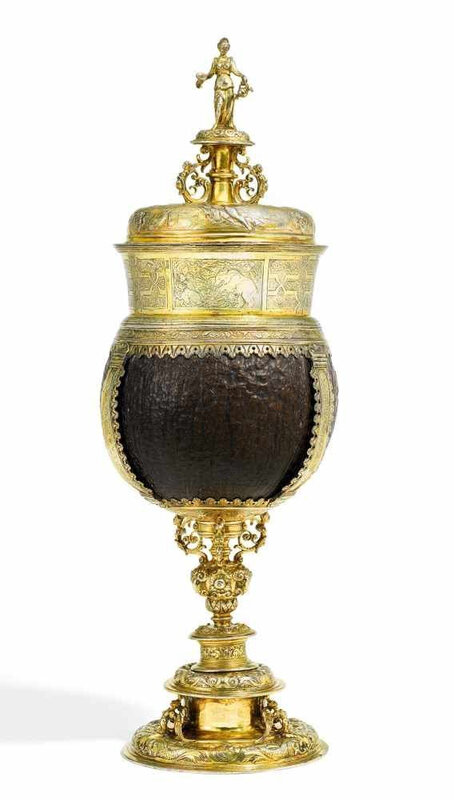 Lot 192. Large silver Renaissance coconut cup with Temperence, attributed to Hans Hoffmann the Younger, Wroclaw, ca. 1580. Height 40.5cm. Estimate 25,000 - 30,000 EUR. Lot sold 40,000 EUR. © Van Ham
Silver, gilt. Coconut. Circular foot with base-shaped raised centre. On the vaulted edge ornamental dolphins alternating with antique-like portraits in medallions and winged female mythical creatures with applied scroll motifs. Repeatedly stepped shaft with vase-shaped knob, on it fruits and ram heads, three small spplied scroll motiifs with female busts attached to them. Large bulbous cuppa from a coconut, held by three hinged bands. High and slightly flared liprim of the inner cuppa with finely etched ornaments alternating with figurative depictions of a unicorn, a bear, or a stag. Splendid slip lid with finely stepped decorations in relief depicting the gods Mercury, Ceres, and Mars. An ornament with ram and cherub heads as borderline between them. In the pedestal-like raised centre the figure of Temperence holding a jug and goblet as finial. On the inside of the lid an engraved plaque with a coconut tree underneath the sun, flanked by the heads of two Maure heads. Ca. 1130 (incl. coconut)g.
Marked twice: assayer's mark Wroclaw ca. 1550-1598 (Hintze, Wroclaw no.2), maker's mark 'HH' ligated with a star presumably for Hans Hoffmann the Younger (active 1579-1611, ibid. p.89). Condition B. Upper side of the foot slightly dented.
Provenance: Friedrich Wilhelm Waffenschmidt Collection, Cologne.
Van Ham. European Arts and Crafts, Auction 408, 16.05.2018