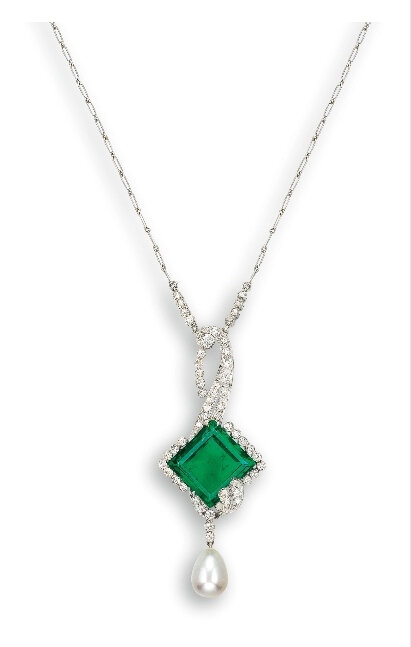 Lot 567. An Art Deco 10.00 carats Colombian Emerald, Natural Pearl and Diamond Pendant Necklace, Circa 1920. Estimate HK$1,000,000 - 1,200,000 ($128,000-154,000). Courtesy Phillips.
One step-cut emerald, approximately 10.00 carats. Suspending one drop-shaped natural pearl, measuring approximately 8.23-8.31 x 11.07mm. Embellished by numerous circular-cut diamonds in the surround. Platinum. Length approximately 430mm.
(Emerald): SSEF report, numbered 82559, dated 21 October 2015, Colombia, with indications of minor (oil-type) clarity modification.
(Pearl): SSEF report, numbered 81847, dated 8 September 2015, natural, saltwater pearl.