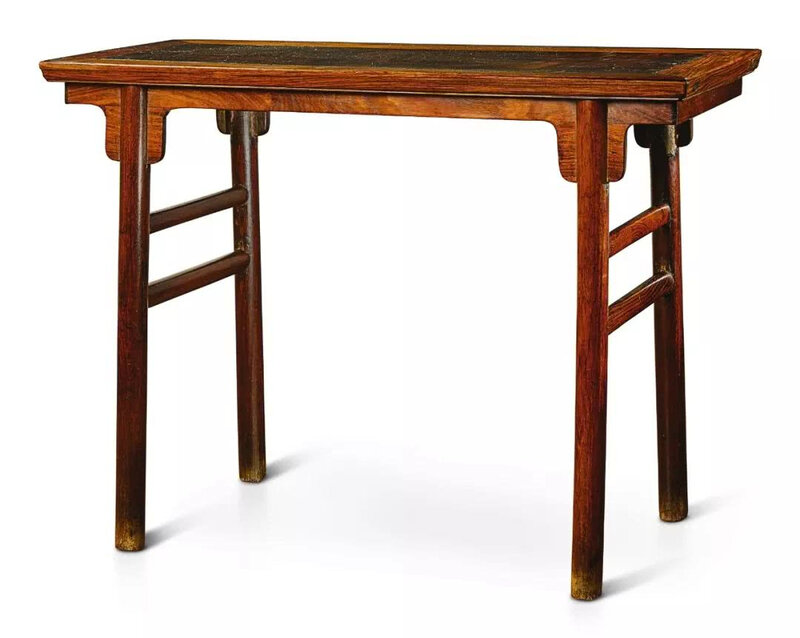 Lot 454. A huanghuali and burlwood recessed-leg table, Pingtouan, 17th century; 78 by 106 by 48 cm, 30 3/4 by 41 3/4 by 18 7/8 in. Estimate 800,000 — 1,200,000 HKD. Courtesy Sotheby's.
with a single flush floating panel of well-figured burlwood set within a mitered frame of standard construction, above plain straight aprons with rounded spandrels, the recessed legs of circular section secured by parallel cross-braces of oval section, the underside with three supporting transverse stretchers.
Provenance: Collection of Lionel Phillips (1924-91), Australia, by repute.
Ansett Wridgways, Canberra, 18th May 1991.
Note: Lionel Phillips (1924-91) was an Australian diplomat in China from the mid 1940s to early 1950s. He was attached to the Australian Legation in Chongqing from 1943, which later relocated to Nanjing in 1946. Phillips moved to Beijing in 1949 and remained there until around 1952. During his time in China, Phillips became acquainted with various government officials and diplomats, including Zhou Enlai. The current lot was brought to back to Australia with him in 1952.
Tables of this minimalist form represent one of the most versatile and popular designs in Chinese furniture, as evident in their constant popularity through the generations. Historically referred to as 'character one' table (yi zi shou shi), as the single horizontal stroke of the Chinese character for the numeral 'one' bears resemblance to this linear form, this design appears to have derived from standard wood building construction in use since the Han dynasty. Their light and simple form meant they could be easily moved from one location to another, as revealed in Ming and Qing prints where they are depicted used as altar, painting and also side tables.
The piece is particularly attractive for its clever use of two different types of wood. The darker burls of the top create an attractive contrast to the honey-coloured huanghuali of the frame, legs, waist and spandrels. A common practice in the Ming and Qing dynasties, huanghuali tables of this form are known inset with table tops of various types of woods, such as one with an ebony top, from the Qing Court collection and still in Beijing, illustrated in A Treasury of Ming & Qing Dynasty Palace Furniture, Beijing, 2007, vol. 1, pl. 284; another with a huamu top, included in the exhibition Dreams of Chu Tan Chamber and the Romance with Huanghuali Wood: The Dr. S.Y. Yip Collection of Classical Chinese Furniture, Art Museum, Chinese University of Hong Kong, Hong Kong, 1991, cat. no. 22, and sold in these rooms, 7th October 2015, lot 130.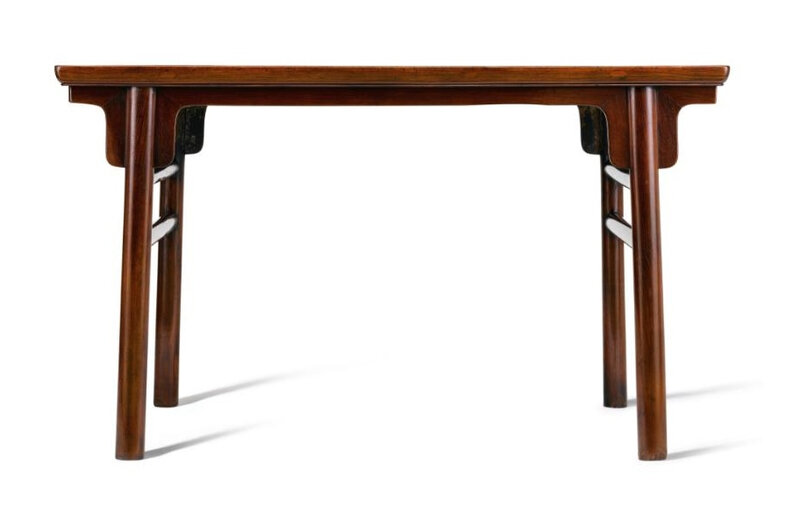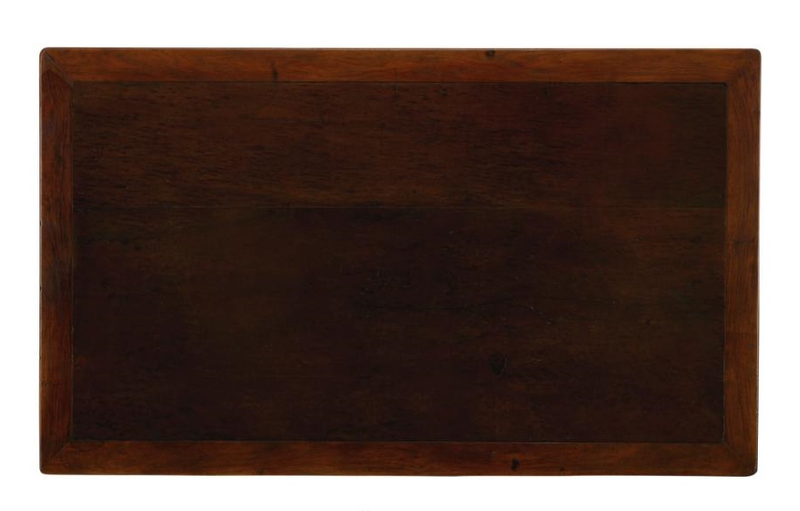 A small huanghuali recessed-leg painting table, Pingtouan, late Ming dynasty, from Dr. S.Y. Yip Collection; 81.3 by 137.5 by 81.3 cm., 32 by 54 1/8 by 32 in. Sold for 7,880,000 HKD at Sotheby's Hong Kong, 7th October 2015, lot 130. Photo Sotheby's.
the top of standard mitre, mortise and tenon construction, with a huamu two-board, tongue-and-grooved, floating panel supported by four dovetailed transverse stretchers and an additional cross stretcher underneath, all with exposed tenons, the edge of the frame gently moulded and ending in a beaded edge, the splayed round legs double tennoned into the top and cut to house the shaped spandrelled apron, each pair of legs conjoined on the shorter sides with two oval-sectioned stretchers. Estimate 2,800,000 — 4,000,000 HKD.
Exhibited: Grace Wu Bruce, Dreams of Chu Tan Chamber and the Romance with Huanghuali Wood: The Dr. S. Y. Yip Collection of Classic Chinese Furniture, Art Museum, Chinese University of Hong Kong, Hong Kong, 1991, cat. no. 22, pp. 66-67.
Note: "A classic desk of elegant simplicity."
Tables with legs not at the corners, but recessed, are called an tables. This classic pingtouan design has its origin in ancient Chinese architecture in wood. Completely plain, this simple form with pure lines is what first captured the attention of twentieth century furniture historians. The design is now considered quintessentially Ming.
Tables with this design were used for various functions as seen in Ming publications in woodblock illustrations. The present example, being unusually deep, over 81 cm deep, is especially suitable for being used as a desk, the modern equivalent of a Ming dynasty painting table. Painting tables are very rare in surviving examples of classic Chinese furniture.
A very similar painting table in the Lu Ming Shi Collection, also with a huamu top, but not as deep, is illustrated in Grace Wu Bruce, Living with Ming – the Lu Ming Shi Collection, Hong Kong, 2000, pp. 126-127.
Tables of this type were produced in varying sizes, the present example exemplifying a type of smaller dimensions, readily portable and extremely useful. A table of this design and similar size is illustrated in Wang Shixiang, Connoisseurship of Chinese Furniture, Hong Kong, 1990, pl. B81; another from the collection of La Rue Robbins Lutkins was sold in our New York rooms, 20th March 2012, lot 123.
Sotheby's. Chinese Art, Hong Kong, 31 May 2018, 11:15 AM