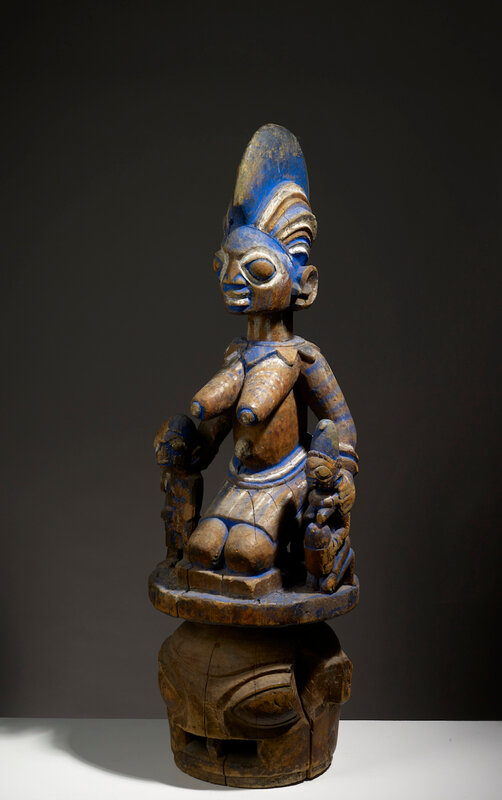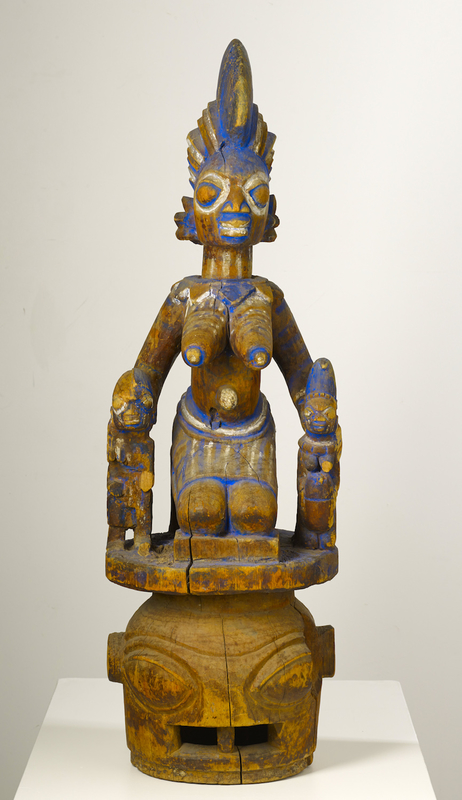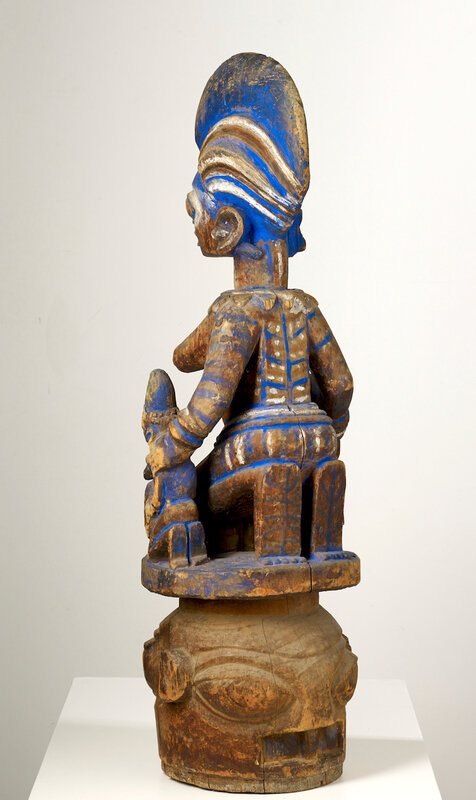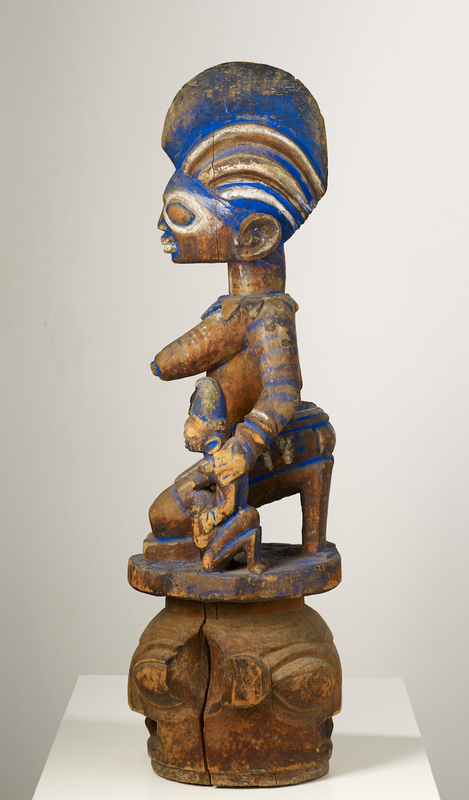 Lot 141. Important masque epa Yoruba, Nigeria. Bois et pigments colorés. H. 110 cm. Estimation: 15 000 € - 20 000 €. Courtesy Cornette de Saint-Cyr.
Comptant parmi les masques les plus monumentaux d'Afrique, les masques epa apparaissent lors d'un festival biannuel destiné à favoriser la cohésion, le bien-être et la santé des communautés villageoises en honorant les ancêtres, les héros culturels et les personnalités locales telles que les rois, les chasseurs, les mères, les prêtres, et les agriculteurs.
La superstructure de ce bel exemplaire présente une femme agenouillée, aux mains reposant sur les épaules de deux enfants qui l'entourent. Ce type de masque appelé iyabeji (la mère des jumeaux) servirait à illustrer la beauté et le pouvoir des femmes, et apparaît à la fin des festivals epa, juste avant le masque royal.
En dehors des festivals, les masques epa sont conservés dans des cases spécifiques au sein desquelles ils sont vénérés par les diverses lignées, tout aussi bien en tant que références à l'histoire de la famille, de la ville, ou simplement aux valeurs culturelles de la communauté. Les femmes viennent alors y prier iyabeji (la mère des jumeaux) pour lui demander protection et descendance.
Le style particulier de cette remarquable sculpture permet d'en localiser l'origine dans la région d'Ekiti, et plus particulièrement dans les ateliers des grands maîtres sculpteurs tels Bangboshe ou Arowogun d'Osi-Ilorin.
A défaut de signature, ou d'indications de collecte, il est toujours très difficile d'attribuer une œuvre à un maître en particulier. Toutefois, la grand équilibre géométrique de la composition et le sens particulier de la maîtrise des vides, le traitement particulier des visages aux grands yeux globuleux quasiment sans paupières et à la bouche et au nez bien indiqués, la coiffure très particulière de la mère qu'on retrouve sur le personnage de droite du célèbre masque oloju-foforo du National Museum of African Art de Washington (inv. 94-12-1), le style particulier de la fille porteuse de coupe agenouillée à la gauche de la mère, très proche jusqu'au traitement de la coiffure de celle apparaissant sur le grand masque epa offert par Gaston de Havenon au Musée de Jerusalem (inv. B78.0920) permettent de proposer une éventuelle attribution à Bangboshe (décédé vers 1920).
Provenance: - Ancienne collection Privée Britannique
- Collection de M. et Mme M. (Paris)
Références bibliographiques: - Fagg - Pemberton - Holcombe, "Yoruba sculpture of West Africa" Catalogue d'exposition à la Pace Gallery, New-York 1982.
- Drewall - Pemberton - Abiodun & Wardwell, «Yoruba, Nine Centuries of African Art and Thought» 1990.
Arts d'Asie - Art Tribal chez Cornette de Saint Cyr Paris, 75008 Paris, le 11 Juin 2018 à 14h30. Expert : Cabinet Daffos-Estournel. Tel. : +33 6 09 22 55 13 – www.aaoarts.com.