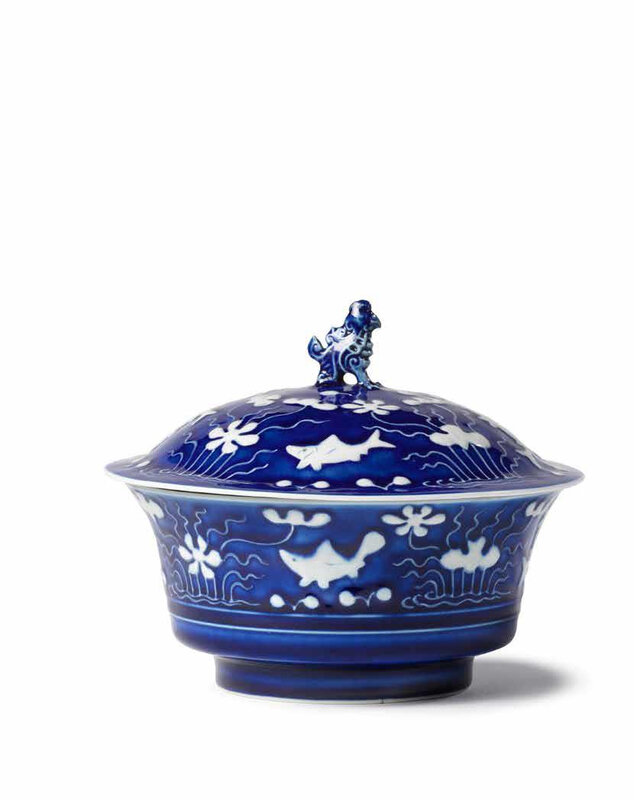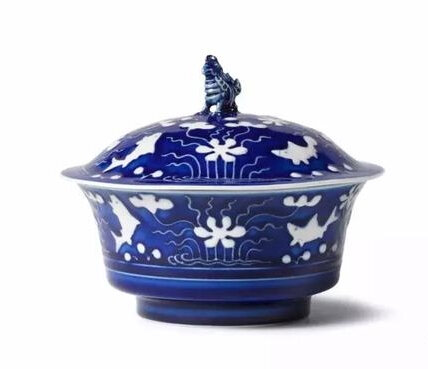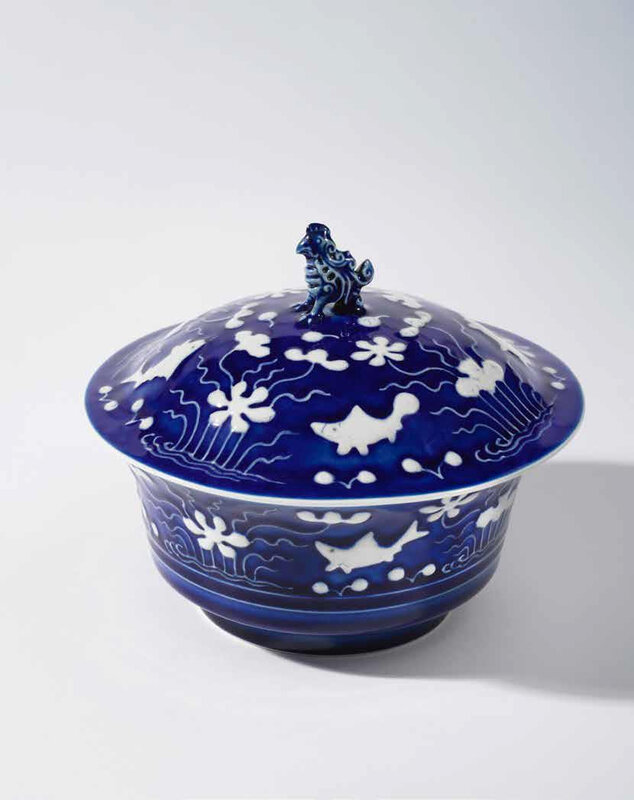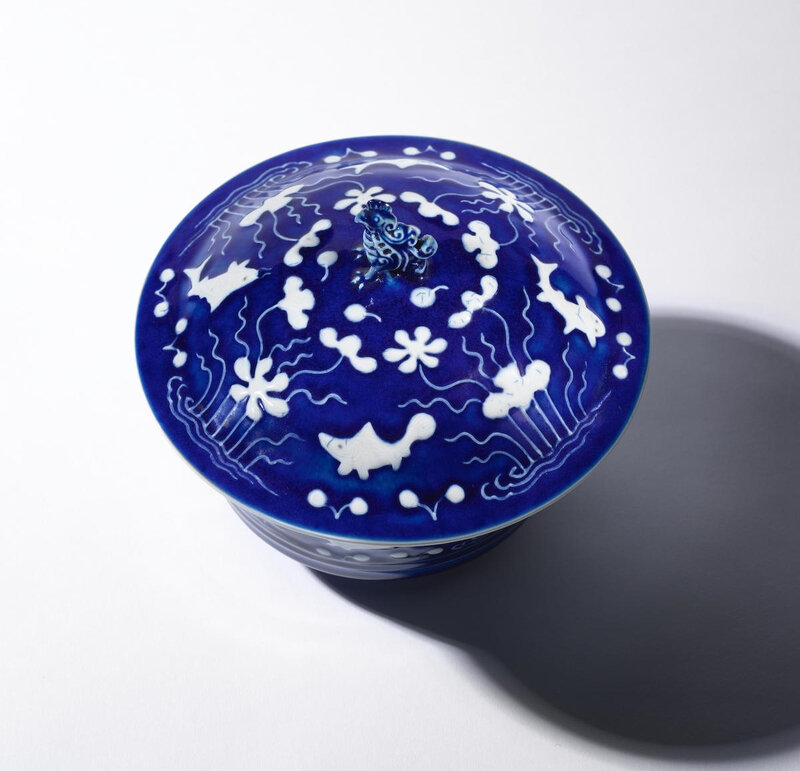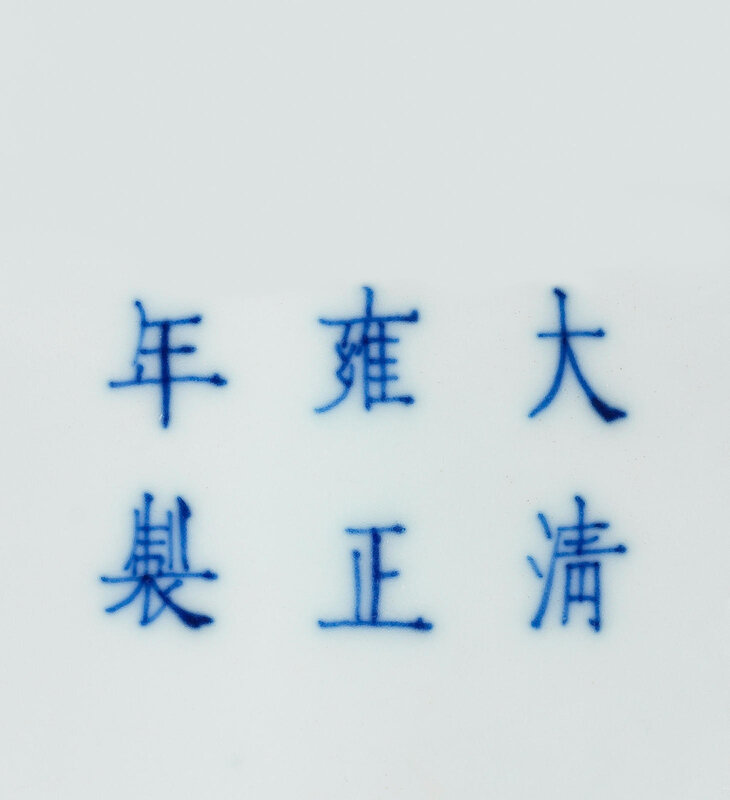 Lot 46. A very rare Imperial reverse-decorated blue and white bowl and cover, Yongzheng six-character marks and of the period (1723-1735). Bowl 17.4cm (6 7/8in) diam.; cover 19cm (7 1/2in) diam. (3). Estimate HK$ 700,000 - 1,000,000 (€ 77,000 - 110,000). Unsold. © Bonhams 2001-2018
Finely and deeply potted rising from a short straight foot to a flaring rim, vividly decorated around the exterior in white slip on a vibrant rich cobalt-blue ground with four carps in a lotus pond, swimming and leaping above water weeds amidst lotus plants issuing from the water bed, delicately decorated with incised details, all above a double-ribbed border, the slightly domed cover similarly decorated and surmounted by a finial in the form of a phoenix, box.
Provenance: Christie's New York, 13 September 2012, lot 1466
Note: Covered bowls of the same reverse decoration of the swimming fish amidst aquatic plants of the Yongzheng period are very rare. Compare, however, one without a cover, formerly in the Grandidier Collection, in the Musée Guimet, Paris, illustrated in Sekai Toji Zenshu, vol.15, pls.157 and 158; see also another example from the collections of George de Menasce, Pierre de Menasce and F. Gordon Morrill, which was sold at Sotheby's Hong Kong, 20 May 1987, lot 586; and a further example, which was sold at Christie's New York, 15 September 2011, lot 1585.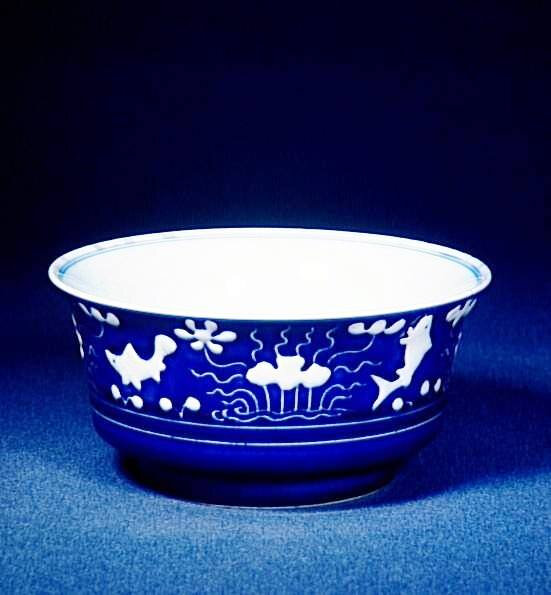 Bol à décor de poissons et fleurs de lotus, règne de Yongzheng (1723-1735), fours de Jingdezhen, porcelaine, 8 x 17,5 cm. Ancienne collection Ernest Grandidier, G1569, Paris, musée Guimet - musée national des Arts asiatiques. Photo (C) RMN-Grand Palais (MNAAG, Paris) / Daniel Arnaudet
The Yongzheng emperor, though a Manchu, sought to achieve cultural continuity, whilst pursuing contemporaneous refinement in accordance with his personal exacting standards and manifesting his taste and artistic style. This rare bowl and cover is inspired in form and design by early Ming dynasty Imperial porcelain of the Xuande reign, which in turn evolved from Yuan dynasty blue-ground reserve white-slip decorated porcelain and vessels painted in cobalt blue with fish and aquatic plants. See a blue glazed slip-decorated dish with fish and aquatic plants design, Xuande mark and period, from the Qing Court Collection, illustrated in The Complete Collection of the Treasures of the Palace Museum: Monochrome Porcelain, Shanghai, 2010, no.64; and see a number of blue and white covered bowls of similar form to the present lot, Xuande marks and period, illustrated by Liao Pao-show, A Panorama of Ceramics in the Collection of the National Palace Museum: Hsün-te Ware I, Taipei, 2000, nos.53-60, variously painted with lotus, bajixiang, composite blossoms and dragon designs.

Yongzheng covered bowls of this form are also found with monochrome and polychrome decoration. See a doucai bowl and cover, Yongzheng mark and period, in the Victoria and Albert Museum, London, illustrated by J. Ayers, Far Eastern Ceramics in the Victoria and Albert Museum, London, 1980, pl.62; and see also a blue-glazed bowl and cover, Yongzheng mark and period, which was sold at Sotheby's Hong Kong, 8 October 2010, lot 2636. The blue coloured palette was very suitable for glass and similarly shaped bowls and covers, Yongzheng mark and period were produced in transparent blue glass; see such glass covered bowl in the Victoria and Albert Museum, illustrated by P.Hardie, 'Glass in China: late Ming to early Qing', Transactions of the Oriental Ceramic Society 1990-91, vol. 55, London, p.20, no.11 (one of a pair).