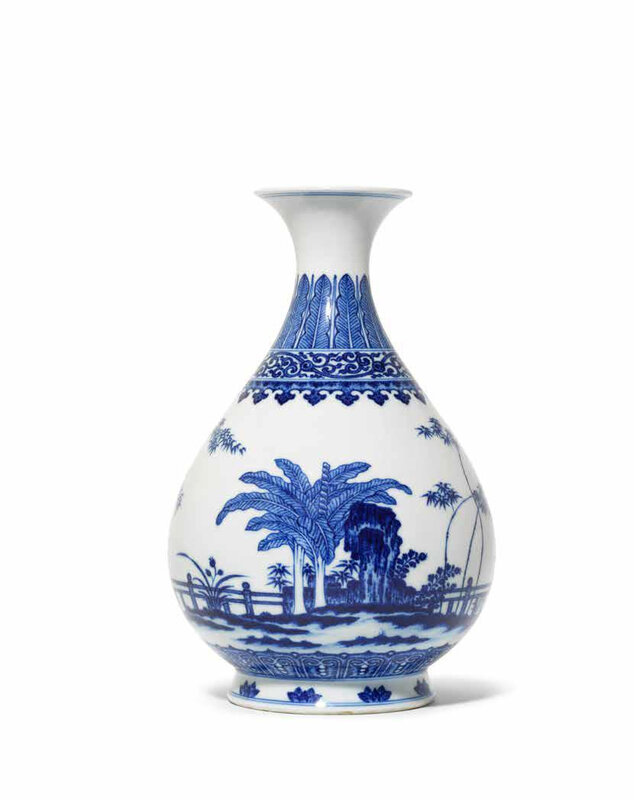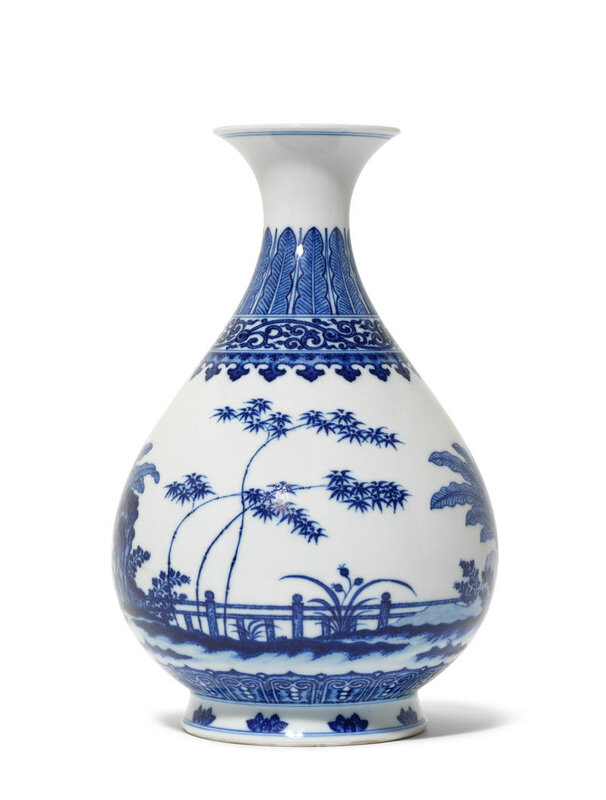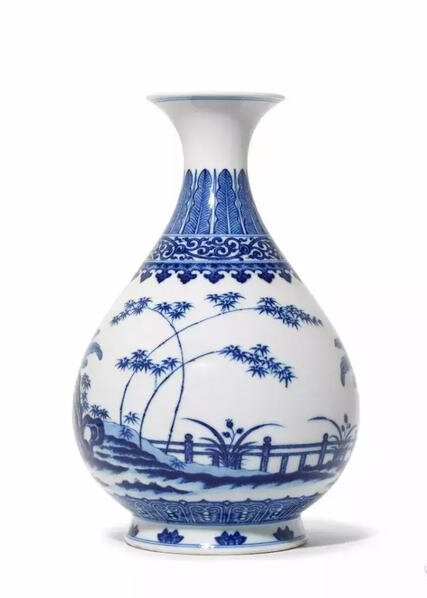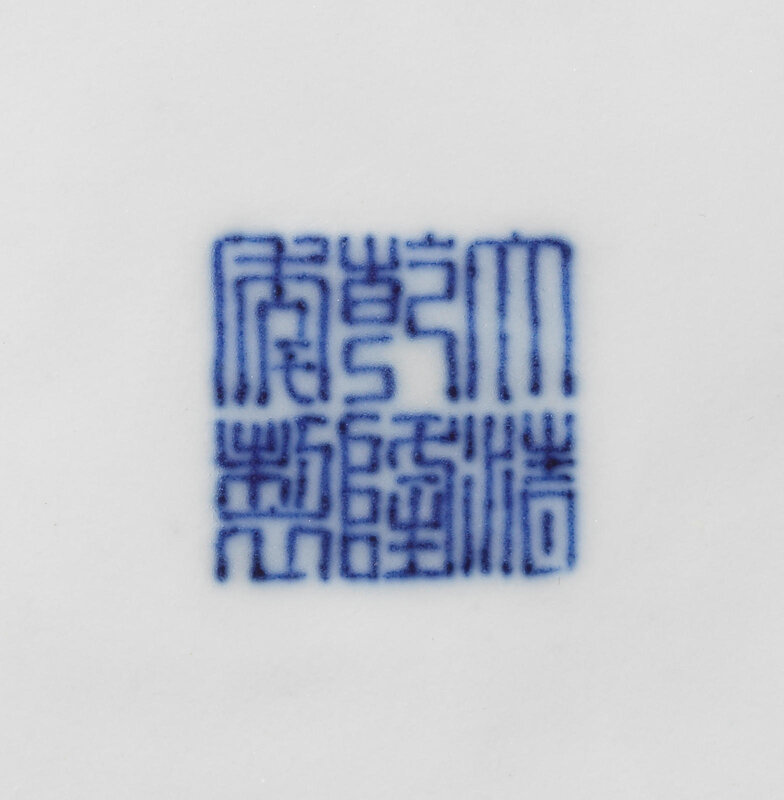 Lot 47. A very fine Imperial Ming-style blue and white vase, yuhuchunping, Qianlong seal mark and of the period (1736-1795); 28.6cm (11 1/4in) high (2). Estimate HK$ 1,800,000 - 2,400,000 (€ 200,000 - 260,000). Unsold. © Bonhams 2001-2018
Of elegant pear-shaped form, rising to a wide trumpet mouth, brilliantly painted around the exterior in vivid tones of cobalt-blue with a fenced garden enclosing plantain and bamboo growing beside pierced rockwork on grassy mounds, all beneath a border of upright elongated plantain leaves, scrolling tendrils and a pendant ruyi collar, the base with a band of lotus lappets above nine lotus blooms at the splayed foot, box.
Provenance: Acquired in Philadelphia in the 1940s-50s, by repute
An Irish private collection, Co. Carlow
Bonhams London, 11 November 2010, lot 312
A distinguished Asian private collection.
Note: The present vase is possibly the finest example of its type, displaying superb painting in vibrant and vivid cobalt blue.

The design of bamboo, plantain and rocks has been much favoured by Chinese literati on account of its auspicious connotations. Bamboo symbolises longevity, endurance and loyalty, as it does not break in the wind and remains green in winter. The plantain tree is a symbol of education from the classical legend of a scholar who wrote on plantain leaves since he was too poor to afford any paper, hence much admired by the Chinese for its fruit and large ornamental leaf. Rocks represent durability and steadfastness and thus are symbols of reliability and friendship.

The decoration of the present lot is found on porcelains as early as the Hongwu period, and vases of closely related form and design are known from the Yongle reign: see a vase from the Qing Court Collection, illustrated in The Complete Collection of Treasures of the Palace Museum: Blue and White Porcelain with Underglaze Red (I), Hong Kong, 2000, no.33. This form and design were revived during the Qing period, within the framework of Imperial Qing porcelain commissions reproducing forms and designs of early Ming ceramics; see a blue and white vase, yuhuchunping, Yongzheng six-character mark and period, which was sold at Sotheby's Hong Kong, 2 May 2005, lot 511.

The present lot, distinguished in its elegant potting, impressive use of cobalt blue and refined delicacy from the early Ming examples, represents the height of the Qianlong period porcelain manufacture at the Imperial kilns in Jingdezhen. Several similar examples, Qianlong seal mark and period, are in important museum collections; see one in the National Palace Museum, Taipei, illustrated in Porcelain of the National Palace Museum. Blue and White Wares of the Ch'ing Dynasty, vol.2, Hong Kong, 1968, pl.12; another in the Palace Museum, Beijing, illustrated in Gu tao ci zi liao xuan cui, vol.2, Beijing, 2005, pl.181; and a further example illustrated in Chinese Porcelain. The S. C. Ko Tianminlou Collection, vol. 1, Hong Kong, 1987, pl.62.
A similar blue and white vase, yuhuchunping, Qianlong seal mark and period, was sold at Christie's Hong Kong, 8 October 2010, lot 2773.