Lot 1778. The Sleeping Lion Pearl. A natural baroque-shaped freshwater pearl, China, Qianglong Emperor's reign, most likely between 1700 and 1760, weighing 2373 grains. Pearl: approx. 70x43x39 mm., case: 74x54x47 mm. Estimate 340,000-540,000 €. Sold for 320,000 € to a Japanese trader. Courtesy Venduehuis
THE HAGUE (AFP).- The world's largest known freshwater pearl, which once belonged to Catherine the Great, was sold Thursday in the Netherlands for 320,000 euros ($374,000), auction house Venduehuis said.
It's one of the three largest-known pearls in the world, and the largest pearl found in natural fresh water. The pearl owes its name to the striking shape the pearl naturally adopted: a sleeping lion. Weighing about 120 grams with a length of almost 7 centimeters, the pearl also bears an interesting Chinese-Dutch history.
Most likely, The Sleeping Lion Pearl was formed in the first half of the eighteenth century in Chinese waters, possibly in the Pearl River. Around 1765, the pearl was shipped to Batavia by a Dutch merchant of the United East Indies Company (abbreviated as VOC in Dutch). There, Hendrik Coenraad Sander, the VOC's accountant, became the first European to own the pearl.
After Sander passed away, the pearl was auctioned off in Amsterdam in 1778 and acquired by Catherine the Great, Empress of Russia. The Sleeping Lion Pearl was exhibited in the Hermitage in St. Petersburg up until 1796.
In 1865, goldsmith Lodewijk Willem van Kooten, who was working in Rome for the Italian court jeweler Castellani at the time, bought the pearl. In 1867, Van Kooten returned to Amsterdam and for four generations, this pearl remained in possession of this famous Dutch family of jewelers.
The Amsterdam Pearl Society bought the pearl in 1979 intending to research it and trace its history. After almost 40 years, the Society is finally offering to auction the pearl at the Venduehuis in The Hague.
The pearl was bought by a Japanese trader for 320,000 euros.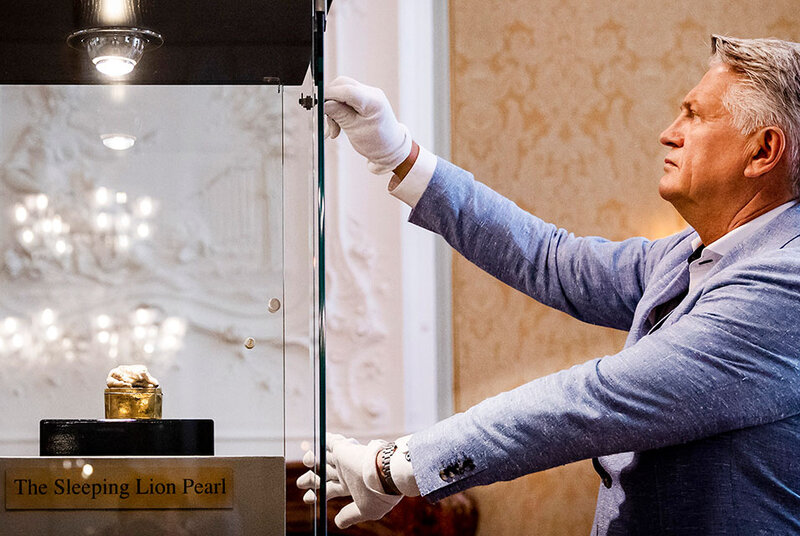 A personnel stands next to the Chinese-Dutch "Sleeping Lion Pearl" during a viewing day at the Pulchri Studio, on May 27, 2018 in The Hague. The Venduehuis will auction the largest freshwater pearl in the world, which is known as "Sleeping Lion pearl" due to its distinctive shape. Remko de Waal / ANP / AFP.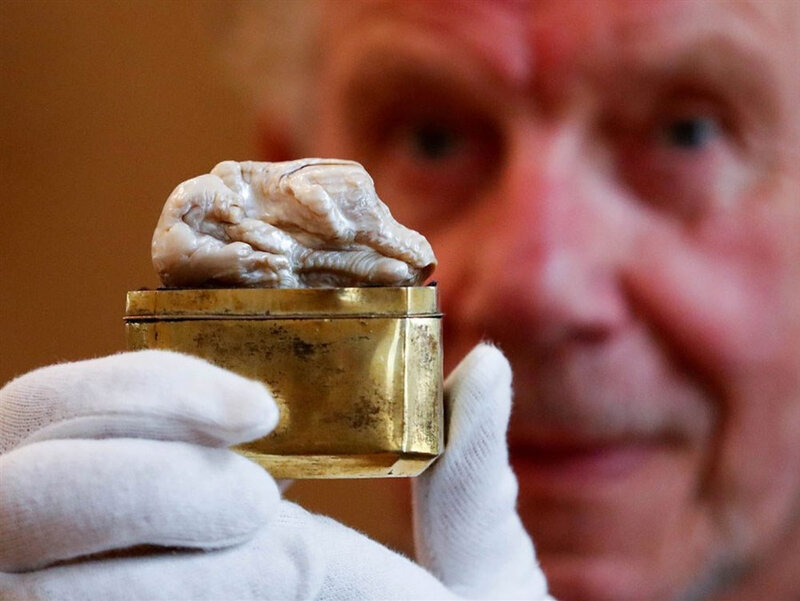 Herman Dommisse, the owner of The Sleeping Lion Pearl, which once belonged to Catherine the Great and believed to be the world's largest freshwater pearl, shows the pearl. The rare natural object weighs almost 120 grams and is nearly 6.9 centimeters long. Along with its size and animal-like appearance, the pearl is renowned for its approximately 300-year history. The pearl is of Chinese origin and is believed to have formed between 1700 and 1760, during the Qing dynasty (1644-1911). — Reuters