LONDON.- On 5 June, Sotheby's will bring to the market works by celebrated Russian artists and craftsmen from Malevich to Fabergé in the Russian Pictures and Russian Works of Art, Fabergé & Icons Sales taking place in London. With consignments drawn from prestigious collections from around the world, the sales will offer a unique opportunity to purchase works by some of the most pre-eminent creators of Russian art.
RUSSIAN PICTURES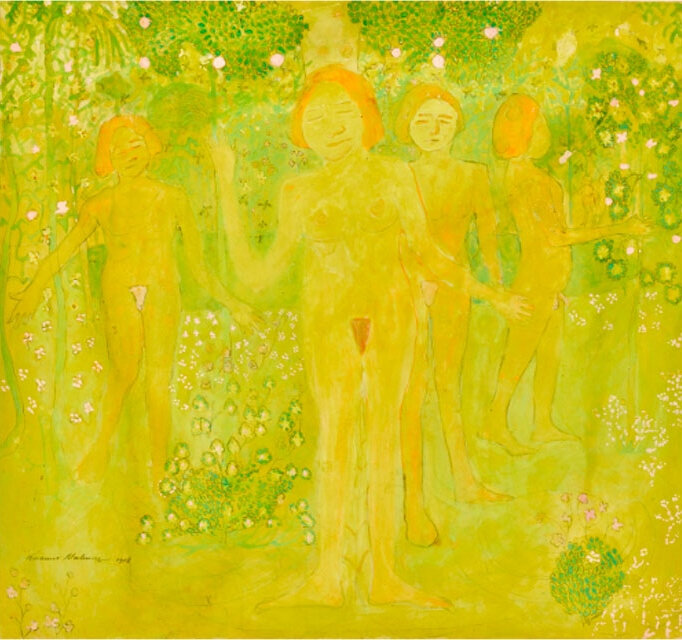 Lot 64. Kazimir Severinovich Malevich (1879-1935), The Secret of Temptation with Portrait of Ivan Kliun on the verso, signed in Latin Kazmir Malewicz and dated 1908 l.l.; further indistinctly titled in Cyrillic on the reverse, watercolour, gouache and pencil on card, 23 by 25cm, 9 by 9 3/4 in. Estimate: £250,000-350,000. Courtesy Sotheby's.
A rare figurative work on paper this watercolour is one of only a dozen or so original works by Malevich to have appeared at auction in the past decade. Malevich is best-known for his ground-breaking abstract Suprematist works. The Secret of Temptation (1908) dates from the artist's short Symbolist period at a time when the artist was working on a series of religious-themed works. This work however, is far from celestial. In this bright sunny picture we find an expression of his elevated feelings on sex and the sacred nature of man, speaking volumes about the attitude of the young 29-year-old artist. On the reverse of the present work is a pencil portrait by Malevich of Ivan Kliun (1873-1943), an artist with whom he formed a lifelong friendship just at this period when both were turning to Symbolist subjects and were executing works in a similar, ornate style.
Lot 74.
Pavel Tchelitchew (1898 - 1957),
Excelsior, 1934,

signed in Latin and dated

34

t.r.,

oil on canvas,

81 by 116.5cm, 32 by 45 3/4 in. Estimate: £250,000-350,000. From the collection of Seymour Stein

.
Courtesy Sotheby's.
In 1934 Tchelitchew was invited by the English Surrealist patron Edward James to spend the summer at West Dean, his estate in Sussex. The time Tchelitchew spent at West Dean marked a pivotal moment in his artistic development and was the most fruitful of his English period.

Excelsior is a reworking of a study from the year before – a portrait in triplicate of Tchelitchew's partner Charles Henri Ford. In the present painting, the first and most likely the second figure are modelled on Ford, while the third, swarthier one is thought to represent American poet Parker Tyler. Ford's boyish beauty captivated Tchelitchew and triggered a change of direction in his art. Apart from the commissioned society portraits, in the years before their meeting most of the artist's figures had been faceless, as in the sand constellation paintings and the dancers of Ode. That the work is in triplicate (discounting the fourth, obscured figure) is significant because it relates to Tchelitchew's work in triple perspective. There are three distinct vanishing points in one pictoral space as each of the three heads is viewed head-on, from above and from below 'self-designated as Body, Soul and Spirit'.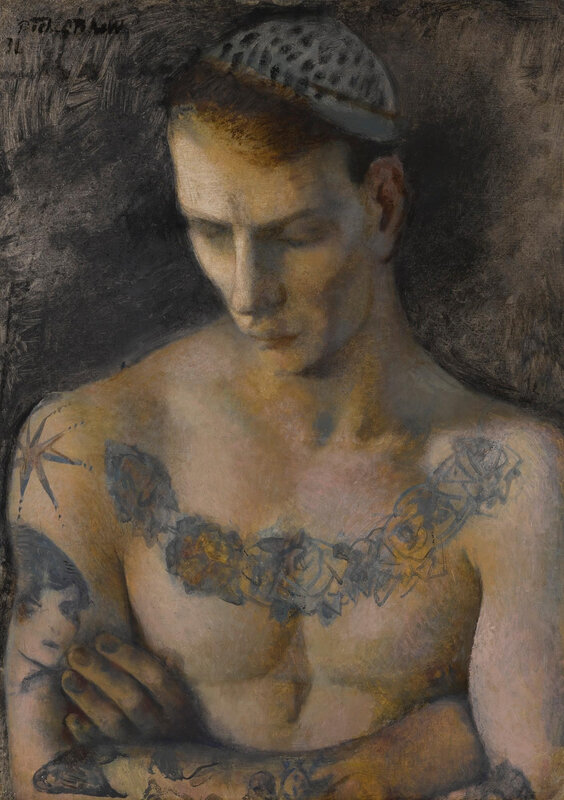 Lot 77. Pavel Tchelitchew (1898 - 1957), The Rose Necklace, 1931, signed in Latin and dated 31 t.l., oil on board, 74 by 53cm, 29 by 21in. Estimate: £60,000-80,000. From the collection of Seymour Stein. Courtesy Sotheby's.
The Rose Necklace is a portrait of Charles Levinson, known as 'Le Vincent', who was 'a handsome ex-soldier with a superb necklace of tattooed flowers' (L.Kirstein, Tchelitchew, Santa Fe, 1994, p.45). With his nonchalant beauty and easy physicality he inspired Tchelitchew to produce a full series of tattooed circus figures. This portrait provides an earthy, sexual counterpoint to Picasso's Garçon à la Pipe (1904) which inspired Tchelitchew's portraits of Ford and others surrounded by flowers, only here the garland of roses is transposed to the sitter's chest.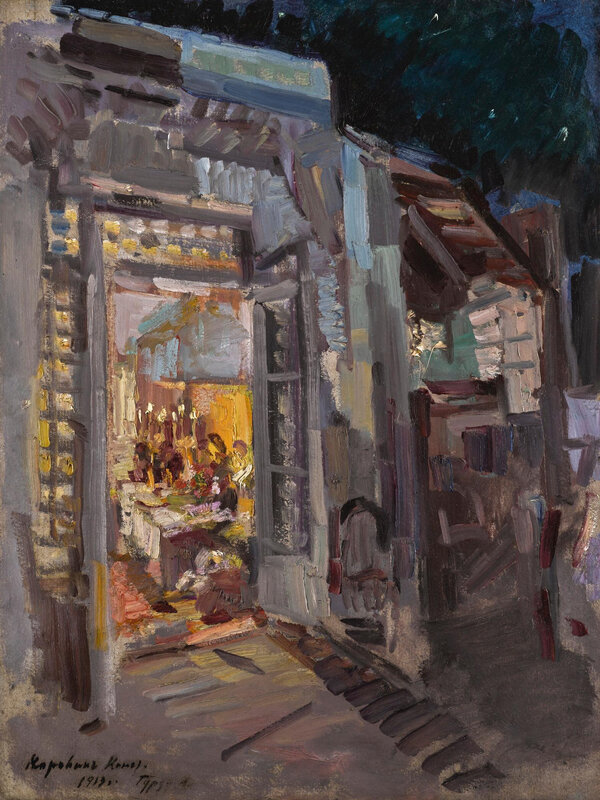 Lot 39.
Konstantin Alexeevich Korovin (1861-1939), House In Gurzuf With A Candlelit Interior, 1913,

signed in Cyrillic, inscribed

Gurzuf

and dated

1913

l.l.; further bearing remnants of a Union of Russian Artists exhibition label on the stretcher,

oil on paper laid on canvas,

85.5 by 65cm, 33 3/4 by 25 1/2 in.

Estimate: £150,000-200,000.
Courtesy Sotheby's.
In the same family collection for over a century, House in Gurzuf with a Candlelit Interior is offered at auction for the very first time. Painted in Korovin's beloved Gurzuf which inspired so many of his best paintings, this work is from the artist's most coveted period.

Korovin was interested in the effects of artificial light and evening views form an important part of his oeuvre. His night views of Paris' Grand Boulevards are well known, but even during his many stays in Crimea, which Korovin as well as other Russian artists loved for its southern light, he turned to this genre.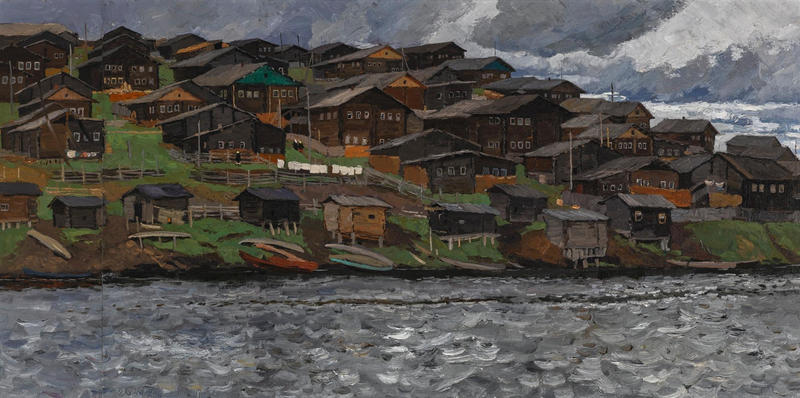 Lot 138. Vladimir Fedorovich Stozharov (1926-1973), Bolshaya Pyssa, 1964, incised B. Pyssa in Cyrillic and dated 26,5,64 l.l., oil on card laid on board, 59.5 by 120cm, 23 1/2 by 47 1/4 in. Estimate: £150,000-200,000. Courtesy Sotheby's
The landscapes, vernacular architecture and the people of rural Russia were major themes in Stozharov's work. The Russian north in particular was very close to the artist, and he spent many summers in the Arkhangelsk Region as well as the Komi Republic. Stozharov was particularly drawn to the large village of Bolshaya Pyssa, located on the banks of the Mezen river to the east of Arkhangelsk. Its tightly-packed wooden houses appear in many of his canvases, and in many ways the juxtaposition of these unforgiving landscapes with meagre signs of human habitation such as smoking chimneys or washing lines came to embody Stozharov's vision of the north. A highly respected and successful artist during his lifetime, many of Stozharov's best works are in public collections, with such large-scale finished works rarely appearing on the market.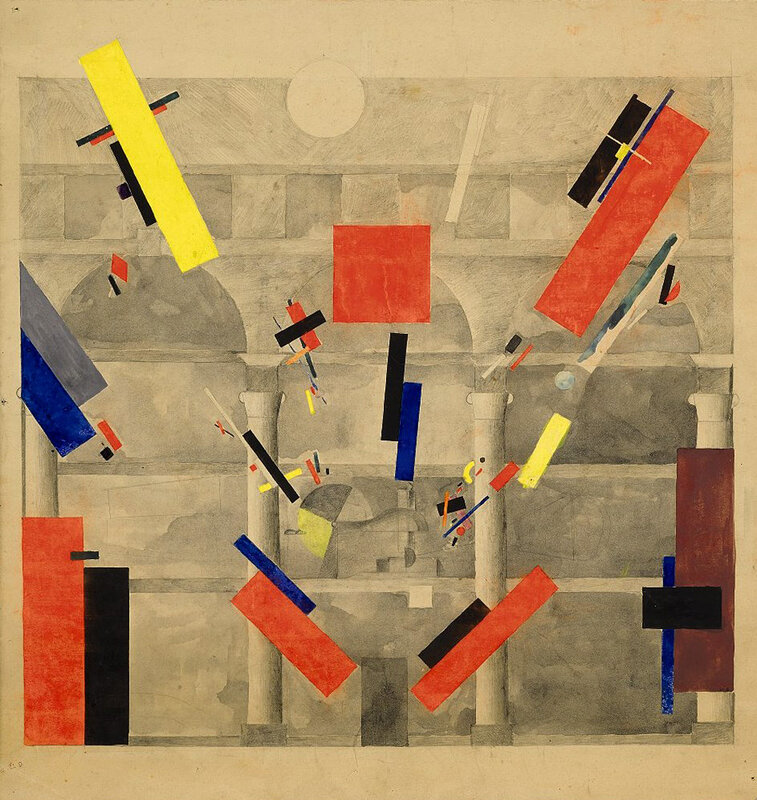 Lot 65. Vera Mikhailovna Ermolaeva (1893-1938), Suprematist Design For A Façade, 1920, inscribed on the reverse by Nikolai Kazansky, nephew of Maria Kazanskaya, gouache and pencil on paper, sheet size: 50 by 43.5cm, 19 3/4 by 17 1/4 in. Executed in 1920. Estimate: £30,000-50,000. Courtesy Sotheby's
Ermolaeva executed Suprematist Design for a Façade in the spring of 1920 as part of a comprehensive municipal programme to decorate the streets of Vitebsk for the 1st of May celebrations. A year earlier Ermolaeva had been sent to Vitebsk by the People's Commissariat of Education to head up the painting studio at the People's School of Art where she proved a dependable assistant to Marc Chagall.
The arrival of Kazimir Malevich in Vitebsk in November 1919 had a tremendous impact on Ermolaeva. Finding herself in the company of the founding father of the non-objective movement it was not long before she followed the lead of the great Russian avant-garde artist and became an ardent adherent of Suprematism. The present work is by far the most important of Ermolaeva's Suprematist pieces to have survived. A smaller version of the work is at the State Russian Museum in St. Petersburg.
Lot 37. Petr Iosifovich Smukrovich (1878-1941), Toilette, 1913, signed in Cyrillic l.l.; further inscribed on the reverse and the stretcher, oil on canvas, 164.5 by 137cm, 64 3/4 by 54in. Executed in 1913. Estimate: £200,000-300,000. Courtesy Sotheby's
The most important recorded work by Petr Smukrovich, this sumptuous large-scale painting drew the attention of critics at the 1913 graduation show of the Imperial Academy of Arts with the Apollon reviewer singling it out as the most accomplished work that year and praising its technical virtuosity.
While Smukrovich's noble family roots were to become problematic for his advancement as an artist under Bolshevik rule, Toilette was painted at a time when the artist was free to hark back to the era evoked by Konstantin Makovsky's genre scenes, delighting in rich materials, exploring the time-honoured servant mistress motif and creating a Russified version of Édouard Manet's Olympia (1863).
Lot 60. Vasily Ivanovich Shukhaev (1887-1973), Russian Landscape, 1922, signed in Latin and dated 22 l.r., oil on canvas laid on board, 51 by 59.5cm, 20 by 23 1/2 in. Estimate: £250,000-350,000. Courtesy Sotheby's
Despite the title given by the artist, the present work is closely related to Shukhaev's series of Finnish landscapes and was completed in Paris in 1922. Shukhaev had arrived in France early the previous year. Although Shukhaev's Finnish period was short, the ten months he spent there in 1920 were very productive and expanded his horizons. The artist produced dozens of works while in Finland, including views of the village of Mustamyaki, where he stayed on the estate of Pauline Linde, the mother of the actress Anna Geinz, who had been a friend of Shukhaev and Yakovlev in St Petersburg.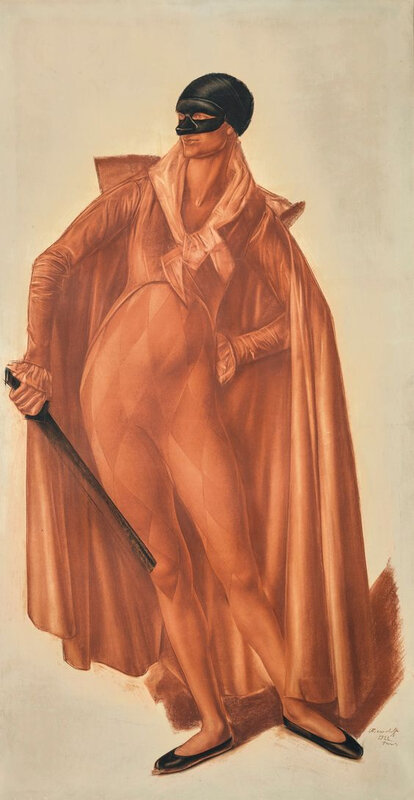 Lot 61. Alexander Evgenievich Yakovlev (1887-1938), Harlequin, 1922, signed in Latin, inscribed Paris and dated 1922 l.r., sanguine and charcoal on paper laid on canvas, 180 by 95cm, 70 3/4 by 37 1/2 in. Estimate: £150,000-200,000. Courtesy Sotheby's
Theatre was a major theme in Alexander Yakovlev's work throughout his career. Arriving in Paris in 1919 after an extended stay in East Asia, he brought with him countless drawings and paintings inspired by Japanese Kabuki and Chinese theatre. He published a volume on Chinese theatre in 1922, the same year he executed the present work. European theatrical traditions, particularly the Commedia dell'arte, also left their mark on Yakovlev's work. A famous double self-portrait from 1914, created with the artist's close friend Shukhaev and depicting themselves as Pierrot and Harlequin is now at the State Russian State Museum in St Petersburg.
RUSSIAN WORKS OF ART, FABERGÉ & ICONS SALE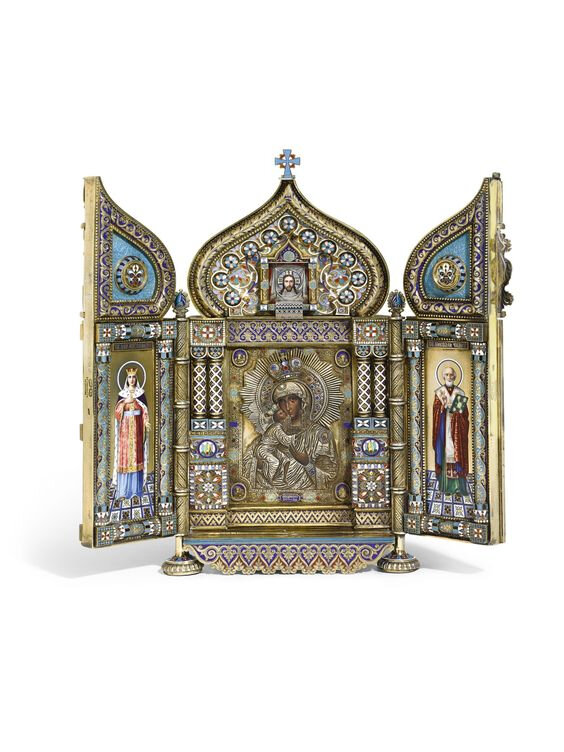 Lot 458. A Wedding Gift to Their Imperial Majesties: A Rare and Important Imperial Silver-Gilt and Enamel Triptych Icon of the Feodorovskaya Mother of God, Savelev Brothers, Kostroma, 1894; height 33.7cm. Estimate: £80,000 - 120,000. Courtesy Sotheby's.
rectangular with onion dome upper section, the front doors of two panels both centred with a raised polychrome cloisonné enamel rosette, the grounds of opaque turquoise enamel with scrolling cloison tendrils, the convex borders of gilt scrolls on blue champlevé enamelled grounds, the upper section centred with a blue enamel roundel applied with a chased Imperial eagle, the individual civic arms of shaded enamel plaques, Celtic-form cross finial clasp, the apron of gilt palmettes on translucent blue and red grounds, on four pad feet, two issuing from the banded side columnar hinges with foliate finials, the doors opening to reveal the central icon of the Feodorovskaya Mother of God, the faces, hands and legs of the Mother and Child enamelled en plein, their chased robes, halos and crowns painted with vari-coloured enamels to simulate jewels, the scroll-chased border applied at the corners with medallions of four Apostles, within an aedicule of double columns enamelled with diaper pattern on tall sectioned pedestals of shaded cloisonné enamel flowers and leaf scrolls on stippled grounds, the chevron base and palmette upper frame on blue grounds, the central upper section applied with an icon of the Mandylion, Christ's face enamelled en plein, within a raised columnar frame, the ground of scrolling foliage, the border of raised rosettes within cusps, the interior of the left door enamelled with an image of Saint Alexandra, the right with Saint Nicholas, both finely painted standing on fleuron tile floors within raised champlevé and cloisonné enamel frames, the upper side sections both applied with a raised roundel enamelled with a stylised fleur-de-lys, the reverse with the engraved and part-enamelled civic arms of Kostroma, within a ribbon-tied oak wreath below an Imperial crown, above a raised inscription in Russian: 'To His Imperial Highness the faithful Emperor Nikolai Alexandrovich and to his wife the faithful Empress Alexandra Feodorovna/ A devout offering from the Kostroma state/ The year 1894, November 14', struck Br. Savelev of Kostroma in Cyrillic beneath the firm's exhibition medals, 84 standard, in a fitted plush-lined wood case, the reverse with partial paper label for Hammer Galleries, New York, and the remains of another label, presumably an exhibition label, dated _ 31, 1937
Provenance: Given by the government of the city of Kostroma to Emperor Nicholas II and Empress Alexandra as a wedding gift in 1894
Presumably purchased by Armand Hammer from the Soviet authorities in the 1920s
Note: The wedding of the Tsarevich Nicholas Alexandrovich and Princess Alix of Hesse and by Rhine was originally planned for April 1895, following their engagement at Coburg in April 1894, and was to include a week of public celebrations in St Petersburg, with all of the pomp attaching to a State occasion. The death of Emperor Alexander III at Livadia on 20 October (O.S.) 1894 meant a change in both the date and the nature of the ceremony. Thrust onto the throne at the age of just twenty-six and aware that he was ill-prepared, the new Emperor Nicholas II insisted on being married as soon as possible; his fiancée was the only person who gave him confidence, and he yearned for the closeness that marriage would afford them. His first wish was to marry at Livadia before his father's funeral, 'while Papa is still under this roof'. His mother was amenable to the idea, but his influential uncles insisted that the wedding of an Emperor was too important an event for the nation and that it must happen in St Petersburg; their view prevailed.
Nicholas and Alexandra were married on 14 November (O.S.), a week after Alexander III's funeral, the date chosen because it was the Dowager Empress' birthday, which meat that Court mourning could be relaxed. Maria Feodorovna helped dress Alexandra for the ceremony, and together they drove to the Winter Palace and proceeded to the chapel, where the Emperor waited in his Hussar uniform. They each held a lighted candle as they became husband and wife, the precise moment depicted in Tuxen's well-known painting (illustrated). Alix wrote to her sister 'One day in deepest mourning lamenting a beloved one, the next in smartest clothes being married. There cannot be a greater contrast, but it drew us more together, if possible…. Such was my entry into Russia'.
Laurits Regner Tuxen, Wedding of Nicholas II and Grand Princess Alexandra Fyodorovna, The State Hermitage Museum, St. Petersburg. Photograph © The State Hermitage Museum /photo by Vladimir Terebenin
Wedding gifts were sent from throughout the Empire and abroad, many from municipal governments. The more bespoke and elaborate of these would have been put into production as soon as the engagement was announced. Moving the wedding forward by five months necessitated a scramble for craftsmen in manufacturing centres across Russia to finish their work. It is unknown when the present lot reached St Petersburg, but it would not have been completed in time for the wedding. Officials in Kostroma may have felt a special pressure to give an incredible gift, as the city considered itself the birthplace of the Romanov dynasty. Michael Romanov was there when he was elected Tsar in 1613. When he left for Moscow to be crowned, he took with him a copy of the Feodorovskaya Icon of the Mother of God, a gift from his mother. Thus the icon became the patron icon of the family, and Kostroma officials chose it as the subject of their gift.
Another wedding icon was given to the Imperial couple by the bride's sister, Grand Duchess Elizabeth Feodorovna, a triptych of Our Lady of Kazan flanked by Saints Nicholas and Alexandra, which she purchased from Fabergé, now in the Fabergé Museum in St Petersburg (illustrated, V. Voronchenko, ed., Fabergé: Treasures of Imperial Russia, Fabergé Museum, St Petersburg, New York, 2017, p. 276-277).
The Savelev firm of silversmiths was founded in Kostroma by Vasili Savelev in 1849. He was later joined by his son Alexander, and they are recorded as working together until 1893, when the elder silversmith either died or retired. Alexander apparently then brought his brother into the business, which became Savelev Brothers, though the brother's identity is not recorded. The brother may not have been a silversmith himself, as there is no record of him having registered a hallmark. Throughout its existence, the firm specialised in the manufacture of icon oklads and was therefore a natural choice for commissioning by the city leaders of the wedding icon for the new Emperor and his bride. The firm was never very large, and Savelev works remain rare on the international market. A Savelev icon sold, Sotheby's New York, 16-17 April 2007, lot 232; another was offered, Wannenes Genoa, 10-11 November 2014, lot 357. The Postnikova-Losseva entry for the firm does not mention any works in enamel; as the workshop was not extensive, it is unlikely they had in-house enamellers and therefore probably outsourced the extensive and very accomplished enamel work on the present icon.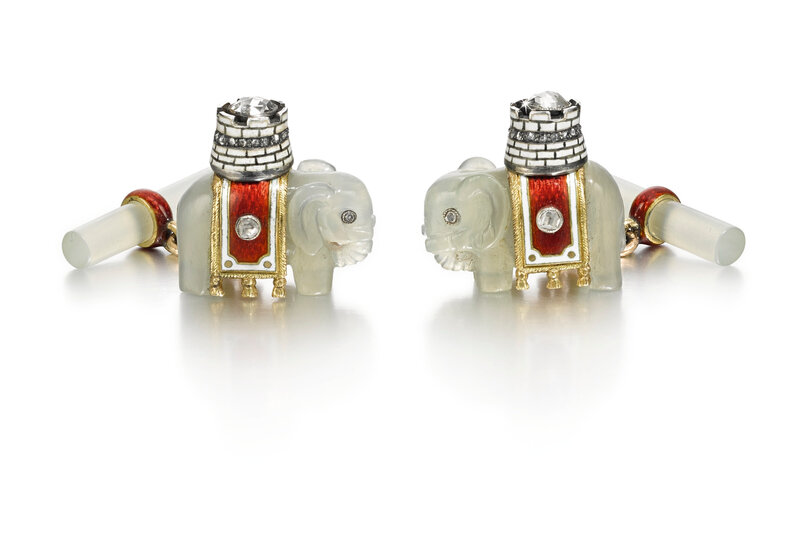 Lot 329. A pair of Fabergé jewelled gold, enamel and hardstone cufflinks, workmaster Henrik Wigström, St Petersburg, 1908-1917. Estimate: £12,000 – 18,000. Courtesy Sotheby's.
each carved of bowenite as a standing elephant, its howdah a white enamelled castle turret terminating in a large faceted diamond, the numnah of translucent red enamel over hatching applied with a rose-cut diamond within a white opaque enamel border, gold tassels, each bar of bowenite wrapped with a red enamel band, struck with workmaster's initials and KF in Cyrillic, 56 standard. Quantity: 2. width 1.8cm, 3/4 in.
Note: For other St Petersburg objects struck with both workmaster's initials and KF in Cyrillic, please see, for example, the Romanov Heirlooms cigarette case by Aarne, sold, Sotheby's London, 30 November 2009, lot 14; and the hatpins by Hollming, sold, Sotheby's London, 30 November 2011, lot 610.
During the years 1908-1917, four of Dowager Empress Maria Feodorovna's nephews and three of her grandnephews were made Knights of the Danish Order of the Elephant. The four nephews: Prince Erik of Denmark (1908), Prince Christopher of Greece and Denmark (1909), Prince Viggo of Denmark (1911), and The Prince of Wales, later King Edward VIII (1914). The three grandnephews: Prince George of Greece, later King George II (1909), Crown Prince Frederick of Denmark, later King Frederick IX (1912), and Prince Knud of Denmark (1912). Also knighted was her late husband's first cousin, Grand Duke Nicholas Nikolaevich (1909). It is suggested here that either she or her son Emperor Nicholas II may have commissioned these cufflinks from Fabergé as a gift to a newly knighted relative, or perhaps for Count Vladimir Frederiks, the Emperor's Imperial Household Minister, who was knighted in 1909.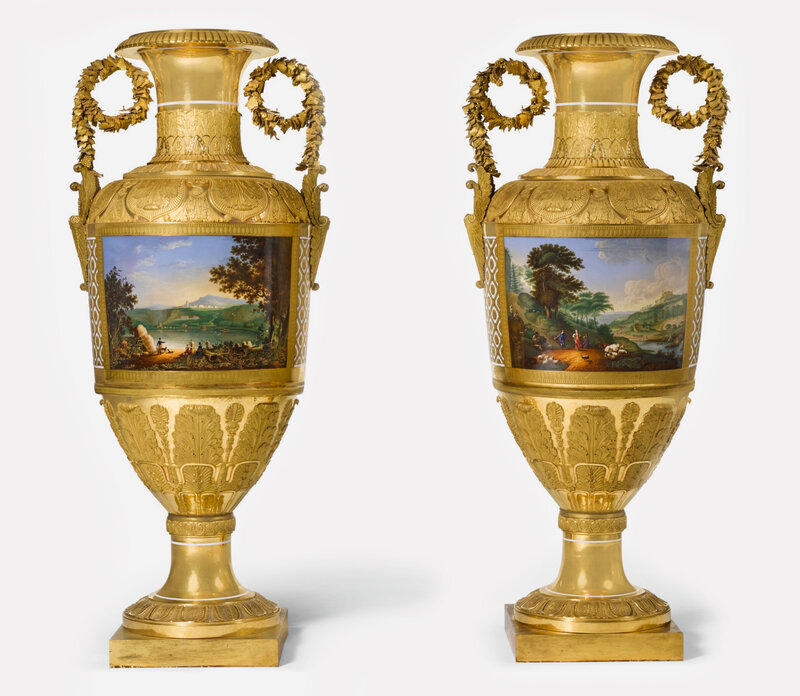 Lot 414. A pair of monumental gilt-bronze mounted porcelain vases, Imperial Porcelain Factory, St Petersburg, dated 1825; height 137cm, 54in. Estimate: £1,000,000 - 1,500,000. Courtesy Sotheby's.
of bandeau form, each with flared neck and foot, on a square gilt-bronze base, the bodies and rims moulded with raised neoclassical friezes comprising acanthus, anthemia, rosettes and arches on burnished grounds, each painted with a landscape view with figures and animals, possibly after Karl von Kügelgen, one signed lower left in Cyrillic 'N. Kornilov', the other signed lower left in Cyrillic 'Stoletov', both dated 1825, within frames of ciselé leaf tips, the back of each painted with a gilt and ciselé trellis of rosettes on white ground, the gilt-bronze brackets cast with acanthus, issuing gilt-bronze scroll handles, possibly later, of grape vines, apparently unmarked. Quantity: 2
Provenance: Property of a New York Museum, sold, Sotheby's New York, 21 April 2005, lot 61
Property of a Private Collector.
Note: These vases are the earliest known pair of this monumental size produced by the Imperial Porcelain Factory. Dated 1825 in both paintings, their production almost certainly commenced during the reign of Emperor Alexander I, who died on 19 November (O.S.) of that year. (This may account for the fact that they lack the expected cypher mark; if they were finished perhaps just after the death of Alexander but produced mainly during his reign, it may have been deemed preferable to forgo marking them with the cypher of either Emperor.) As such early examples, they represent the beginning of what is considered the peak of porcelain production in Russia, the reign of Nicholas I, during which technical advances and the keen personal interest of the Emperor himself resulted in porcelain of the finest quality. Vases of this scale were usually intended for the use of the Emperor or Empress or another member of the Imperial family, or occasionally as gifts from the Emperor to foreign rulers.
The signature 'Stoletov' may refer to either Vasili Alexandrovich Stoletov, born 1802, or P. Stoletov, both highly-regarded porcelain painters at the Imperial factory. V.A. was almost certainly the son or grandson of Imperial porcelain sculptor Alexander Stoletov, who was born circa 1762; P.'s relationship is less clear. It seems the former was more specialised in figures, the latter in landscapes. Thus a tentative attribution could be made in this case to P. Stoletov, who is known to have painted, in 1848, a pair of vases with pictures by the Dutch landscape artist Jacob van Ruisdael. P. Stoletov is also credited with painting the dramatic seascapes on a pair of vases now in the Russian Museum, St Petersburg, and which are dated 1840 and of campana form (illustrated, A. Lanceray, Russian Porcelain, Leningrad, 1968, pl. 162-163). It is possible that the Stotetovs, probably brothers, worked in collaboration on the same painting, each responsible for his own speciality, figures or landscapes, and thus did not distinguish themselves one from another by signing with their first initials.
The painter-decorator N. Kornilov, died 1852, is known to have painted military plates (see Sotheby's New York, 26-28 April 2006, lot 363) as well as large-scale vases. He copied one of Philips Wouwerman's The Stable Interiors in 1848 on one of a pair of monumental vases which sold, Sotheby's London, 10 June 2009, lot 586; he copied two other Wouwerman pictures on a pair of 1835 vases which sold separately, Sotheby's London, 19 May 2005, lot 184, and Sotheby's London, 28 November 2006, lot 231. A vase painted by Kornilov after Paulus Potter's The Punishment of the Hunter was presented to Emperor Nicholas I at Christmas in 1830 and is now in the Hermitage (inv. no. ZPF-7363).
The whereabouts of the paintings from which the images on the present lots were copied is a mystery, as is the identity of the artist or artists who painted them. If indeed the original paintings were at the Hermitage in 1825, which would be expected, given that painter-decorators usually used paintings in the collection as source material, they appear to have left the collection since. They certainly date from the late 18th or early 19th centuries. Possible attributions include Jacob Philipp Hackert (1737-1807), Karl von Kügelgen (1772-1831) and Ludwig Philipp Strack (1761-1836), all of whose works bear resemblance to the paintings seen here. Von Kügelgen, German by birth, spent much of his career in St Petersburg and was a Court painter and member of the Russian Academy of Art; the Hermitage has today a number of his landscape works on paper and his self portrait, an oil on canvas (inv. no. GZ-4284).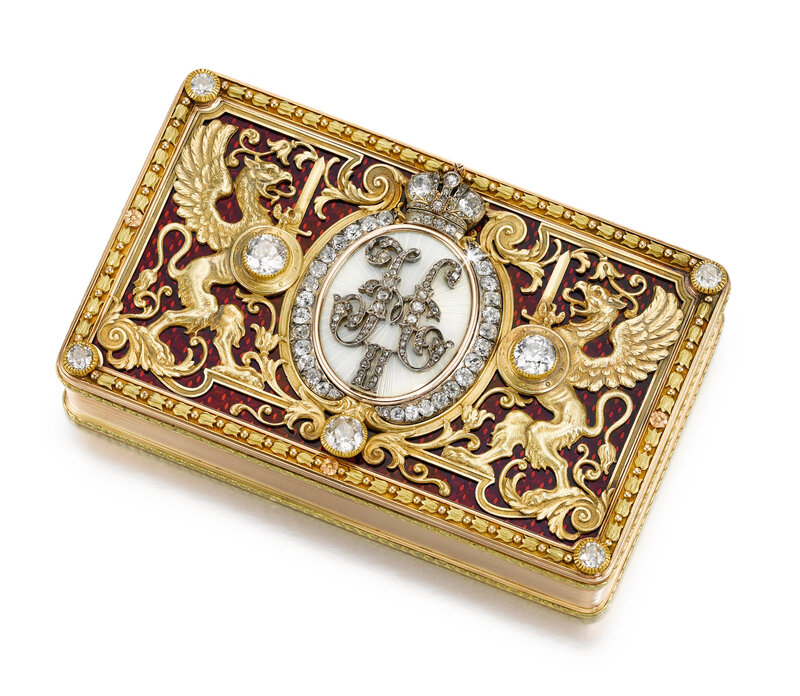 Lot 344. An Imperial Presentation Fabergé jewelled gold and enamel box, workmaster Michael Perchin, St Petersburg, 1897; width 10.6cm, 4 1/4 in. Estimate: £150,000 — 200,000. Courtesy Sotheby's.
of rounded rectangular form, the lid centred with the diamond-set crowned cypher of Emperor Nicholas II on a ground of translucent white enamel over sunburst engine-turning within a diamond frame, within an openwork panel chased with two opposing griffins rampant bearing swords, their shields set with large circular-cut diamonds, within bandwork and foliate scrolls and volutes, the ground of translucent red enamel over banded wavy engine-turning, the lid border of pink and green gold husks and beads, the corners set with diamonds, the sides reeded horizontally, the base and lid borders of chased green gold leaf trails, struck with workmaster's initials (his early mark on the flange, his later mark on the base and lid) and Fabergé in Cyrillic, 56 standard
Provenance: Presented by Emperor Nicholas II to Lieutenant-General Theodor Feldmann, Head of the Imperial Alexander Lyceum, 3 December 1897
Returned to the Imperial Cabinet by Lieutenant-General Feldmann, 16 December 1897
Presented by Emperor Nicholas II to Baron Maximilian von Lyncker, Marshall of the Household of the German Emperor, 15 November 1899
Acquired by François Dupré in the 1930s or 1940s
Thence by descent.
Note: According to the ledgers of the Imperial Cabinet and the research of Dr Ulla Tillander-Godenhielm, there were only two Nicholas II cypher boxes with red enamel purchased from Fabergé before 1903, the end of Perchin's tenure. The first, numbered 29 in the ledger entry and described as 'red enamel with brilliants' was one of four delivered to the Emperor in October 1896 for his personal use. (Another of these, also by Perchin, was the green and white enamel box which the Emperor gave to his uncle Grand Duke Vladimir Alexandrovich and/or his aunt Grand Duchess Maria Pavlovna, which sold, Sotheby's London, 30 November 2009, lot 80.) The box numbered 29 cost 845 roubles, which rules it out as being the present lot, with its very large diamonds. The second red box, the present lot, is recorded as having 'brilliants and rose[-cut diamond]s; it entered the Cabinet's stock on 25 April 1897, purchased from Fabergé at a cost of 1760 roubles and assigned the number 49. Its high cost is consistent with the size and number of the diamonds on the present lot. It was given to Lieutenant-General Feldmann on 3 December of that year. According to the ledgers, he returned it to the Cabinet in exchange for its value in cash thirteen days later, the box renumbered 66 at this point. It is this entry which confirms its colour: 'red enamel, brilliants'. The box's final appearance in the ledgers notes it being given to Baron von Lyncker on 15 November 1899.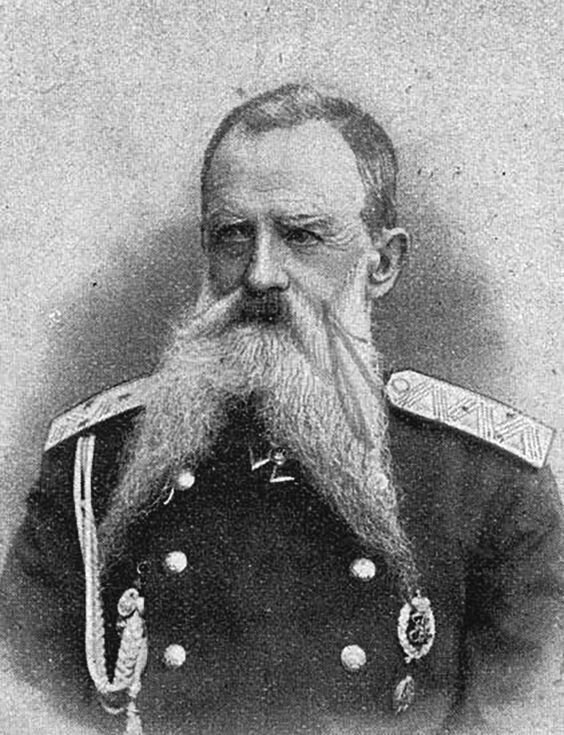 Lieutenant-General Theodor (Fedor Alexandrovich) Feldmann (1835-1902).
Lieutenant-General Theodor (Fedor Alexandrovich) Feldmann (1835-1902) was Head of the Imperial Alexander Lyceum, appointed in 1896 when he was sixty-one years old. His career may not have been altogether successful, as the highest order he received was that of the White Eagle, in 1861. Whatever his professional shortcomings may have been, as a Lieutenant-General and a loyal servant of the Empire, he was entitled to a costly gift, one of thirty-one cypher boxes given to men of his rank during the reign of Nicholas II (U. Tillander-Godenhielm, The Russian Imperial Award System, 1894-1917, Helsinki, 2005, pp. 182-183).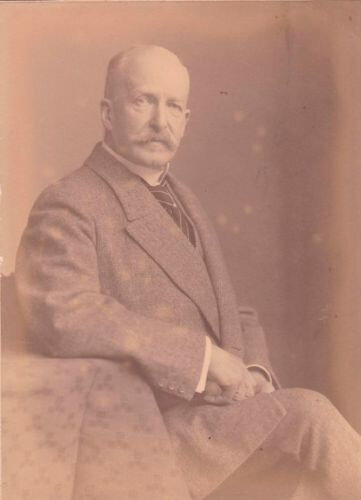 Maximilian Freiherr von Lyncker (1845-1923).
Maximilian Freiherr von Lyncker (1845-1923) was Kaiser Wilhelm II's Haus-Marschall, a senior post at Court. (He is not to be confused with the better-known Moritz Freiherr von Lyncker, who was the Kaiser's Chief of the Military Cabinet, from a different branch of the family.) Described as 'narrow-minded, violent and always advocating the strongest measures', he exerted a 'pernicious' influence on his master (J. Röhl, Wilhelm II: The Kaiser's Personal Monarchy, 1888-1900, Cambridge, 2004, p. 55). He is recorded as having accompanied the Kaiser on all twenty-six of his cruises between 1899 and 1914 (L. Cecil, Wilhelm II: Volume 2, Emperor and Exile, 1900-1941, London, 1996, p. 29) and was present at Potsdam outside Berlin where the German and Russian Emperors met on 8 November 1899.
This meeting came at a time of increasing tensions between the two rulers and their senior diplomats. Nicholas had been avoiding a meeting with an increasingly perturbed Wilhelm for some time, agreeing only reluctantly to this visit after the Kaiser vowed that he could not accept his refusal. During talks, the Emperor stressed his wish for peace with Germany, and generally, the conference was a success, and tensions eased somewhat. The main vexation for Nicholas II was a perceived slight by Wilhelm's wife, Empress Augusta Victoria, which he recounted in a letter to his mother, dated 9 November (O.S.) 1899: 'I intended to write to you about our visit to Potsdam as soon as I could.... On the whole everything went off well, except for a strange thing happening at the end: the Empress said good-bye to us in the Palace, instead of seeing Alix off at the station. Why this happened, nobody seems to understand. Our ladies and gentlemen were in a rage when they saw Alix getting out of the carriage and behind her a lady-in-waiting instead of the Empress.' (E. Bing, ed., The Letters of Tsar Nicholas and Empress Marie, London, 1937, p. 141-2). The Emperor was obligated to send the necessary gifts after the visit, and the present lot was dispatched to Germany and Baron von Lyncker. The Haus-Marschall was likewise honoured by other Courts and received the Royal Norwegian Order of Saint Olav, Grand Cross Civil, in 1906. He and his wife, born Nini von Daum, had four daughters.
François Dupré (1888-1966)
François Dupré (1888-1966) was a highly successful French banker, art collector, hotelier, and breeder of race horses. His love of art came genetically; he was the grandson of Barbizon School painter Jules Dupré. He purchased the Hotel George V in Paris in 1931 and subsequently filled it with his purchases of furniture, paintings and objects. During the German occupation of France during World War II, the George V, like all the grand hotels of Paris, was requisitioned by the German army; it became the headquarters of Marschall Gerd von Rundstedt. Dupré came in frequent contact with Germans both before and during the war. It is likely that he purchased the present lot from one of Lyncker's daughters or grandchildren. Well-known as a collector and as someone of means, he was often offered things for purchase by owners in less fortuitous circumstances. Following his death in 1966 (on the same day his horse Danseur won the Grand Prix de Paris), the box was the property of his widow, Anna Stefanna Nagy Dupré. On her death in 1977, it passed to her sister, who died in 2002, when it was inherited by the present owner.
The Romanov Griffin
It was the decision of Emperor Alexander II to adopt a Romanov family coat of arms in 1856, shortly after the start of his reign, as a means of increasing the prestige of the dynasty; the double-headed eagle was (and is) the arms of the Russian State, not the family itself. Bernhard Karl von Koehne, Director of the Senate's Department of Heraldry, was asked to create a design. He turned to a banner said to have belonged to Nikita Ivanovich Romanov, Michael Romanov's first cousin and the only surviving non-royal member of the family at the time of his death in 1654. The banner itself no longer existed, but a description of it was found in the Kremlin Armoury: a griffin rampant bearing sword and shield within eight lion heads. Despite some criticism that the new arms were too European, with no specifically Russian elements, thereafter the griffin was used frequently as a heraldic device for the Romanov family