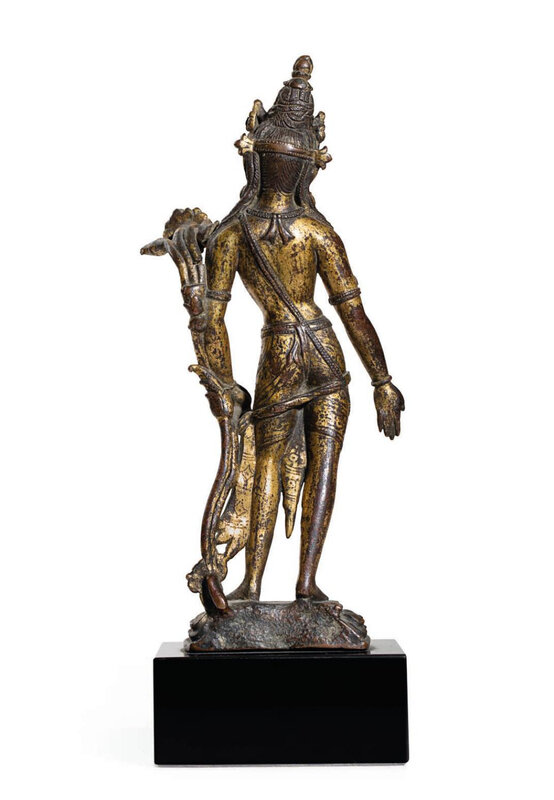 Lot 228. Rare et importante statue de Padmapani en bronze doré, Népal, début de l'époque Malla, XIIIeme-Xiveme siecle. Hauteur: 18,8 cm. (7 ½ in.). Estimation: EUR 300,000 - EUR 500,000 (USD 354,401 - USD 590,669). Price realised EUR 367,5000. © Christie's Images Ltd 2018.
Il est représenté debout sur une base lotiforme, esquissant le léger déhanchementtribanga. Il est vêtu d'un fin dhoti et arbore des bijoux précieux et une couronne ouvragée. La main droite en varadamudra, l'autre tenant l'extrémité d'une tige d'une fleur de lotus est en vitarkamudra, socle.
A rare and important gilt-bronze figure of Padmapani, Nepal, Early Malla period, 13th-14th century
Provenance: Collection of Mr John D. Rockefeller III, sold Sotheby's New York, 3 & 4 November 1977, lot 54.
Note: The small gem of Newar craftsmanship shows the bodhisattva of compassion. He stands graceful with his right hip gently thrust sideways on a lotus base. His right hand displays the varadamudra or the granting-wishes gesture that is common for this type created during the early Malla period. Later examples display more often the vitarkamudra. The left hand holds the lotus stem rising from the base to blossom along his upper arm. He wears a dhoti, which pleated folds fall elegantly between his legs and is incised with small flower heads. This design is again more encountered on bronzes cast during the early Malla phase. A sash is diagonally tied across his thighs. He is adorned with the sacred thread (upavita) falling down from his left shoulder to entwine elegantly around the sash before disappearing at the back to run up again. The simple ornaments are partly inlaid like his trefoil shaped crown.
This Padmapani form of Avalokiteshvara has remained extremely popular in Nepal. The earliest examples were made of stone and date back to the sixth century, although for sure earlier prototypes must have existed. Since then endless versions have been created for devotees until present day.
Aesthetically, examples made during the early Malla period belong to the most refined ones with elegant, graceful and well-proportioned bodies, delicate hands and fine facial features. See as an example a figure of Tara dating from 13th century sold at Sotheby's Paris, 16 December 2015, lot 73.
Exceptionnelle statuette de Tara en bronze doré Népal, XIIIE siècle; 23,6 cm; 9 1/4 in. Sold for 1,203,000 EUR at Sotheby's Paris, 16 December 2015, lot 73. Courtesy Sotheby's
Ian Alsop discusses eloquently this Padmapani Avalokiteshvara iconographic type in 'Cast for Eternity: Bronze Masterworks from India and the Himalayas in Belgian and Dutch Collections', published by Jan van Alphen, Antwerp Ethnographic Museum, Antwerp 2005, with plates 32 and 36. Hugo Kreijger publishes another comparable example in 'Godenbeelden uit Tibet', SDU Uitgeverij, The Hague 1989, p. 57.