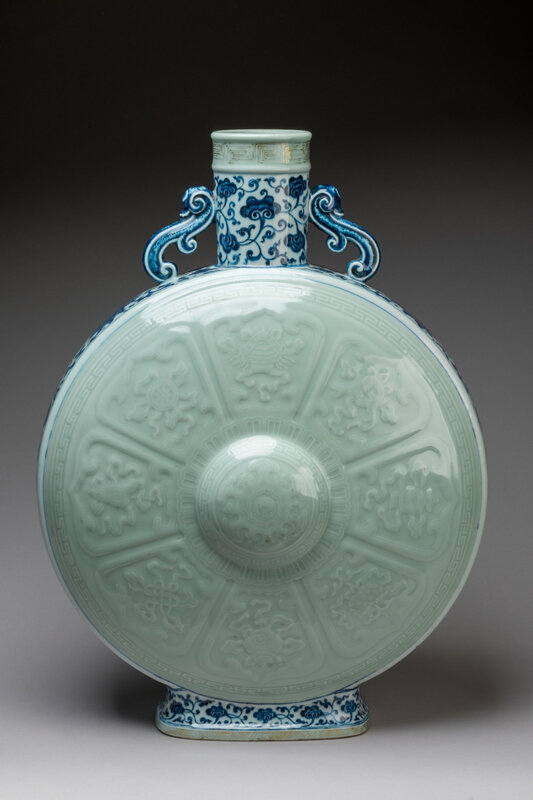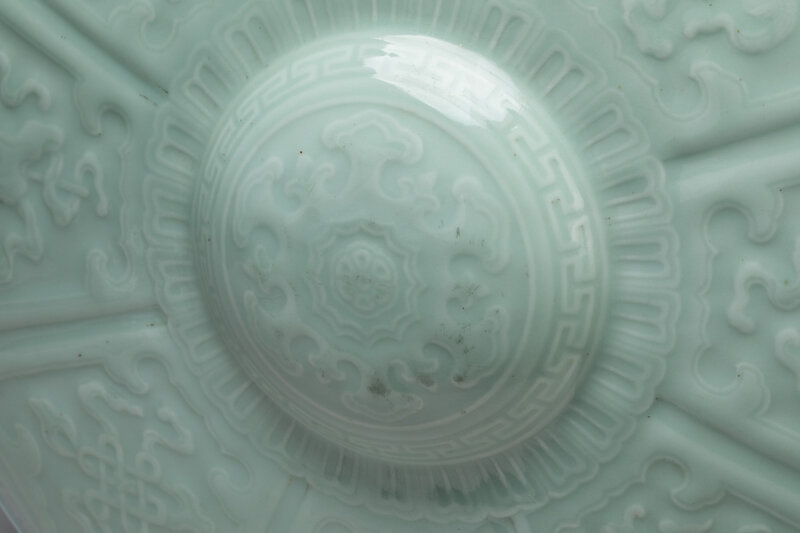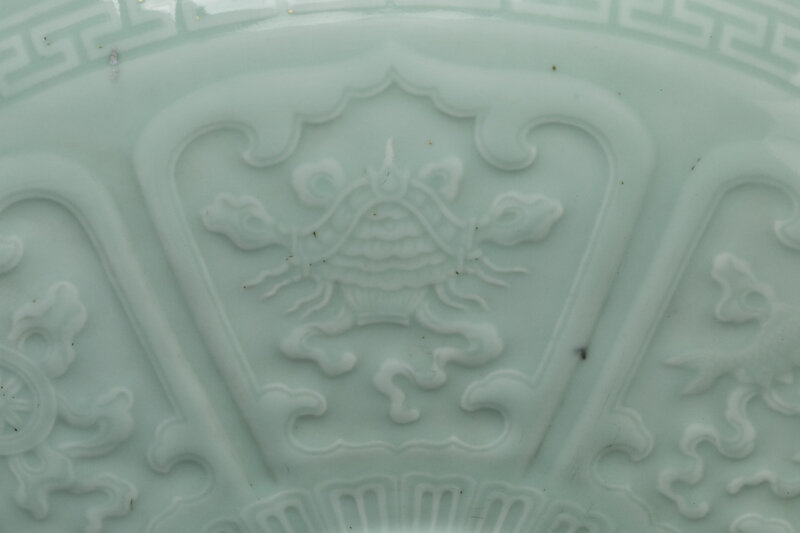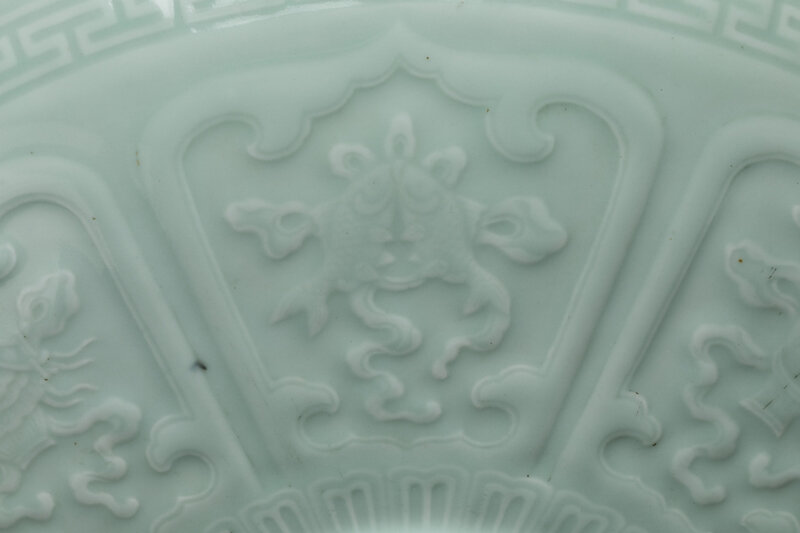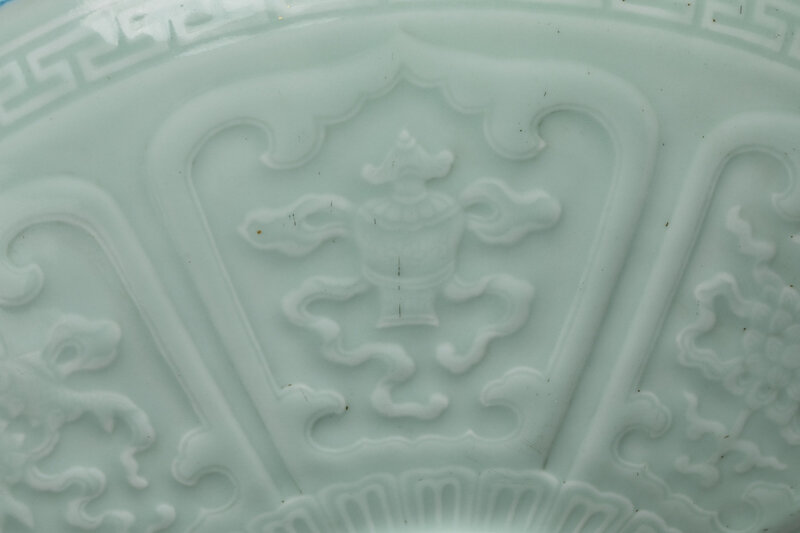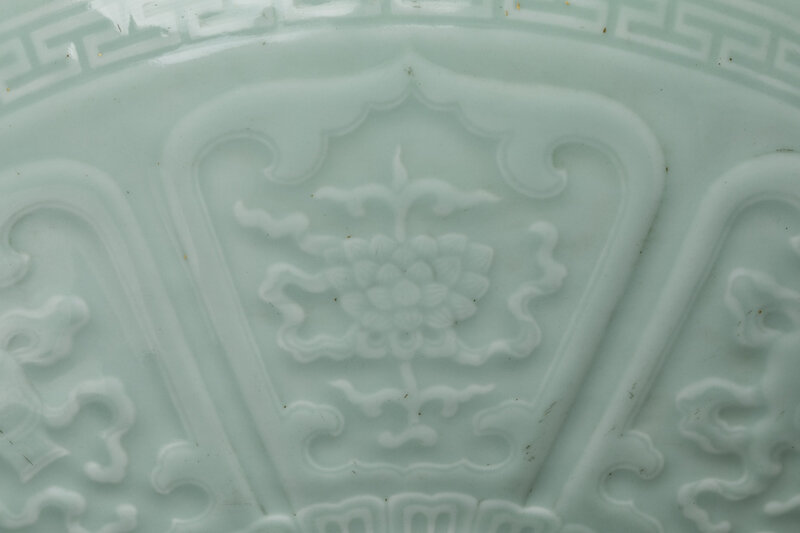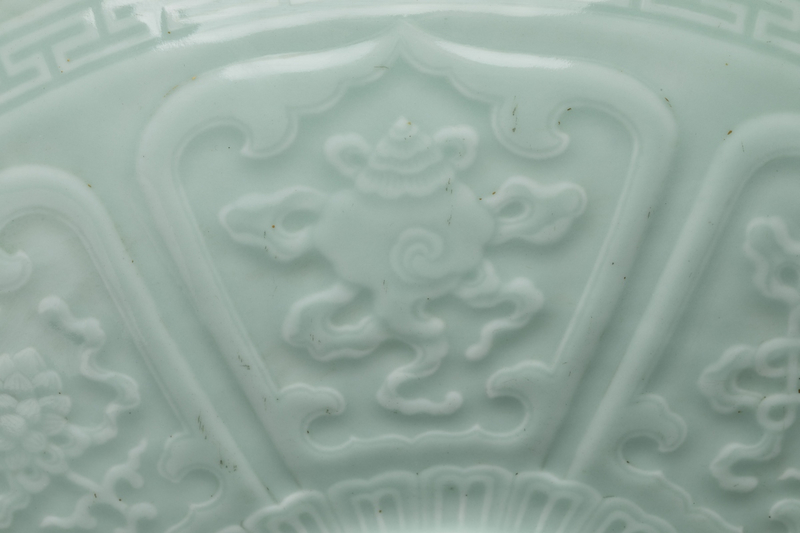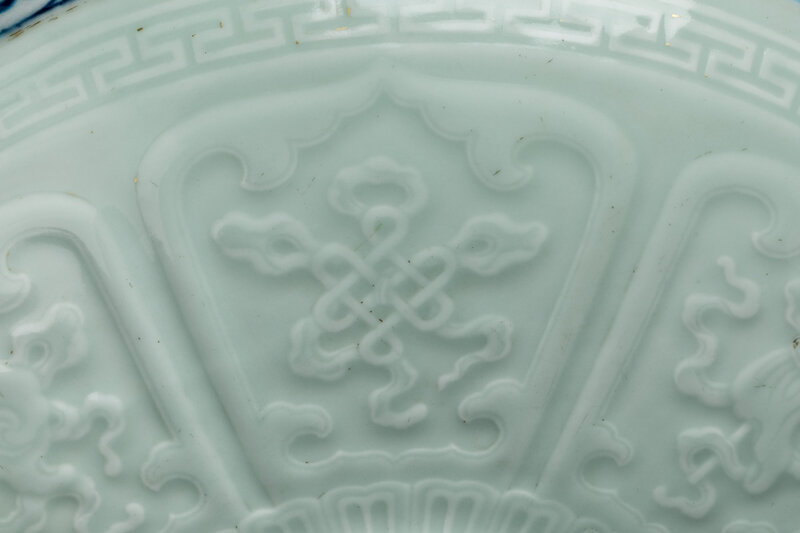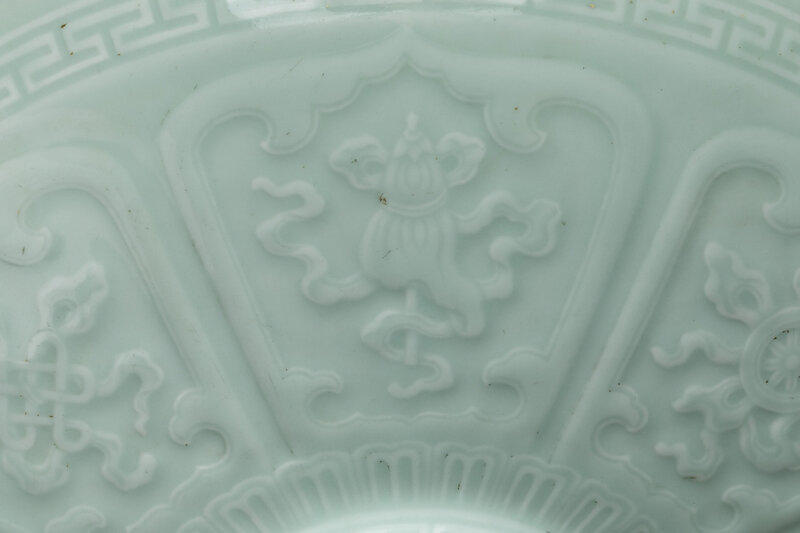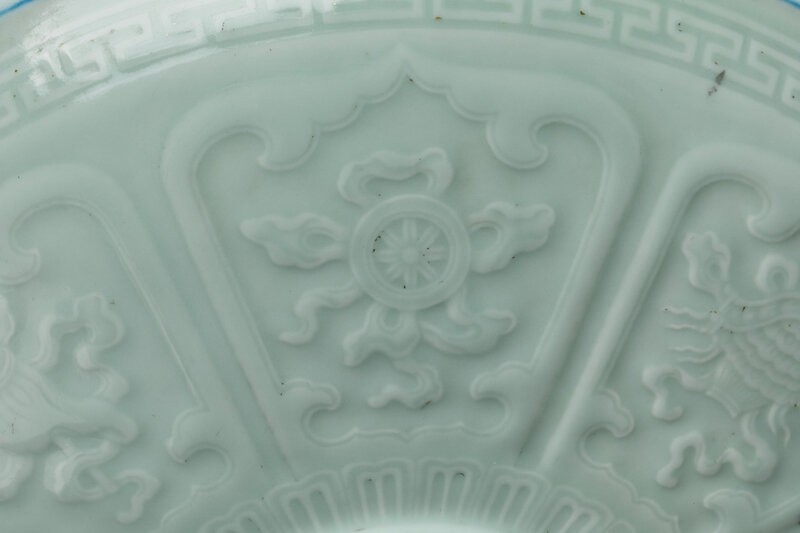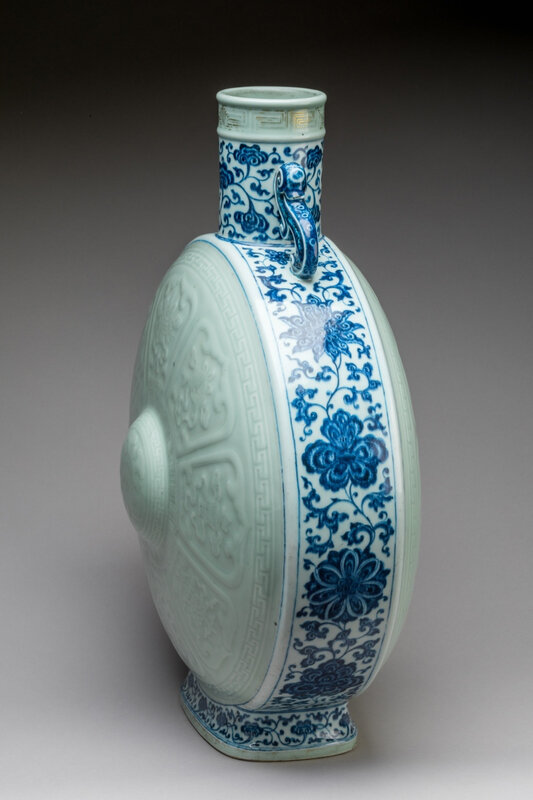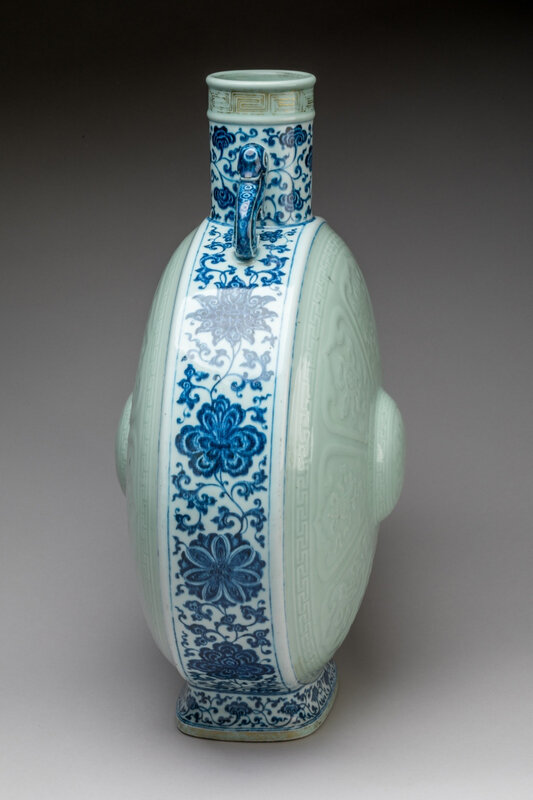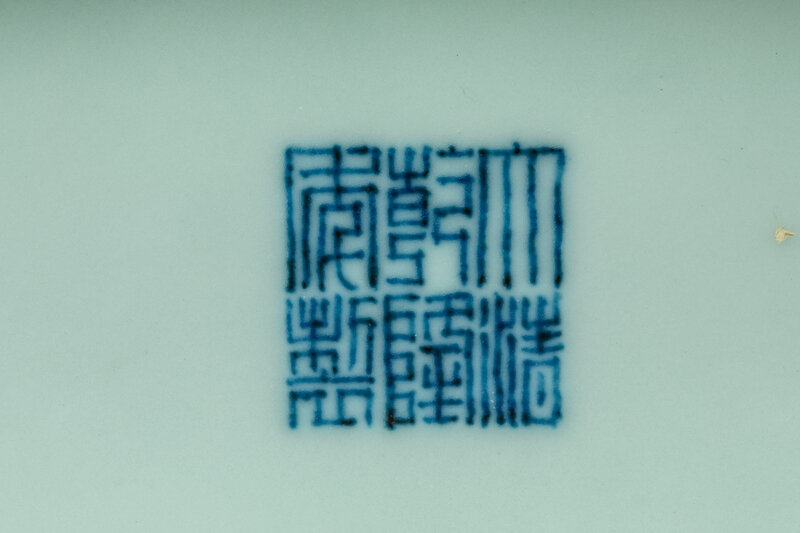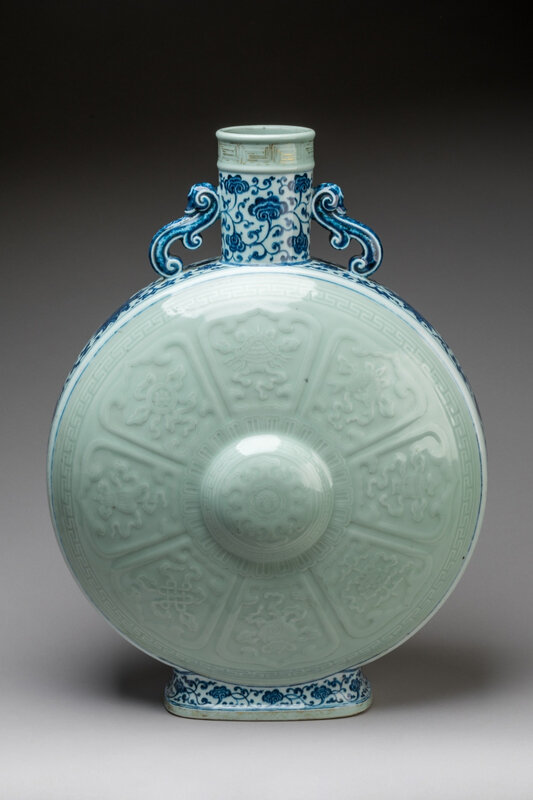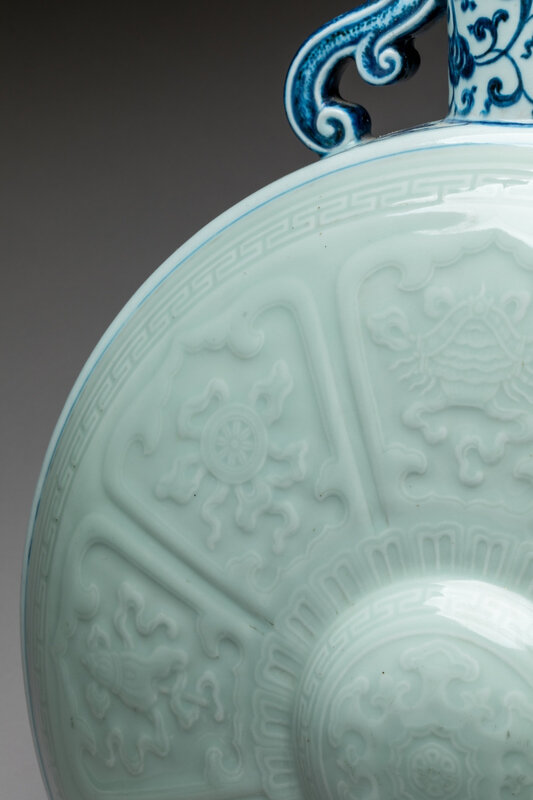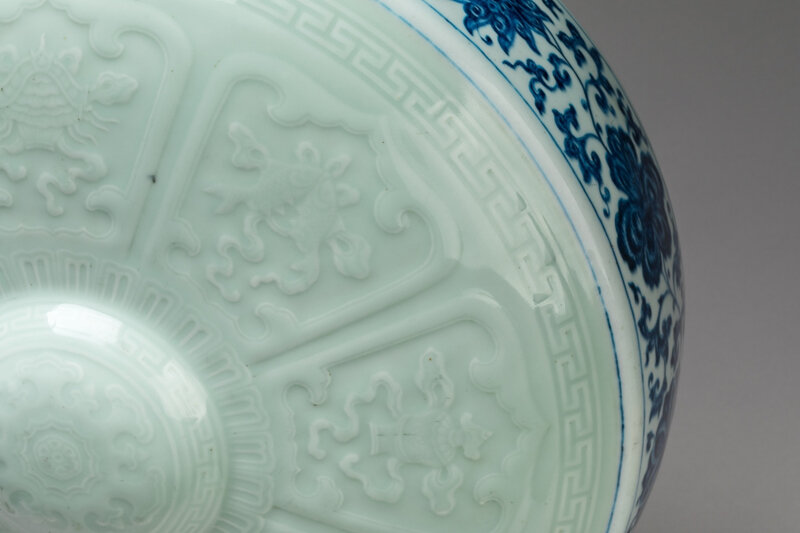 Lot 11. Rare gourde Baoyeping, époque Qianlong (1736-1795). Haut. 49 cm. Estimation : 600 000 € / 800 000 €. Adjugé 4.100.000 €. Courtesy Rouillac
en porcelaine émaillée céladon sur la panse et en bleu sous couverte sur les côtés et le col. La bordure de la panse ornée d'une frise de grecques. Les côtés en bleu blanc à décor de deux lotus et deux pivoines dans leur feuillage sur chaque côté ; le col, les anses et le talon ornés de fleurs stylisées dans leur feuillage. Les anses en forme de lingzhi. La bordure supérieure du col et le talon émaillés céladon et rehaussés à l'or (probablement postérieur) de grecques. Au revers de la base, la marque à six caractères en zhuanshu et en bleu sous couverte de Qianlong.
Provenance: descendance d'un officier d'état-major de la Marine royale en mission en mer de Chine dans les années 1842-1847, à l'occasion de l'ambassade du ministre de Lagrenée conduisant au traité de Huangpuen en 1844 - qui, avec ses privilèges, ouvre cinq ports de Chine au commerce français.
Propriété du Val de Loire.
Référence : Gourde similaire vendue le 10 avril 2006, Sotheby's Hong Kong, n°1519.
Des gourdes similaires en porcelaine bleu blanc conservées :
- Harvard Art Museum, Cambrigde, n°1911.8.
- Yunnan provincial Museum, Kunming
- National Museum of China, Beijing
- Asian Art Museum, San Francisco, n°B60P89.

Note: Le décor combiné d'une partie émaillée céladon et d'une autre en bleu blanc est extrêmement rare sur ce genre de gourdes, qui sont plus répandues avec un décor entièrement en bleu blanc.

Cette forme de gourde (baoyueping) fut développée à l'époque Yongle (1403-1424), avec sa forme plate et un décor en léger relief orné de fleurs évoluant de manière élégante dans leur feuillage. Ces formes sont elles-mêmes inspirées d'objets contemporains en métal et en verre de l'art islamique. Les pièces de l'époque Yongle (1402-1424) ne comportaient pas de pied, alors qu'à l'époque Yongzheng (1722-1735) et Qianlong (1735-1796) ces gourdes se dressent sur un haut pied afin d'être regardées de tous les côtés.

Le décor moulé en relief des fleurs n'apparaît que sous l'époque Qianlong. Il figure ici les huit symboles bouddhiques (bajixiang), qui sont moulés sous la couverte puis émaillés céladon, ce qui donne à l'ensemble un aspect de profondeur. Cette technique est régulièrement utilisée sur les porcelaines émaillées céladon au XVIIIe siècle ; pour un exemplaire d'une autre forme, voir John Ayers, Chinese Ceramics in the Baur Collection, vol.2, Geneva, 1999, pl. 290.

La qualité des gourdes de cette dimension témoigne de la grandeur de la production impériale des fours de Jingdezhen dans la province de Jiangxi pendant le règne de Qianlong. La production de pièces de cette taille requiert le plus haut niveau de compétence parmi les artisans potiers et céramistes de Jingdezhen. Ils travaillent sous l'autorité de Tang Ying (1682-1756), l'éminent surveillant général de Jingdezhen particulièrement apprécié par Qianlong. Tang Yin était constamment à la recherche de pièces magistrales innovantes, mélangeant les formes et les décors des pièces historiques dans le goût du XVIIIe siècle.

Tang Ying est employé par le Neiwufu (Département du Ménage Impérial) dans la Cité Interdite à l'âge de seize ans. Il fut formé à l'art des émaux et des peintures dans les ateliers d'émaillage situés dans le Yangxindian (Hall de la Cultivation de l'Esprit). S'inspirant des pièces impériales étudiées à cette époque, il créa des pièces de forme nouvelle avec des décors sublimes. En 1728, il est nommé commissaire (yuanwailang) par le Ministère des Affaires Intérieures et est envoyé à Jingdezhen pour superviser la production des porcelaines impériales. Sous son influence, qui dura plus de vingt ans, les porcelaines issues des ateliers impériaux atteignirent un niveau de qualité sans précédent. Les archives nous apprennent que Qianlong demanda à Tang Ying de créer des pièces spécialement pour lui.

Cette gourde comporte des traces de dorure sur le col et le talon qui furent très probablement appliquées postérieurement, puis effacées sur la panse.
A rare blue and white and celadon porcelain Baoyueping moonflask, Qianlong six-character seal mark in zhuanshu script on the base.
30ème Vente Garden Party à Artigny - Première Vacation chez Rouillac, 37250 Montbazon, le 10 Juin 2018 à 14h30.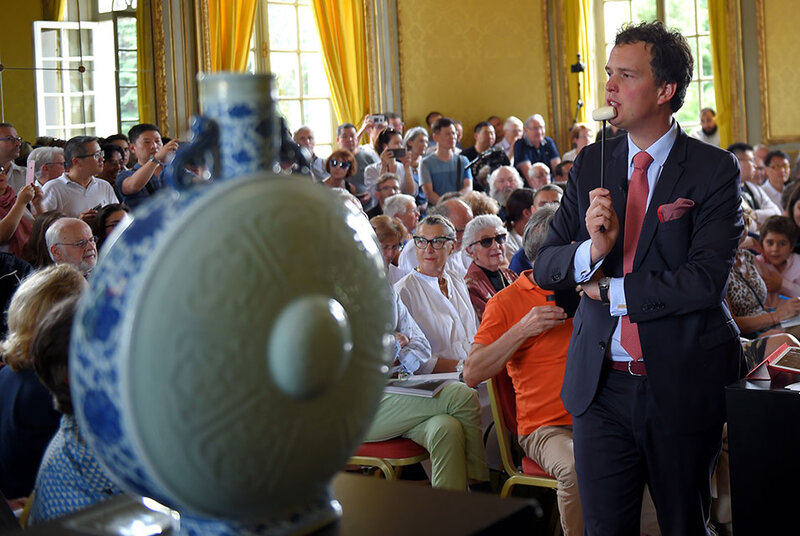 French auctioneer Aymeric Rouillac gestures during an auction party on June 10, 2018 at the Artigny's castle in Montbazon where a rare moon flask was sold at 4,1 million euros. The moon flask was sold 4,1 million euros. GUILLAUME SOUVANT / AFP.
MONTBAZON (AFP).- A rare porcelain moon flask that belonged to the 18th century Chinese Emperor Qianlong has been sold for 4.1 million euros ($4.8 million) after a bidding war at an auction in France.
The blue, white and celadon flask -- more than 200-years-old -- was bought by a French woman who outbid 17 Chinese buyers during a sale that lasted about ten-minutes, according to auctioneers who described the buy as "historic and legendary".
The final sale including fees totalled more than 5 million euros -- ten times the auction's opening price of 500,000 euros.
Emperor Qianlong, one of the longest serving Chinese emperors who ruled for much of the 18th Century, was an avid art collector.
The round-shaped moon flask has eight Buddhist symbols in stylised lotus petals and bears the seal of the emperor. It was discovered by chance in April in a French castle during a valuation of antiques and its original owners remain anonymous.
The buyer, who bid over the phone during the auction at Artigny chateau in Montbazon, central France, s expected to keep the flask at her apartment in Paris but it could potentially be loaned to a museum in future, the auctioneer said.
According to the auctioneer Philippe Rouillac, the flask was probably brought back from China by a French navy officer.
Far East art specialist Alice Jossaume said the flask is one of two flasks from Emperor Qianlong that exist.
The other flask was sold for 1.8 million euros at Sotheby's in Hong Kong in 2016. © Agence France-Presse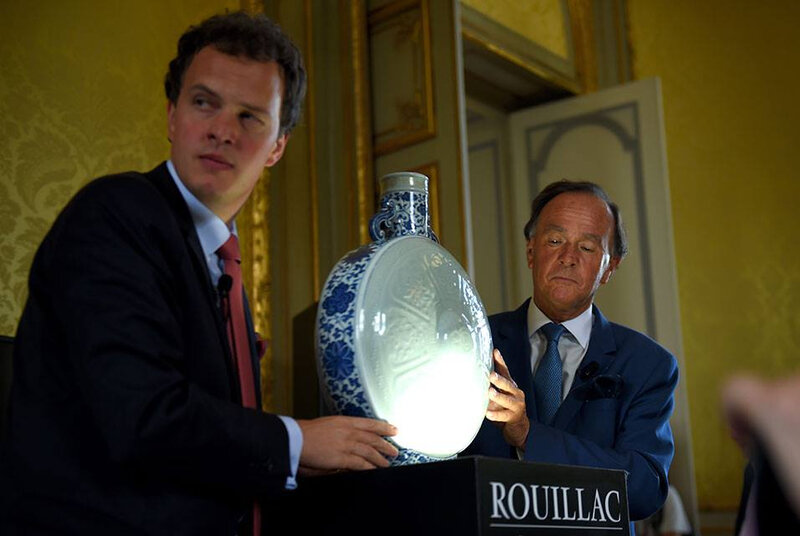 French auctioneer Aymeric (L) and Philippe Rouillac (R) hold a rare blue, white and celadon porcelain moon flask belonging to the emperor Qianlong is pictured during auction party on June 10, 2018 at the Artigny's castle in Montbazon. The moon flask was sold 4,1 million euros. The moon flask was sold 4,1 million euros. GUILLAUME SOUVANT / AFP.