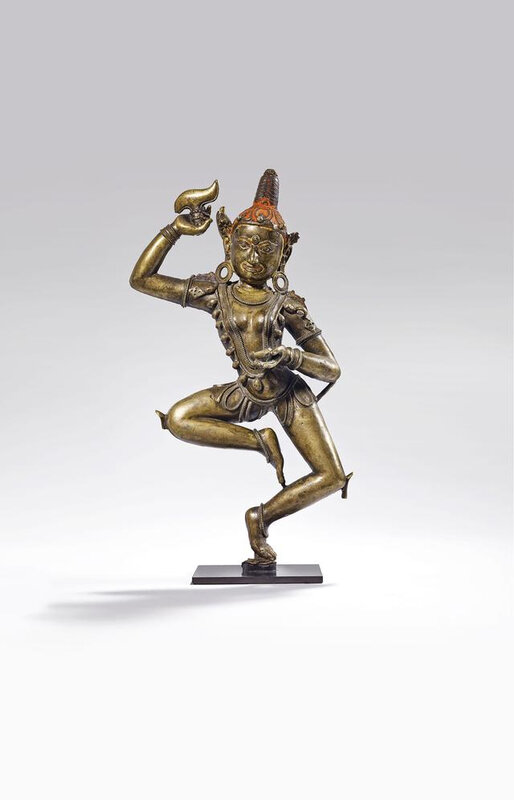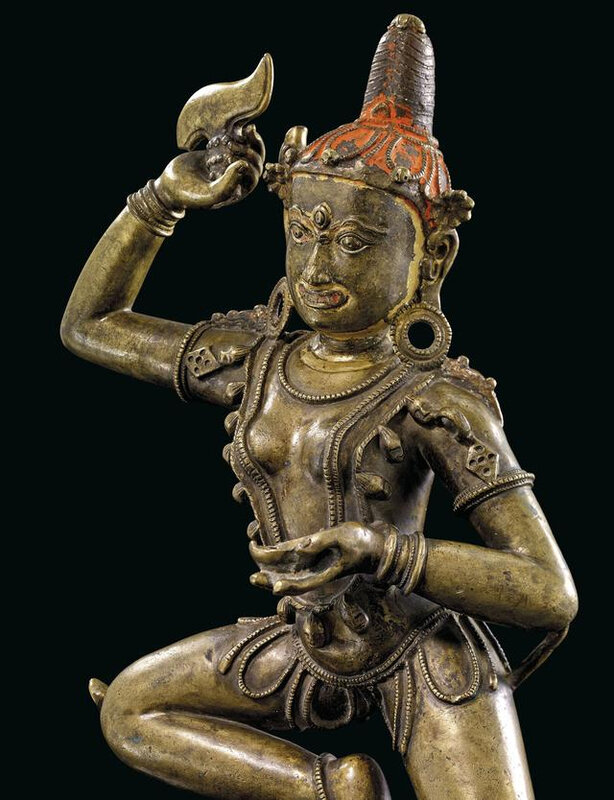 Lot 222. A bronze figure of Vajravarahi, Tibet, 15th century. Hauteur: 41 cm. (16 1/8 in.). Estimate EUR 100,000 - EUR 150,000. Price realised EUR 125,000. © Christie's Images Ltd 2018.
Elle est représentée dansant sur un pied. Sa main droite tient le karttrika, sa main gauche le kapala. Elle est nue, portant seulement une jupe faite de perles autour de la taille. Elle est parée d'un mala de têtes coupées et de colliers divers. L'expression de son visage est féroce, sa bouche entrouverte laisse apparaitre des crocs. Une tête de sanglier rehausse le côté droit de sa tête, socle.
Provenance: Acquired by Xanadu gallery, San Francisco in the 1990s (by repute).
Acquired by the actual owner in 2014.
Literature: Orientations, Hong Kong, February 2001.
Exhibited: Arts of Pacific Asia Show, San Francisco, CA, 2-4 February 2001.
San Francisco Tribal, Folk & Textile Arts Show, 9-11 February 2001.
Note: This rare and imposing bronze figure depicts Vajravarahi or the Adamantine Sow. She is a special form of dakini and named after the sow's head emerging from the right side of her head. Dakinis are goddesses who dance in the sky and symbolize wisdom. The sow's head represents delusion that must be conquered and transformed to spiritual wisdom during tantric or esoteric practices. She is an important deity in her own right as can be gleaned from the presented large example. Vajravarahi is also the consort of Cakrasamvara with whom she is often depicted in a passionate sexual embrace. This tutelary deity is the presiding deity of the important Samvaratantra.
Interestingly, Vajravarahi is known as the patron goddess of the nunnery Semding. Every abbess is considered to be an emanation of her. The dakiniis invoked in rites concerned with bewitching both men and women.
She is shown dancing naked with her right leg raised. Apart from some jewellery and a now broken tiara, she wears a garland of severed human heads. Her right hand brandishes a chopper and her left supports a blood-filled kapala or skull-cup.