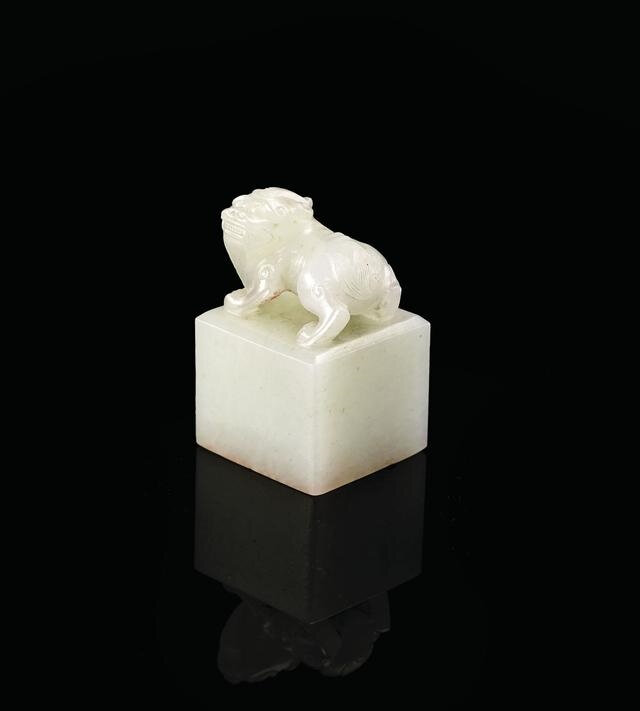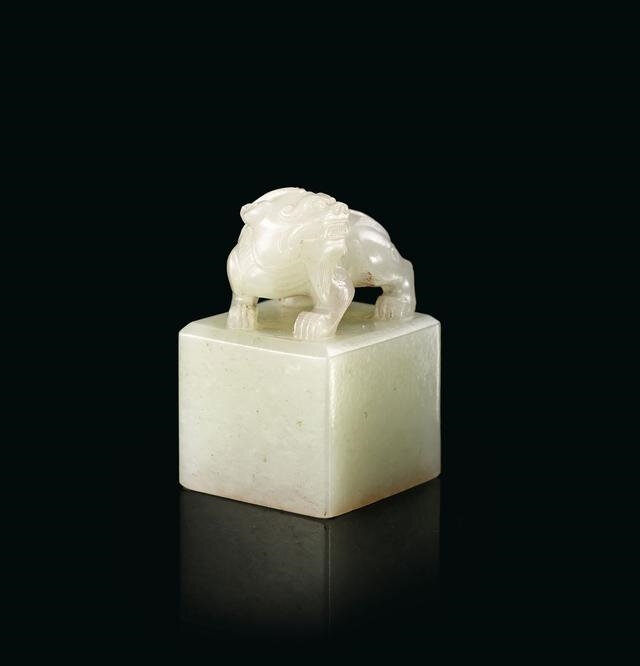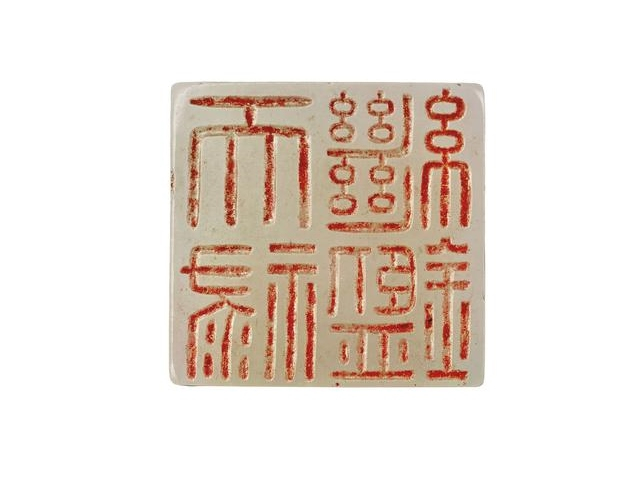 Lot 112. A rare and important white jade square seal, China, Qing dynasty, Jiaqing period (1796-1820). Dimensions: 2,8 x 2,9 cm. (1 1/8 x 1 1/8 in.). Estimate EUR 80,000 - EUR 120,000. Price realised EUR 137,500. © Christie's Images Ltd 2018.
De section carrée, le bouton est finement sculpté en forme d'un Qilin mythique au corps musclé. Sa tête est tournée vers le côté, son visage délicatement incisé dégage une expression solennelle. Son crâne est rehaussé d'une corne, sa queue relevée formant une volute. La base est sculptée d'une inscription à quatre caractères Tian Lu Ji Jian.
Provenance: Previously in a French collection.
Note: This present white jade square seal appears to be one of the Emperor Jiaqing's personal seals. The mythical Qilin is delicately modelled and the seal face crisply carved with four characters in seal scripts which read Tianlu Jijian. This seal is particularly important due to its presence on a number of the rarest books from the imperial Tianlu Linlang Library.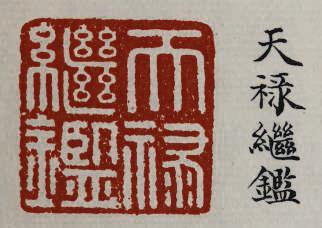 Impression from 'The Jiaqing Baosou', Palace Museum, Beijing
As a fervent enthusiast of rare manuscripts, in 1775 the emperor Qianlong commissioned a project to list and make a formal catalogue of the imperial book collection stored in Zhaoren Hall including pieces from the Song Dynasty to the Ming dynasty. Led by the Grand Secretary Yu Minzhong, the official bibliography Tianlu Linlang Shumu was compiled the same year.
In the second year of the emperor Jiaqing's reign (1797), a violent fire destroyed Zhaoren Hall with all the books listed on the Tianlu Linlang bibliography. Devasted, the emeritus emperor Qianlong ordered the reconstruction of Zhaoren Hall and the edition of another bibliography which became known as the Supplement to the Catalogue of the Tianlu Linlang Library (Tianlu Linlang Shumu Houbian). The emperor Jiaqing continued to complete the imperial collection by commissioning the Third Edition of Tianlu Linlang Library (Qinding Tianlu Linlang Shumu Sanbian).
This present seal 'Tianlu Jijian' can usually be found on the first and last page of the manuscripts listed on the Supplement to the Catalogue of the Tianlu Linlang Library along with two other important seals: 'Tianlu Linlang' and 'Qianlong Yulan Zhibao'. On the second and the penultimate page, there are usually other seals owned by the emperor Qianlong such as 'wufu wudaitang bao', 'wufu wudaitang guxi tianzi zhibao', 'bazheng maonian zhibao' and 'Taishanghuangdi zhibao'.
Today, the rest of the imperial book collection is mainly conserved in the National Palace Museum of Taipei, few emerged in the art market and now are in the hands of private collectors. See another imperial white jade seal owned by the emperor Jiaqing reading 'Xiumu Jiayin', sold in Sotheby's Hong Kong, 8 October 2013, lot 3071.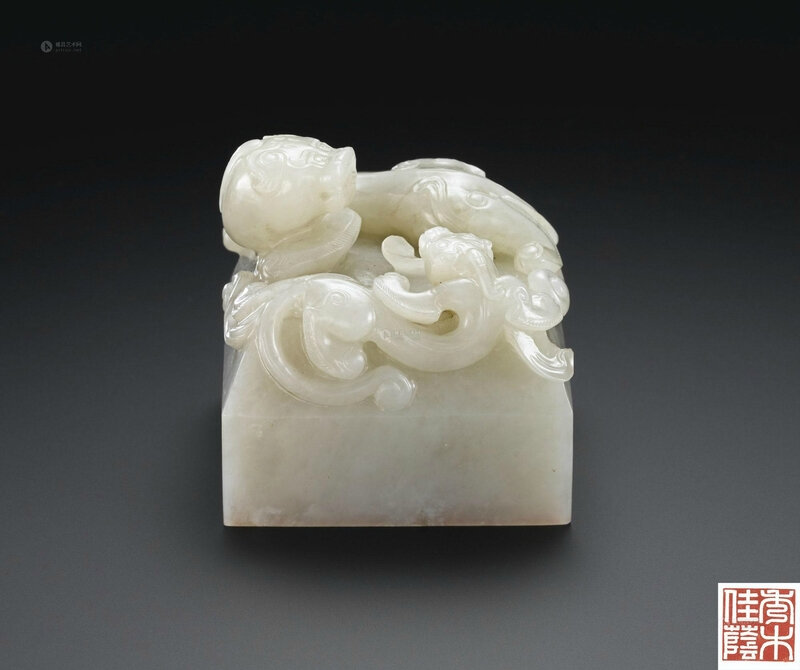 An Imperial white jade 'Xiumu Jiayin' seal, Qing Dynasty, Jiaqing Period (1796-1820); 6.6 by 6.9 by 6.9 cm., 2 5/8 by 2 3/4 by 2 3/4 in. Sold for 10,840,000 HKD at Sotheby's Hong Kong, 8 October 2013, lot 3071. Photo: Sotheby's 2013
Cf. my post: An Imperial white jade 'Xiumu Jiayin' seal, Qing Dynasty, Jiaqing Period (1796-1820)
Christie's. Art d'Asie, Paris, 13 June 2018