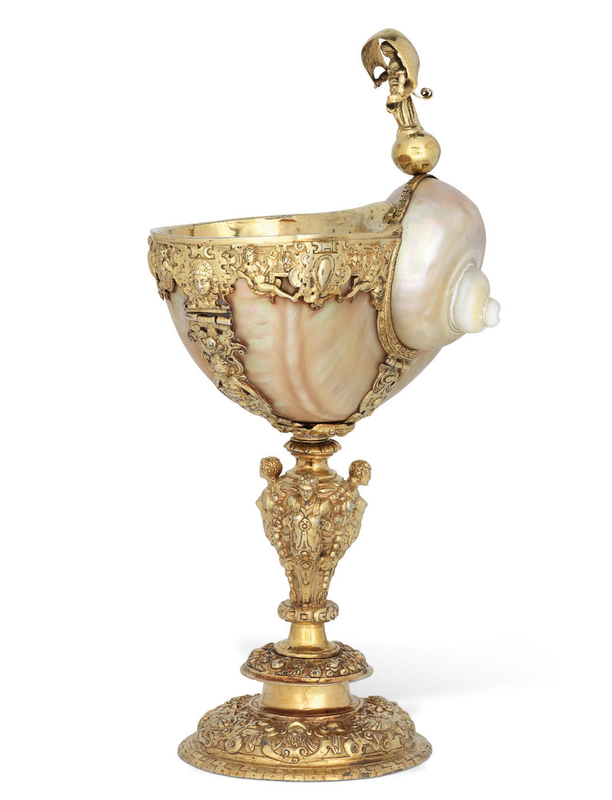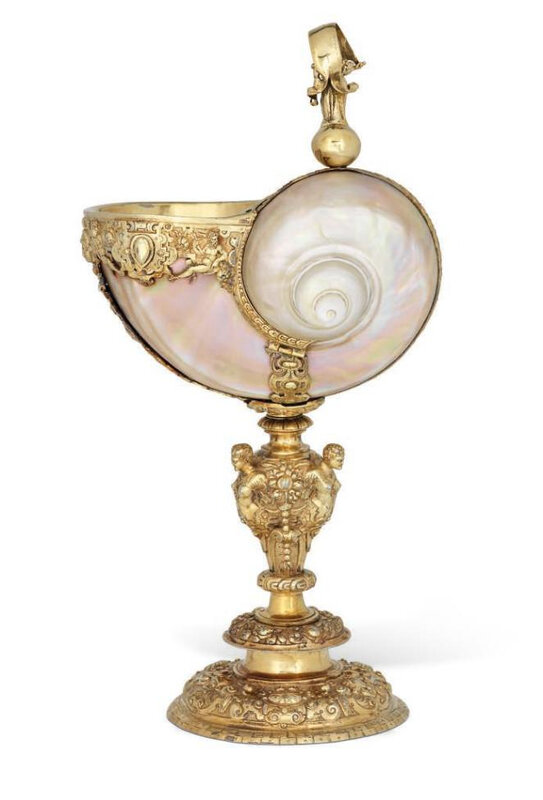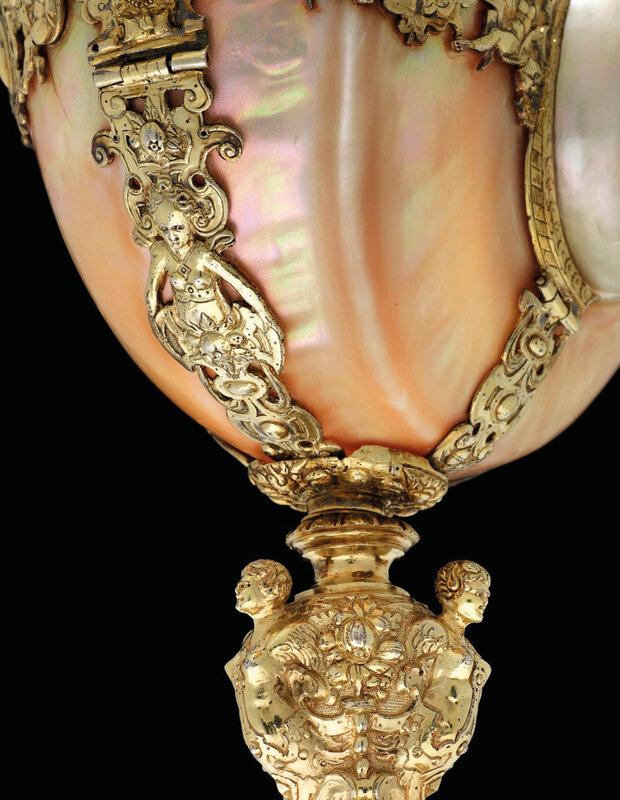 Lot 101. Property from the Collection of Baroness Carmen Thyssen-Bornemisza. A German silver-gilt-mounted turbo-shell cup, Lüneburg, late 16th-early 17th century, maker's mark indistinct, possibly that of Claus Harders; 11 in. (28 cm.) high. Estimate GBP 200,000 - GBP 300,000 USD 265,200 - USD 397,800). Unsold. © Christie's Images Ltd 2018
The turbo shell rim cast with masks and reclining figures and retained by four straps cast with herms and strapwork, the knop with three winged figures and bunches of fruit, above a circular stepped foot cast and chased with fruits to the upper band and strapwork to the lower, surmounted by a later figure probably emblematic of Fortune astride a globe, marked on foot.
Provenance: Anonymous sale; Sotheby's, Zurich, 18 November 1977, lot 98.
with Kugel, Paris, 1979.
Literature: H. Müller, European Silver from the Thyssen-Bornemisza Collection, London, 1986, cat. no. 46, pp. 166-167.
Exhibited: St. Petersburg, The State Hermitage Museum and Moscow, The State Russian Museum, Gold and Silver Treasures from Thyssen-Bornemisza Collection, 1986, p. 23, cat. no. 7.
Miami, Center for Fine Arts; Omaha, Joslyn Art Museum; Indianapolis, Indianapolis Museum of Art; Fort Worth, Kimbell Art Museum; Memphis, The Dixon Gallery and Gardens, Gold and Silver from Thyssen- Bornemisza Collection, 1987-1988, cat. no. 7.
Note: These objects, intended more for display than daily use, decorated the Schatzkammer or Kunstkammer of the rich and intellectually curious throughout Europe in the 16th and 17th centuries such as the Grünes Gewölbe in Dresden. The new taste for gilt-mounted nautilus shells in particular was satisfied by increased commercial exchanges with the East. The current cup is mounted with the shell of a Great Green Turban shell (Turbo marmoratus) as recorded by Linnaeus, 1758. The shells were sourced in the Indo-West pacific and besides being mounted in cups such as the present example were used in the production of mother-of-pearl.

The Victoria and Albert Museum has a magnificent 16th century example marked for Nuremburg (863:1, 2-1882). In their cataloguing of it they note two examples which are listed in an inventory dated 1574 of Queen Elizabeth I's jewels and plate. They note that 'one of these is a cup of mother of pearl with a cover of silver gilt topped with a Triton wielding a trident; the other is a standing cup of shell garnished with gilt silver and with the story of Jonah on it also in silver'. It is known that one of these two cups was a New Year's gift of Lord John Grey in 1559. This sits well with contemporary demands of New Year's gifts that they be made of expensive and rare materials, combined in technically challenging and aesthetically complex fashions. Others are recorded in Ferdinando de'Medici's Tribuna, where the 1589 inventory mentions various shells, including at least one which is described as being 'decorated in very low relief and set on a gilt silver base'. Speaking of another silver-gilt mounted turbo cup by Jacob Frick, Constance, 1590-1600 from the Gilbert Collection, now on loan to the Victoria and Albert Museum T. Schroder (The Gilbert Collection of Gold and Silver, Los Angeles, 1988, pp. 514-518) notes that the earliest example of mounting such a cup is probably one possibly mounted in Salzburg about 1500-1520 which is now in the Museo degli Argenti, Florence. He records another Turbo shell, mounted as an ewer, by Wenzel Jamnitzer, Nuremberg, circa 1570 which is in the Schatzkammer in Munich.

Noting that the maker's mark on the mounts of present cup is unclear H. Müller explains the possible attribution to Claus Harders and records a double cup engraved with an inscription dated 1585 by him which is in the collection of the Kunstgewbemuseum in Berlin (inv. No. 1874.385) and which is published by S. Bursche (Das Lüneburger Ratssilber, Munich, 2008, no. 31, pp. 118-119). Harder was made a master in 1572 and died in 1610. Muller notes the similarities in 'the neat clarity and precise delineation of the ornamental work', going on to note that the 'latter is more densely applied in the present case' (H. Müller, European Silver from the Thyssen Bornemisza Collection, London, 1986, cat. no. 46, p. 166).
Christie's. The Exceptional Sale 2018, London, 5 July 2018